A sexy and unique addition.
This is simply a must have ensemble for ANY lingerie drawer. The second I saw this here on EF I started drooling over it. It is definitely one of the most unique pieces of lingerie that EF is carrying right now and I think that Escante did a bang up job when creating this 4 piece lingerie collection. The craftsmanship is to die for and the detailing is simply fabulous.
Published:
Pros
Gorgeous.

Leopard print.

Affordable.

High quality.

Amazing stitch work.
Cons
Cups are a tad small, but that is ALL I can think of.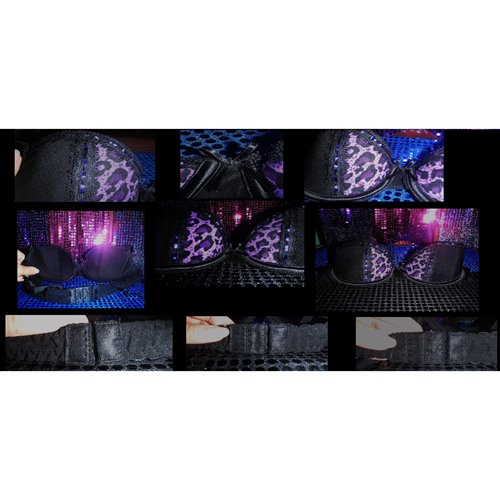 This bra is very sexy, and very, very well made. The stitch work is definitely high quality and I have found that every little last detail on this bra is PERFECT.
However, I have found that when it comes to sizing I almost find that it has a slightly awkward fit (for my bust anyway)
I don't really know why, but it just feels a tad funny when I am wearing it. But then again- with how sexy this piece is, I doubt I will ever be wearing it for long .
This bra is made out of 91% Nylon and 9% Elastane.
Since the band does have some play in it, this bra can fit a variety of sizes ranging anywhere from a small A-cup to a mid to larger B-cup.
I am a 34-36B -depending on the bra maker- and my nipples ALMOST pop out of this bra at times depending on what position I am in. But of course, this all has to do with where your nipples fall on your breasts. So if your nipples are placed high up on your breasts, I might go head and round up to the size medium if you are just in the size small range.
The cups are not "padded" but there is a layer of material that is sewn in that is very similar to the "fiberfill cups" that Escante uses frequently with their lingerie.
I personally find this to be a good thing, since it keeps the bra from being sheer, which is good for the times when you want to wear it underneath your clothing.
Bra pluses
+ Adjustable straps.
+ Cute detail work.
+ Can be worn under clothing.
+ Isn't sheer so nipples don't pop through.
+ Three stage hook and eye closure in the back makes it easy to get on and off.
Bra cons
- Cups run slightly small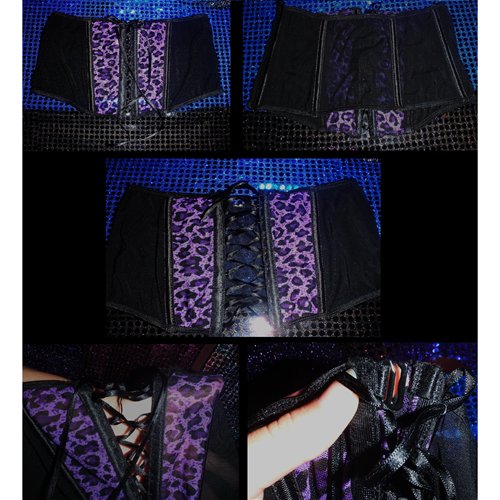 The waist cincher definitely adds a very sexy touch to the entire leopard print ensemble.
The waist cincher is made out of 91% Nylon and 9% Elastane
Which means that it can fit a variety of sizes ranging anywhere from
24" to approximately 34" inches.
This cincher not only has an adjustable lace front, but it also has a clip to help keep it in place.
The material the cincher is made out of is sheer, but not so sheer that you really notice anything such as your belly button.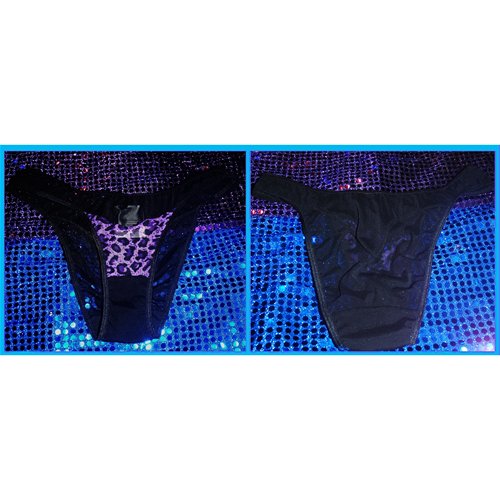 Contrary to what it says one the product page, this set DOES NOT come with a thong.
It actually comes with a pair of panties.
These panties are very similar to briefs, except they are super sexy, and they expose a bit of cheek in the back.
The panties that come with this set are actually a really nice size and are not to small like you commonly find when ordering lingerie.
.
The panties are made out of 91% Nylon and 9% Elastane, this means that they are also very stretchy, and can fit a variety of different sizes.
The material these panties are made out of are sheer everywhere, including where the purple leopard print pattern is (though the pattern is slightly less sheer then the black).
Overall I say the fit and COMFORT of these panties is 5 stars, I absolutely love them!
I am posting a picture of the panties so that you can see the sizing information a little better, it is easier to see then it is to read.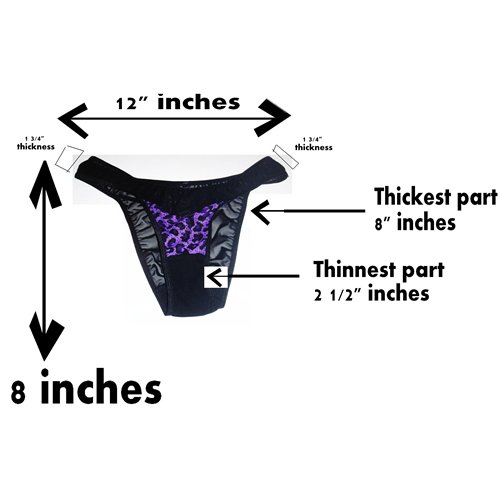 Where it says 12", this is the band measurement. The band falls on your hips, so if your hips are much smaller then 24" inches, these panties may be a little large on you.
However bare in mind that the above dimensions are when the panties are not stretched out at all, so if your measurements are slightly LARGER, you don't really need to worry about it, the material will stretch to fit different sizes.
I would say that this band has a good 12" inches (or more) of stretch to it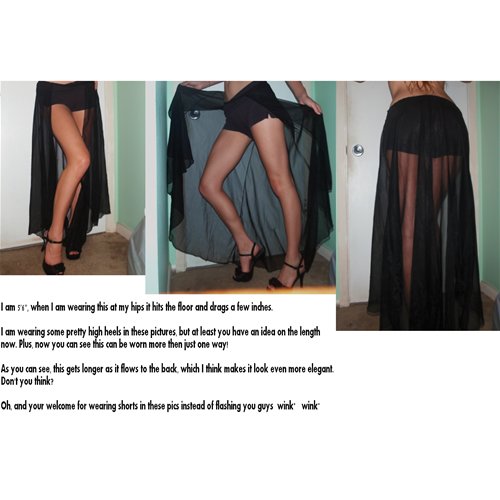 This piece was something that I had originally thought was actually attached to the waist cincher.
But after receiving this set, I am glad to see that I was wrong, and it is in-fact completely separate from the waist cincher- Now I can wear it with MULTIPLE pieces of lingerie!
The flowing back is made out of 100% Nylon
I think that it adds such an elegance to the entire look of this lingerie and it definitely makes me feel sexy when I put it on. I also find that the sheerness is very gorgeous.
Experience
Packaging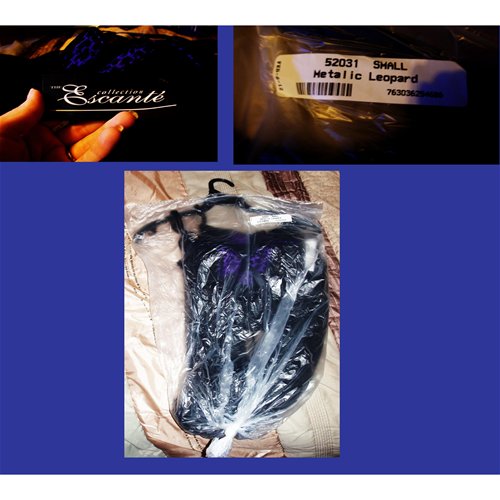 This set came to me wrapped in a plastic bag, on a plain plastic hanger.
The hanger was nothing special, but the plastic wrap was nice since you can reuse it over and over again if you are the type of girl who hangs your lingerie in the closet ;)
There was a simple black tag attached to the lingerie that said "The Escante Collection"
But there where no pictures on the tag of the product being modeled like there usually is with Escante products, personally I found this nice...
Experience-
This four piece ensemble is definitely very sexy and I will undoubtedly be taking it with me on my honeymoon.
Everything about it is perfect and I don't really have any complaints about it to mention.
It is fairly comfortable, except for the fact that the bra fits me a little funny
(but this is just because I am in-between a small and medium in my bust)
My awkwardly shaped body strikes again!
I ordered the size small and everything else in this set fits me very well.
My personal dimensions are
My weight
110
My cup size
B
My bust
34-36"
My hips
34"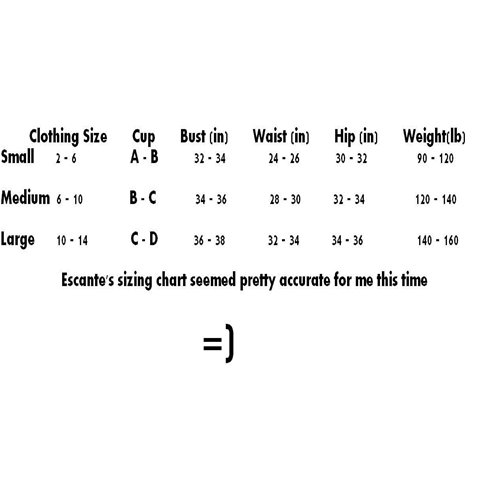 I think that this set is definitely worth the money and that it would make a GREAT GIFT.
There is just a uniqueness to it that I absolutely adore, I definitely recommend this product =)
Feel free to ask me any questions, I ran out of room in my review(this is why my personal dimensions are down here lol).
So if I missed anything you would like to know don't be afraid to ask!
This content is the opinion of the submitting contributor and is not endorsed by EdenFantasys.com
Thank you for viewing
Purple leopard skirt set
– bra and panty set review page!