A Sexy Letdown!
The Sheer Black Thigh Highs by Leg Avenue made my fiances legs look amazing. Unfortunately, that was the only good thing about these stockings. If your looking for stockings to wear one time and thats it, look no further. If you want something of better quality, these are not the stockings for you.
Published:
Pros:
Make legs look sexy, cheap price.
Cons:
Rips/runs easily, must wear garter belt to keep these up!
The Sheer Black Thigh Highs are stockings by Leg Avenue. There is only one size that is available, which happens to be a one size fits most. They are available in two different color options, white and black. I chose to get my fiance the black. These stockings are 100% Nylon.
To clean your stockings you should hand wash them in warm water. Only use non-chlorine bleach when needed. Let these drip dry and be sure not to iron them.
The stockings arrived in minimal packaging. It is a small cardboard case with a rectangle cardboard insert inside. The insert has the stocking wrapped around it to keep them in place. There is a plastic cover over the cardboard with a resealable (sticky) end. You could use this for further storage, but my fiance chose not to. I think it's too much of a hassel to keep putting them back into the original packaging. The stockings are travel friendly. They are very small and lightweight. These could easily roll or fold up to fit in even your purse!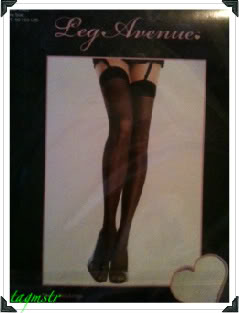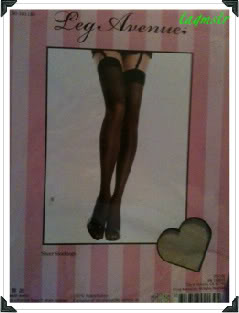 The nylon is very soft and makes your legs look incredibly sexy while wearing them. My fiance found them to be very comfortable. The band is not restricting and stretchs very easily. This happened to be the downfall of this product. The band does not do much to help keep the stockings up on your leg. After the first minute of wearing the stockings around, my fiance was annoyed that they kept falling down. She only enjoys wearing these when she has a garter belt. Combined with that, these stockings are a joy for her to wear!
We were not very happy with the stockings overall. After only two minutes of wearing them, they already had runs. My fiance didn't snag her stockings on anything and barely wore them, yet they somehow ended up with a pretty large rip. The biggest dissappointment was that these stockings arrived with a huge hole already in them. It was at the bottom of the stockings, so her toes wanted to pop out. This being said, we would not buy this product again. Nor would we recommend it to anybody. The only use for these is if you are planning to wear them once and throw them out.
This was the rip that arrived with our stockings: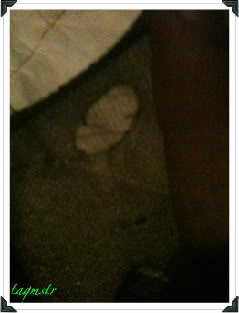 Heres a picture of the damage after a couple minutes of wearing the stockings. They should not be ripped like this!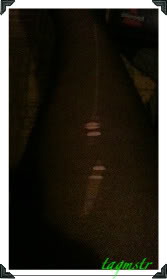 Experience
Eden Fantasys quickly sent us out a replacement since our first pair had a hole in them. The second pair arrived without any damage to the stockings. Our second pair has held up a little bit better than the first. After a couple hours of wear there were no runs or holes unlike the first pair. I do not expect these to last multiple wears but they are not a bad cheap pair of stockings. I still would not recommend these stockings to anyone looking to wear them more than two or three times, but for the price tag, what do you expect!

These stockings received a 2 star rating from me. At first I was only going to give it one star because of my horrible experience, but I feel the first pair had something wrong with them so I will bump the rating up to two stars. I wouldn't feel comfortable giving these stockings a higher rating because they seem to be low quality and like I previsouly stated, I don't see them lasting longer than a couple wears at most!
This content is the opinion of the submitting contributor and is not endorsed by EdenFantasys.com

Thank you for viewing
Sheer black thigh highs
– hosiery review page!