Two-piece chemise set
Chemise
by Baci
A Tiny Little Box of Awesome
I was amazed when I put this set on. I fell instantly in love and never wanted to take it off! This set at only 17.99 has quickly become on of my favorite and go to sets for wearing around the house, seducing my man or sleeping in and I feel damn sexy doing it. A high quality set is what I got with this and a durable one as well. I can't show enough love for this set, thanks Baci! I applaud you for making this!
Published:
Pros:
Inexpensive
Well Made
Sexy
Soft/Comfortable
Machine Washable
Nice Thong
A Legit One Size
Cons:
Nothing at all
MY FAVORITISM RANT
The two-piece chemise set by Baci comes in three different designs all of which are cute in my opinion. I got mine in the zebra print. I didn't realize exactly how hot zebra print could be until I got this on my body. Damn did Baci ever design an awesome chemise. The product pictures on this are actually quite deceiving. This is actually a very good length and it wears like a chemise, not short like the model pictures imply. I adore this chemise!
A BIT ABOUT THE DESIGN
The zebra print chemise has ruffles bordering the cups that are lined by a pale pink. On the top front where the shoulder strap starts there in a small pale pink bow on each strap that accents the piece well. The bottom hem is also bordered by a thin pale pink bit of fabric. The small amount of color contrast really adds to this chemise. It is flat out adorable. It is made from 90% Nylon/10% Spandex blend. So this is fairly stretchy and is also very comfortable. It also is somewhat sheer so you will be able to see your nips through this, but it is not just plain see through.
THE STRAPS AND CUPS
The shoulder straps on this are also adjustable, just as the straps of a bra are. That helps this chemise fit a wide variety of sizes, especially breast sizes. Depending on the size of your breast, the cups may almost cover the entire breast or for people with larger breasts this may be more of a triangle top. It is more like a triangle top on me and shows a good bit of side boob, but I like this quality and look personally. This will fit a wide variety of bust sizes since it is so stretchy. There is no underwire though, and only an elastic band around the bust so this will not offer much in the support department. Any breasts larger than a D cup will probably not be the best for this chemise. I feel it is safe to say that this will fit an A-D cup though.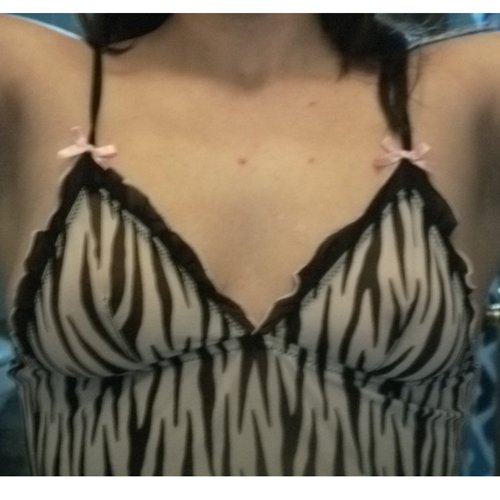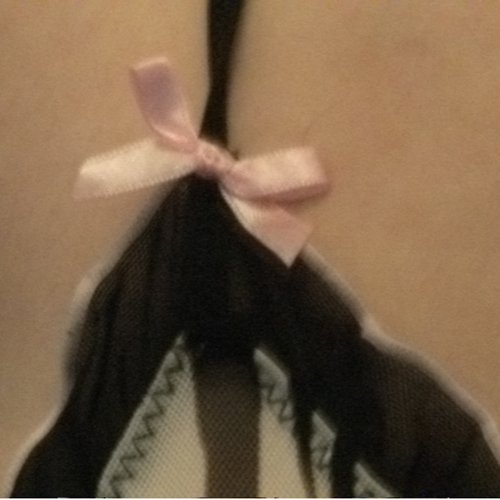 SIZE OTHERWISE
Here's a bit more on sizing. This is a one size set. According to the
Size Chart
, a one size will fit:
Sizes 2-14, Cups B-C, Bust 32-38, Waist 24-32, Hip 34-40, and people 90-160 lbs.
I am a size 6-8, 36C, 28" waist, 38" hips and 125 lbs. It fits me great. If I redid the size chart for this chemise it would go like this:
Size 0-14, Cups A-D, Bust 32-40, Waist 24-34, Hips 34-42 and 90-160, though lets not forget about height. I am 5'2" and this comes down quite a ways on my thighs. Someone who is 5'10" and of average size otherwise and over 160lbs could wear this and look good too, so if you are tall or over that 160lbs by a bit I feel that this may still work for you depending on your other measurements.
I like how this fits me, it is snug but the print is forgiving, it will hug your curves but I love that in this chemise. It is also so soft against the skin. Not itchy at all. Just plain comfortable and yes I have slept in it with out any discomfort or annoyance.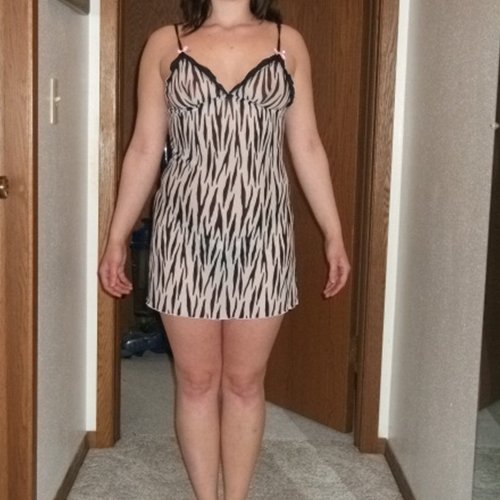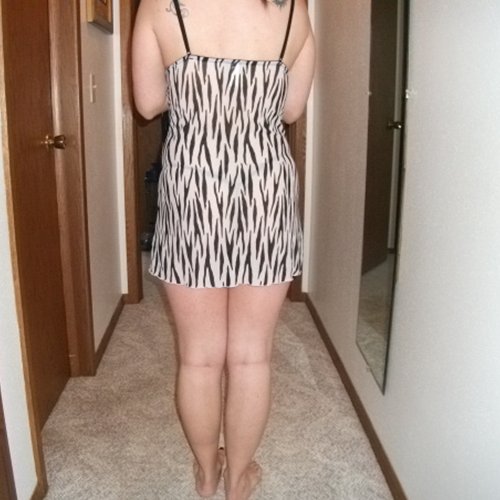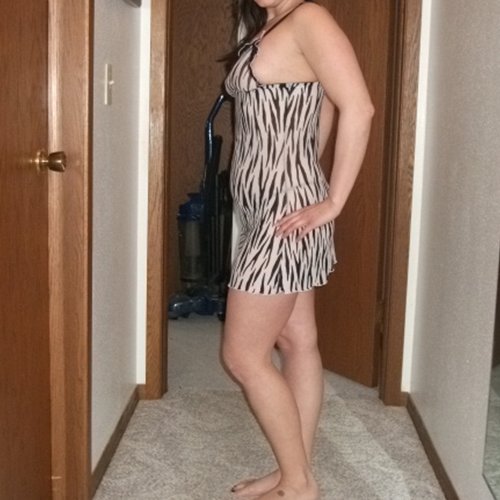 Experience
THE THONG
Yet another thing to rave about. I love the way Baci designed this thong. SMART. While there is only a tiny liner in it and in a bit of an awkward place too, this is still comfortable. The smart thing about this thong is the waist band. It is adjustable in the same fashion that a bra strap is adjustable, allowing the wearer to make it fit them just right! Hooray! A thong that WILL fit a wide array of women. And the thong is stretchy. It is a definite butt floss G-string, but when I have it adjusted just the way I want it, it feel like I am not even wearing panties. Besides that the g-string is cute.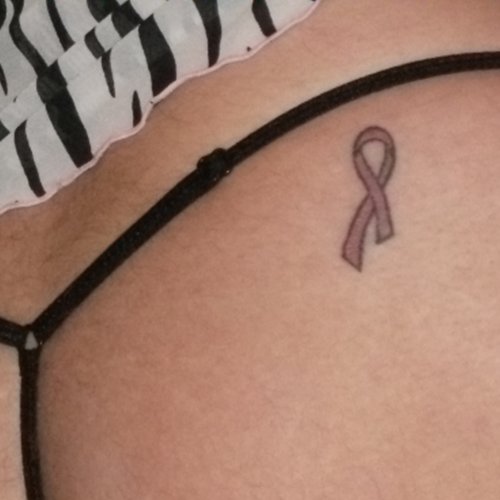 CARE
Okay. I feel like I have already displayed so much love for this piece, but yet here is more love. It is machine washable! The chemise and G-string can both be washed in warm water. I of course wash this with my delicates, but I love not having to hand wash this. Plus it can be dried as well. The tag says to tumble dry on low, which is standard for all delicates.
PACKAGING
This chemise came in a very small box that has the same model as the pictures on this site modeling the lingerie covering the entire thing. Again the box is deceiving because the lingerie on the model does not look long, and the box is so small that you expect the set to be way too tiny. Not the case at all. The set is in plastic inside of the box and when removed from the package you realize exactly how nice the set actually is. One of those "You gotta see it to believe it" sort of things. Very nice packaging overall however and it would gift quite nice.
TINY BOX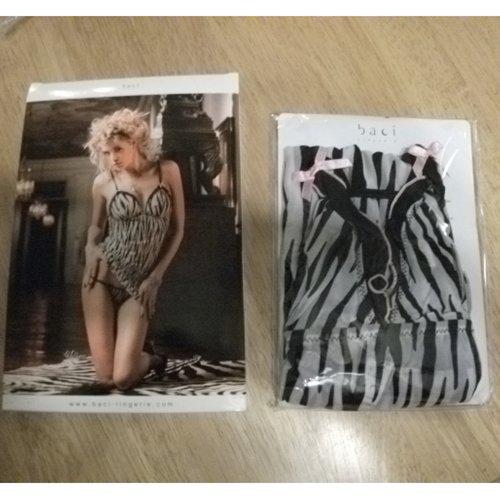 IN PACKAGE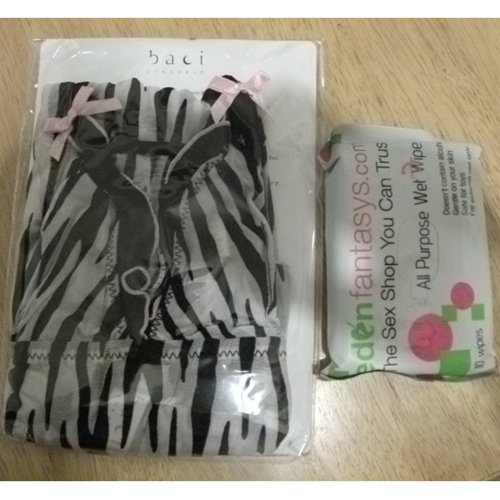 A BIT MORE
I did not have the highest hopes when I got this assigned, I just thought it looked cute but I am certainly impressed. Plus you flat out can not beat this price for the quality of this. I have the zebra print, and the minute the other designs come back in stock I most certainly will be buying those up as well. I also love the fact that if I gain or lose a little weight I can adjust this accordingly and continue to go about wearing this and feeling sexy.
Follow-up commentary
3 months after original review
I definitely still like this. I have only worn it a couple of times, and each time I wore it as a nightie to bed. It certainly does grab the attention of my man and I feel very sexy in it. It's great to have sex in too since it is stretchy and fairly durable. This has been pulled and tugged on a bit and it has retained it's elasticity and with hand washing has held up well so far. This is a great buy.
This product was provided free of charge to the reviewer. This review is in compliance with the FTC guidelines.

Thank you for viewing
Two-piece chemise set
review page!