A training bra and a G-string?
This is a sexy, fiesty bikini that has the potential to bring out your inner sex kitten, but is only likely to do that for a small handful of girls. If you're already comfortable in a bikini and you fit the size chart, you'll rock this baby. If you have breasts larger than an A, you'll fall out of it. So basically, most of us girls are getting one G-string out of this unless you do some cutting and sewing to the top. The design/style could've been more flattering.
Published:
Pros:
Colors.
G-string is nice, flattering and fits.
Cons:
Training bra?
Cups too closely sewn.
Majorly cheap.
This bikini set is pretty, but not as the product photo (or my photos) suggest. The pink is less neon. It's sexy and fiesty though. I guess this pink tends to show up super hot/neony in photos. It's still bright, but I was hopeful for it to be exactly the color of the photos.
Bra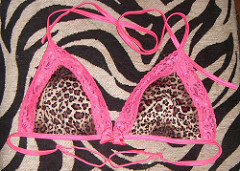 The bra is the least fitting and flattering of this set. It's two simple triangles sewed too close together. There's a pretty, satiny pink bow between the triangles. These triangles are sewn onto thin elastic band, which is the same thin elastic in the G-string and in most G-strings. This isn't a big deal and is cute, but the top portion will only hold smaller breasts. Not to mention the tiny triangles being child-sized. This is more like a training bra. You have two cheetah print triangles made from thin swimsuit-feeling material. It's so thin that too much stretching will cause runs, but is perfect if it fits without much stretch. Each triangle "cup" is lined in almost 1" of hot pink lace. It's zig-zag stitched onto the cheetah fabric. At the bottom of the triangles, there is some subtle gathering of fabric. This could've added cuteness had the top not been childishly small.
*
Note
* You cannot slide the triangle cups to adjust fit. They are sewn onto the elastic band.
The cheetah fabric on triangles is 4" wide and 6" wide including lace that trims sides of cups. Total length of each cup is 6" including lace trim at top.
The bikini-style top ties around the neck halter-style and around the back has a clasp, which is pictured below. You slide this open-ended clasp into the "hole" sewn on the end of the other elastic-string's end. At the back, where you hook the plastic clasp to the string, you have two plastic pink adjusters on each string. They're tiny and just like a bra's adjusters. This allows the top to be tightened around the underbust or loosened for more room. At the tightest setting each back string measures 5" long. When clasped, this would give you a total of 10" around. The loosest setting is 10 1/2" per string, which would give you 20 1/2" around when clasped. Unfortunately, it won't hold the chest of someone that large. Just sliding the adjusters on it feels as if the elastic strings will fray, unravel and lose their elasticity.
Here you see the back strap before & after it's clasped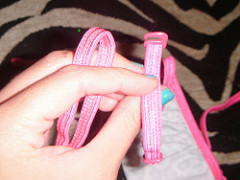 The halter ties, which are tied around the neck in a bow/knot rather than using a clasp measure 18" each. Tie tighter for a tigher/more secure fit and looser for a looser fit.
I think it's cute, the thin elastic around the back, but this plus the cheap fabric and the fact that these strings aren't going to hold up to any pulling means it won't accomodate even medium chests. My breasts fall all out the triangles, but aren't heavy enough to pull and tear the strings.
My Measurements
Bust: Right: between a B and C cup. Left: 34B
Jean/shorts/size: Zero
Weight: 93lbs
Height: 5 2"
Waist: 26" Lower waist. Where I'm a bit wider, the love handle area: 29"
Materials
10% Polyester, 10% Spandex.
Made in China.
Caring for the set
Machine was warm. Tumble dry low, do not dry clean. Wash colors separately.
The G-string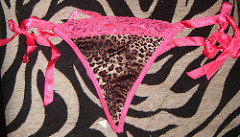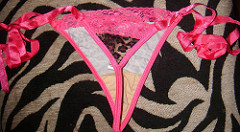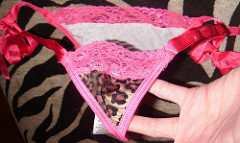 The G-string is made of the same, almost swim-suit feeling material, only far thinner. The frontal triangle and back triangle are in a somewhat cheap-looking cheetah print -- but it's workable -- with less than 1" wide lace trim on top of both. Like most G-strings, there's thin pink elastic around the legs and the actual G-string is made of this.
Butt triangle almost 4" wide & 3" long. Width of frontal triangle: 6 1/2". The very crotch tapers to 2 1/2" wide. Entire length of frontal triangle (until it reaches the string) 7".
The G-string features 4 satiny, cheap pink ribbons, the ones attached to butt triangle: 17" long and the ones sewn onto the frontal triangle are only 15 1/2" long. Kind of strange, but they aren't noticeable. It makes no difference. With this much ribbon, you've plenty of room for all sorts of sizes, but you still have to be sure you'll fit into the frontal triangle, so sticking with your correct/closest size is best. The width of ribbon ties is less than half an inch, but when tied, they hold up well and won't come undone easily.
Crotch liner inside! It's a yellowish/tan color. It measures 2" at widest part and is 3" long. It's an open liner, so if you love stuffing a bullet in your crotch liner, these will hold a small one.
Experience
This comes packaged in clear plastic inside the typical box covered in tacky photos with the "Congratulations, you've purchased a Baci item" paper.

I got this and the one in mesh zebra print and pastel pink because I love the animal print spiced up with a colorful trim. I've had luck using a lingerie bikini as a real bikini. It was a Foreplay brand with satin black ribbon side-ties and zebra print. I bought it planning to sew a swim-suit liner in and wear as a swimsuit. I ended up not even having to as it wasn't see-through even when wet. I've worn that little lingerie bikini as a swimsuit for a year now. So while I didn't totally expect to be able to wear this one as a swim-suit, I'd hoped I'd be able to add a liner and make-do with the top at least. And if all else failed, I knew I'd feel like my normal ol' sex-kitten self wearing it just as lingerie. I like lingerie bikinis because they fit so nicely without the saggy bottom and too-tight side ties like I often see in most swim-suits.

Unfortunately, this doesn't work as a swimsuit and hardly as lingerie. Unless you're a 9 year old girl, and in that case you really shouldn't be wearing lingerie. But it seems Baci had 9 year olds in mind when making this, especially the top. As I said before, the triangles are sewn close together making it look like a training bra and highly unlikely to fit most teens, much less adults. One boob of mine is an A & the other nearly a C and even my small boob falls out of this! There's little coverage. I can cut the middle, between the triangles and re-construct it to give more space bewteen my breasts, but I told my partner that it doesn't seem worth the trouble since it's so cheap it'll unlikely hold up after one wash. The stitching seems shoddy and there's not enough thickness of fabric or elastic to withstand much.

I'm fine with the bottoms though. I don't love them, they're uncomfortable since they're a string in the crack, but they fit nicely and are flattering. The ribbon side-ties mean no digging in and causing any bulging! The triangle part of the thong is nice and doesn't bunch. These are low-rise since they fit me without riding up, but they're full coverage on my petite front. If you're on the upper end of the size chart, they may not fully cover your front. I'm just glad they don't sag -- most lingerie thongs/g-strings sag in the crotch on me.

While the top looked stupid on me, the G-string is decent and my partner really loved watching me wear this. He said I was crazy, that it looked wonderful, but I just didn't feel flattered by the stupid top. The G-string could possibly be worn under clothing, but I honestly wouldn't go through the trouble to wear it under jeans -- only a dress due to the ribbon ties sticking out jeans or shorts. They won't likely untie if worn under properly fitting clothing though.

It's cheap, but would be cute if the top fit better.
This product was provided free of charge to the reviewer. This review is in compliance with the FTC guidelines.

Thank you for viewing
Two-piece side tie bikini set with lace trim
– bra and panty set review page!