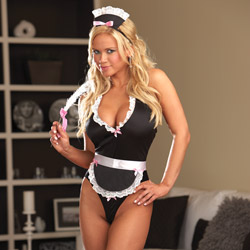 Maid for you teddy set
Teddy by DreamGirl
A True One Size Fits Most
The Maid for You outfit is truly made for most. It's very comfortable, sexy, and true to size for regular to long torsos. This piece should also work great on those a little bigger than the size chart in the bust. I'm not sure what you clean with the little feather though.
Published:
Pros:
One size fits 4-16, good quality, nice hat and feather, comfortable.
Cons:
Not open crotch, does not fit size 2, does not fit short torso.
This costume lingerie is truly a fun and sexy one size fits all, who are sized Small through Large! It's great if you want to show off boobs or booty, while having a little modesty in the belly.

The material for the costume is good quality, and is very stretchy. It has elastic ties for the under-bust and shoulder straps. The material and ribbon of the apron is not stretchy. The headpiece tie is elastic.

The panty portion of the outfit is peek-a-boo exposing the clit area. The panties have a 1 inch unlined band that is rather comfortable. Although it is advertised as open crotch on the box, you cannot have sex in this outfit.


Sizing:

The size chart for One Size is Bust: 32-38 Waist: 24-32 Hips: 34-40 Cup Size B-C. It is mostly true to size with extra room in the bust.

***LENGTH***
The biggest problem I had with the outfit is that it was too long. I have a short torso, and having small boobs does not help either.

The full outfit measures 21in from crotch to lower collarbone. (I measure 20in.) The fabric does not stretch vertically, but because of elastic straps on the back between the hip and the waist it can stretch to 28 inches. You also can adjust the shoulder straps to tighten or lengthen the overall length, just don't try to tighten it smaller than 21in.

***BUST****
I would not recommend this outfit for anyone who wears smaller than a 32 band bra. I wear smaller than a 32, and *was* able to pull it to fit, but there was some wrinkling in the fabric, and in my opinion, elastic should not wrinkle! Therefore, I believe a good starting under-bust size is 29in.

If you are worried about it being too small, the elastic straps that tie in the back offer a lot of adjustability in the under-bust area. The straps are each 15in with a 15in stretch! In theory I could put three of me in this outfit. (Amazing since it also almost fit me!!). So in terms of under-bust, this top could fit up to 60 inches in it. (Which correlates with DreamGirls 4X size) I wouldn't however, recommend a size 4X wear this because the waist can fit a 16 at best.

In terms of cup sizes, DreamGirls recommends a B to C cup, and that is a good guide. The top is a shelf bra top with no support but a good amount of side coverage, which may be good if you have boobs that are more spread apart.

At its tightest, the top ties around a 30in bust, even though it is sized for 32in. There is a slight amount of extra fabric for the cup,(think shelf bra) so I would be concerned about DD and larger fitting in to it, even though the fabric is quite stretchy. I decided to test out the cup size, since it seemed like it could hold larger than a C Cup. I was able to add in inserts to make myself 30DD (32 in) and it fit just fine on the tightest tying. When taken down to a small B cup (29in) however, the top had some room. I would not recommend this top for an A cup, because there simply is no way to tighten the cups.

In summary: Bra Sizes 32B to 42C should comfortably fit into this outfit. Larger Cups on smaller bands may fit okay.

***WAIST***
Between the under-bust and the length I didn't pay much attention to the waist, but here are a few notes about it. The waist is not adjustable, but the fabric is stretchy. For example, the fabric covering the waist is 12 inches, but it stretches to 18 inches. The waist sizing is a tiny bit off. I have a 23 inch waist, and it was big and I could not tighten it. It was not baggy however, just not taut like I would have liked it. I assume that most of my problem was due to my bust and short torso. For most people who fall within the size chart, the waist being big should not be a problem, especially if you are larger on top.

The apron is 60 inches long and should also fit most people.

***HIPS***
The hip measurements are not that important because the fabric goes between the hips not around them. It should fit those who fall within the size chart and possibly a few inches larger. If you are smaller than the size chart in the hips, I would only recommend this outfit if you are larger on top, because it may end up being too long.

***HEAD***
The headband should fit all, is comfortable, and does actually stand up.
Experience
Even though this piece did not fit me, I was impressed with how many sizes it would fit. If it had been cut just a tad bit smaller I would have loved it, but I can't expect miracles.

Quality:

This costume is well made! The material is thin but not see through, and the seams are strong. The fabric has a slight shiny look to it, almost like satin. It is made out of polyester, and is suggested cold water hand wash and line dry.

The included feather looks like an actual feather, is lightweight and very soft.

Rating:

I have rated this outfit 4 out of five for two reasons: it is not truly an open crotch like advertised on the box, (what, uninterrupted play??) and because it did not fit taut at the smallest size (32-24-34), even though it was pretty close. The sizing was okay because where I had the most wrinkles (in the waist and crotch area) the apron did a good job of hiding. I will however, not be wearing this piece unless I have it taken in.

I truly believe most people sized small through large and possibly XL will get a wonderful fit with this outfit. XS and under 5 feet girls will probably want to pass this one by or have it altered.
This product was provided free of charge to the reviewer. This review is in compliance with the FTC guidelines.

Thank you for viewing
Maid for you teddy set
review page!