A Vixen in Sheep's Clothing
This is a cute little baby-doll, but I'm not head over heels for it like I am for some of my other pieces. I think the cups could be a little wider and more attention to detail could be made when it comes to the cut of the panels and how the bows are stitched on. Otherwise, it's a pretty decent outfit for special occasions. I just wouldn't wear it all the time.
Published:
Pros:
Cute, Innocent, Solid Construction, Is Not Scratchy
Cons:
Underwire is uncomfortable, Material is Easy to Tear
The Honeymoon collection from Fantasy Lingerie, to date, is by far the most adorable and simplistic collection of bridal lingerie I have seen. Usually, bridal lingerie has something cheeky written on it or is covered in gobs and gobs of lace, crystals and other sparkly things meant to tantalize the eyes, only to then piss off your newly-minted spouse as they try to remove it from your body. This particular piece in the collection has a traditional baby-doll design comprised of four sheer panels with white bows sewn at the top to hide the top of the slit with lace cups. The set includes a matching mesh and lace g-string.
The g-string has a cotton liner than is 1 inch by 1.5 inches and is essentially completely pointless, therefore I cut it out. I also removed the bow that sits between the cups. So, this is what the outfit looks like after my modifications: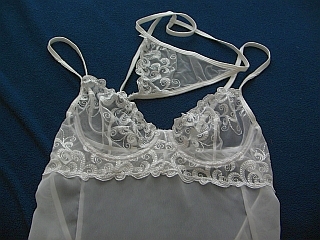 As far as the overall quality of the garment, it's pretty standard. There isn't anything unique or new in regards to the construction of the garment itself. The straps are adjustable and extend to 22" and can be adjusted to 12". They are made of a spandex/cotton combination and are kind of stretchy on their own and are thicker than standard straps so adjusting them takes a little more effort than if they were of a satin/sateen material. There is a simple stitch in the back of the thong that holds the straps in place so it doesn't twist or slide. It does appear that the panels are cut by hand and then sewn together by machines, because one slit on the front of my garment is slightly higher than the other side. It's only noticeable if I'm standing up.
The lace cups are pretty delicate and will not stand up to nipple jewelry getting caught or really rough play (like grabbing the cups and pulling them down quickly to expose the breasts). However, it is quite pretty and really gives off a feeling of innocence.
I do think that this garment runs true to size, and here is Fantasy Lingerie's Size Chart:

My measurements are in black, directly before their's. Unfortunately, this does not come in plus size.
Experience
The g-string has a couple of rough edges in the front and I found that it scratched my stomach and therefore I spent a few moments adjusting, scratching or picking at it (tre sexy, ooh la la) throughout the night. It was annoying but underneath a pair of jeans, it wasn't quite as bothersome.

Otherwise, the material is fairly soft and feels good against my skin and I didn't pick at the band around my breasts or find myself moving wayward straps back into place. So, that's always a plus.

There is one teeny, tiny...okay, I'm not going to mince words here---the cups on this thing are not going to hold breasts that are large C's and over, or A's to small B's. I barely hit a B cup as is, and there was some tenting in the center of the cup, but the underwire sits on top of the bottom of my breasts, not underneath them. In that regard, I would say it's not a good fit. But, there's wiggle room because my breasts are wider and fuller at the bottom than they are on the top and have a fairly decent amount of space in between them, almost 2 inches.
This product was provided free of charge to the reviewer. This review is in compliance with the FTC guidelines.

Thank you for viewing
Honeymoon sweet babydoll
– babydoll and panty set review page!