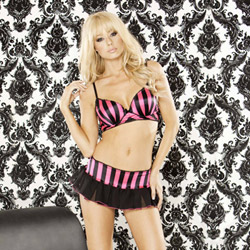 Marquis de pink pleated skirt set
Bra and panty set by Fantasy Lingerie
About as sexy as it gets!
This is a must have in everyone's lingerie collection. It's very sexy and flattering, and the style is very unique!
Published:
Pros:
Well made, very sexy.
Cons:
The G-string doesn't have enough fabric to cover appropriately.
I start by pointing out that I am in fact a man. I did not get this piece for my girlfriend. I am a crossdresser, and I perform at a bar in my city with other crossdressers. This piece was not only for me to wear at home but also for me to wear on stage at the bar. May I say that it held up wonderfully on stage!

The Marquis de Pink pleated skirt set is from Fantasy Lingerie. I picked the large because I am not shaped like a girl and figured more space would be better for me. My measurements are 36" around where the bra sits, and I usually fill with a C cup filler. I am also 40" at the largest part of my butt and 38" at my actual hip bone. This should be big on me, and it is slightly loose but not much. I would say it is at a comfortable looseness, so that it doesn't grab my skin tightly and look bad.

The design is fantastic. The bra is slightly padded, and has thin straps. I find that the bra fits a C stuffing extremely well. I would assume if you stuffed it with a D size cup, it would look fake and would be obvious that you do not have real tits. C is perfect and can look real enough. The bottoms to this include a G-string and the skirt. The G-string isn't great for guys. Even as well as I tuck, and with duct tape (I always find this works best for tucking so that during stage performance I don't fall out when I dance), I still couldn't get any coverage from the G-string. The amount of fabric on it doesn't provide enough coverage. I would say that it does in fact look like it would cover for women though. The thong has a slider so that it's adjustable to a degree. It allows you to adjust exactly where the string sits above your butt. Basically the G-string isn't good for me off stage either because it just doesn't cover anything. My girlfriend likes when I tuck well enough that I look really girly, and these don't provide the right look for that to turn her on.
The skirt is probably the best part. It is very flattering on the backside! I have a round girly butt and it flatters my butt so well! The band is stretchy and I believe it would stretch to about 46" comfortably, maybe even 48". It did not roll up at all, which I thought would happen when I was performing. I wore a more reliable thong that I typically perform in with this skirt.

Basically, other than the G-string this set is wonderful! The edges are all sewn well and don't appear to unravel even after the stress of stage performance. I think this means they will hold up well and for quite some time in the bedroom. The only real decoration on this set is the bow on the bra, which seems like it is well attached.

The fabric on this feels very similar to satin. It is comfortable enough to wear for quite some time, no problems. I felt like everything on this set fit well, the skirt slid on really easy because it does have a bit of give and is stretchy.

I suggest washing it in a lingerie bag. I always use my girlfriend's when I wash the lingerie I use. You can also handwash it just as easily. I would wash it on gentle cycle if you're going to use a washing machine, regardless.

This can be worn under clothes without showing it, except the skirt. That would be obvious if you wore it.
Experience
This entire set is darker than it appears in the pictures on here. The pale pink is actually more of a fuscia. It's dark pink. I don't find this to be a downside, I just thought it was pale pink when I requested it.

I loved the bra and skirt. My experience with it on stage and off was great. My girlfriend came to my show and wanted to ravage me as soon as I got off stage. The G-string has been completely useless, because it doesn't flatter me and it shows my goods. My girlfriend isn't appalled by my penis, it's just that when I am under the persona of a female, she wants me to "be" that female. Once she rips my clothes off we don't really care either way. But the outfit looks great on me, both onstage and in the bedroom!

My girlfriend pegs, so considering I don't wear the G-string, she just hikes my skirt up for sex. So I've worn this a few times during sex with her.
This product was provided free of charge to the reviewer. This review is in compliance with the FTC guidelines.

Thank you for viewing
Marquis de pink pleated skirt set
– bra and panty set review page!