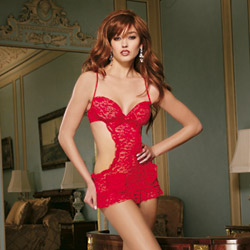 Apron babydoll and thong
Babydoll and panty set
by DreamGirl
Accentuate the Best Parts
This soft, well made, vividly colored babydoll is a great deal for it's price. It adjusts to fit well and only minor modifications are needed to make it fit a-cup breasts. Because it is One Size fits Most, however, measure carefully before purchase.
Published:
Pros
Soft, beautiful, sturdy, vivid color, accentuates curves
Cons
Cups a little big on smaller breasts, might be too small for some.
The Apron Babydoll and Thong set is just what it says. It's a red apron babydoll with a matching red thong. Pretty much the only use for this one I can think of is for use as lingerie, but it is exceptionally pretty and works well for it's purpose. It does come with actual, functional pockets, although they're pretty small. You could probably stash a bullet or a small vibrator in them. The thong is cut considerably straighter than most thongs, but it does look quite nice. I can't decide if it's more or less comfortable than a standard thong, but it seems that it could be worn under regular clothes quite comfortably. It also fits snugly against the body and doesn't sag anywhere.

The Babydoll and thong are both made of a polyester blend that's 90% Polyester, 10% spandex. It's a very soft lace, and I find it to actually be silky and comfortable. It has a classic rose pattern that looks very elegant when worn. It also has a decent amount of stretch to it, so it will conform to the body nicely when fastened tight while still allowing breathing room and plenty of range of motion.

The stitching is overall very sturdy. It seems like it will hold up well. The care instructions recommend hand washing it in cold water then line drying it. I intend to test it in the washing machine when it needs washed, I'll be sure to include how it did in my follow up review.

The top portion of the babydoll is done bra-style with adjustable straps and soft cups, there's a satiny bow between the cups. It doesn't come with underwires, which makes it more comfortable to wear but gives less support. I wear a 30 or 32 A cup, and the straps fit me perfectly at the tightest setting. I'd say it will fit between a 30 and a 38 with no problem. The cups of the bra were too big for my tiny breasts, but I was able to make modifications so that it would flatter them by taking a few stitches to the bottom of the cups after tucking the fabric down. I'd say that it would work best for B or C cups. The middle strip that goes down the belly is 9 inches long from the bottom of the breasts to the top of the hips, and about 4 inches wide at the midpoint, including the lacy ruffle. The bottom portion, that goes around the hips is 5 inches from the top of the hips to bottom of the fabric, or 7 inches including the ruffle. The lace portion that wraps around the hips is 27.5 inches wide, and it ties with a ribbon that can add an extra 40 inches and still tie shut in the back. The total length from one tip of the ribbon, across the lace, and to the other ribbon tip is 76 inches, so it seems to be designed for the ribbon to hang down a fair bit while also giving the option to extend the length out to fit wider hips.

Over all, I'd conclude from the measurements that it won't really fit "all", but it should fit a fair range of sizes.

There's a section of ruffled lace that goes around the whole lace portion of the garment that I find to be tastefully executed, that gives the piece a finished look and a little extra energy.

The thong, as I mentioned, is more straight cut than most thongs. The crotch portion of the thong is about 14 inches from end to end and 1.5 inches wide. It is much less "one size fits most" than the rest of the outfit, since it fits my size 4 hips perfectly. It does have some stretch to it, so it could probably fit anywhere from a size 4 to about a size 6, possibly a size 7.

Overall, I love it. It's gorgeous and it fits me well, except for the cups. It accentuates my curves and makes my hips look awesome, and I find the ribbons to be adorable and they draw the eye where I want it. The cut of the piece is sleek and graceful, well designed to accentuate and hide, leaving just the right amount to the imagination.
This product was provided free of charge to the reviewer. This review is in compliance with the FTC guidelines.
Thank you for viewing
Apron babydoll and thong
– babydoll and panty set review page!