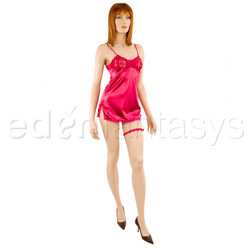 Satin chemise set
Chemise and panty set
by DreamGirl
Active wear!
Rather than being my typical "I can wear this into the living room to look sexy until bedtime" lingerie, this outfit is made for action. Exciting and arousing, it's a great addition to my sexiness arsenal.
Published:
Pros:
Form-fitting to stay in place in action.
Cons:
That may be a choker, but it's not a garter.
This is one hot little number!
First of all, this is not the
sweet little chemise
you should slip into to walk into the living room with chocolate cake and a bottle of red wine, ready to spend a long sexy hour catching your man's eye. This is active wear. You probably have yoga pants for exercise, and overalls for painting the house. You should have this for riding on top.
I wear a size 8 dress and size 10 jeans, and I ordered the large size. It did not fit me at all like the photo, but it looked fantastic. It's made of 88% nylon and 12% spandex, and it hugs the body. I tried tugging it down, but the shiny material emphasized my stomach in an unflattering way, and gathered at the waist when I moved. Then I realized, this isn't meant to be tugged down. By pulling gently at the side seams all the way up, the material ruches to form soft, flattering folds all over the body that just beg to be touched. As a result, the skirt is higher than it looks in the photos. Even with a fairly short torso, the skirt ended most of the way down my bum, leaving a little peek-a-boo of the bottom of my cheeks. The fabric is very flattering to the rear-end, with the stretchy, shiny material emphasizing feminine curves, and giving the illusion of extra lift right where you want it. The bust, meanwhile, is a lacy material with a little stretch to it. It isn't the most beautiful cut I've ever seen, but it's feminine. While it does have room to accommodate a larger bust line, it was very comfy over my As, was not baggy, as some tops tend to be, and was really quite pretty. The arm straps are adjustable, but are also elastic, so you can pull the front down under the breasts comfortably.
The thong is nice. It's a decent width, and stays where you put it. It comes up far enough in the back, and doesn't go up too far in the front. I wear a "large" in normal panties, and these fit well and were comfy, though, I did not wear them very long.
As for the "lace garter with beaded ties that can also be worn as a choker", it is not a garter. Maybe on a runway model, but not on me! It's not a classic, elastic, slip-on. It ties. But the lace piece is nowhere near long enough to fit around a thigh. I used it as a choker, as did the girl in the picture on the packaging, and it was very sexy. But if you want to wear a garter, you'd best purchase that separately.
As for the practicals, I got it in raspberry. It's a nice, flattering shade of red, not quite as bright as it looks in the picture, but not a deep red. The lace is nice, not itchy. The washing instructions are to hand wash in cold water and line dry. The stitching is good and the elastic is sturdy.
In action, the outfit is terrific. Many of my nighties are discarded in the heat of passion, because there are parts of me that my husband wants to be able to see, and my more modest lingerie, selected to be worn in the living room before and after the action, slip down and cover those parts. But not this one. It rides high, and once pulled up, it stays up. If you're looking for something to heat up "the heat of the moment", this is a good one to try!
Experience
We were sick. First my husband, then me. There is a damper on lovemaking when you are overlooking a persistent cough and the smell of menthol rub and cough drops. This costume came in the mail the week I got sick. I stored it away to use as a celebration when I could finally feel like my sexy self again. I washed and curled my hair, shaved my legs, and put on the costume. I felt really hot: a totally transformed woman.

I came out to the living room, posed a little, unbuttoned his shirt and led him to the bedroom. Inspired by the sexy woman in the bedroom mirror, I took the top and rocked his world!
This product was provided free of charge to the reviewer. This review is in compliance with the FTC guidelines.

Thank you for viewing
Satin chemise set
– chemise and panty set review page!