All I need are my Angel wings!
When I was wearing this, it was hard for my partner to take his eyes off of me. He kept calling me his angel and he was asking where I hid my wings and halo. He usually loves white and black and lingerie and this was my first lingerie with this color of blue. I call it a mint-blue color but the product page says blue. Overall, this is something to brag about. The pure white lace really gives the vintage look. It's just a beautiful,classy lingerie set.
Published:
Pros:
* Gorgeous colors
* Exceptionally beautiful lace
Cons:
* Delicate material
* Wrinkles easily
I purchased the Vintage Doll Garter chemise and g-string by Fantasy Lingerie for a special boudoir photo session that My partner had planned to do. It arrived on a white hanger with a clear bag covering the full chemise. The panties were at the top of the hanger, connected to the chemise with a plastic tag.
The only issue that I had with the chemise was that it has a very delicate satin material on the sides. I eased into it because of the material, because I felt like I would ruin it if I was careless while trying it on.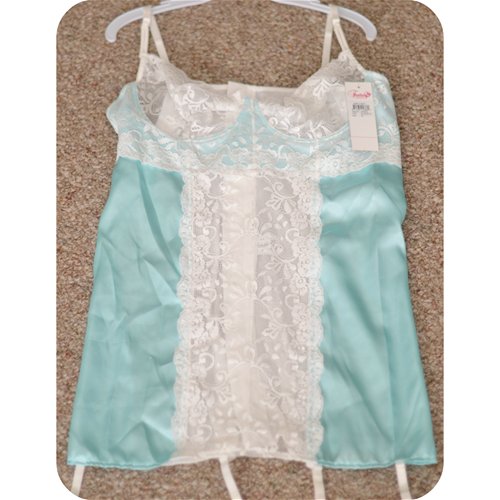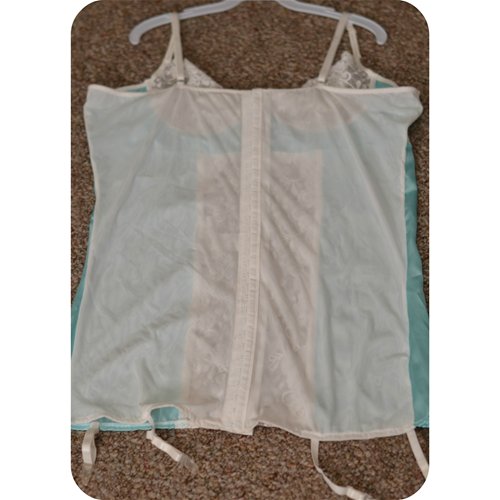 Material
This chemise set has 4 different materials used.
Lace-
The lace is Soft and stretchy. This material can be machine washed at 30 degrees. Lace should not be bleached and ironed. It also shouldn't be tumbled and dry cleaned.
Nylon-
Nylons are generally strong, tough, and resilient polymers which offer good barrier and high fatigue properties. They are hypo-allergenic and offer good resistance to oils, greases and solvents. They have good resistance to a wide range of chemicals and a high abrasion and weathering resistance. Nylon can be washed in sudsy water. Never use a scouring powder.
Satin-
A satin fabric tends to have a high luster due to the high number of "floats" on the fabric. Floats are "missed" interlacings, where, the warp yarn lays on top of the weft yarn, or vice versa. The floats tend to make the fabric look glossier as well as give it a smoother hand in most cases. Satin can not stand high temperatures so never soak, boil or bleach this material. Wash in tepid water and allow drying in an airy place.
Spandex-
Spandex is very strong and durable material, able to be stretched repetitively and still recover original length. It is resistant to body oils, perspiration, lotions, and detergents with no static or pilling problems. Spandex can not stand high temperatures so never soak, boil or bleach this material. Wash in tepid water and allow drying in an airy place.
The satin material on the front sides has no stretch. The lace on the front has stretch to it but it only stretches vertically. The back of the chemise is a stretchy nylon, It's fully stretchy. The shoulder straps are just like a basic bra strap, they provide lots of stretch and they didn't dig into my shoulders. They adjusted nicely to fit my height (5'2") with ease and they can fit a large number of sizes. The shoulder straps are connected to the chemise by clear plastic clips. The adjustable straps are also adjusted by clear plastic clips.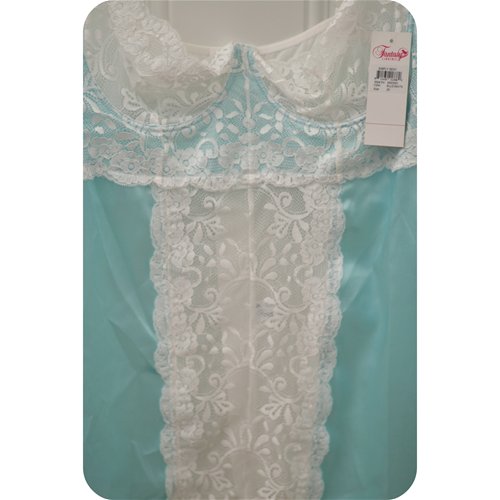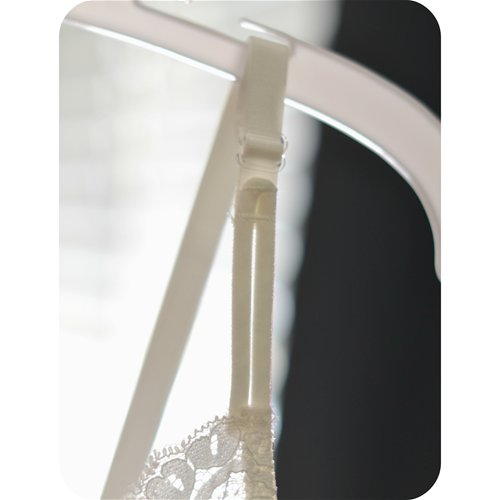 The back is closed by a hook and eye system. This goes all the way down the full chemise. There are 30 hooks and 2 sets of 30 eyes. The double row is perfect for adjusting to your body size. If you need it tighter, just put it on the second row. The whole hook and eye system is extremely well made.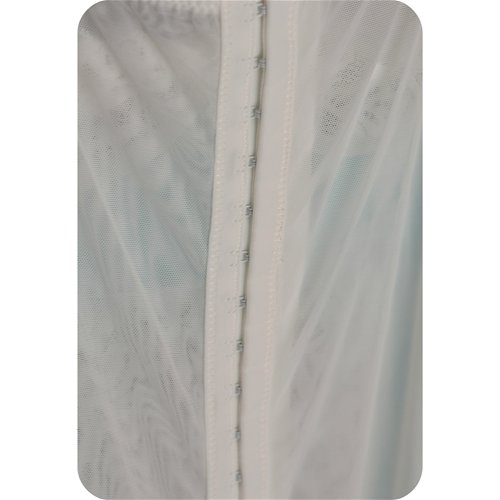 The garters on the chemise are not removable, they are sewn into the chemise. I would have liked to see removable garters on it. The garters are elastic and the clips are clear and plastic.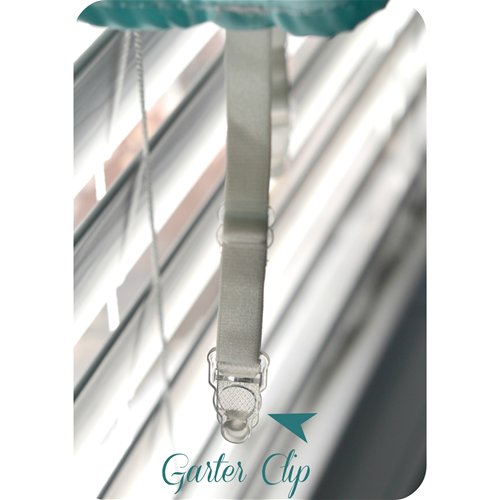 The middle of the chemise is lace and sheer. You can see skin through it because some of the lace openings are a bit larger than the usual lace.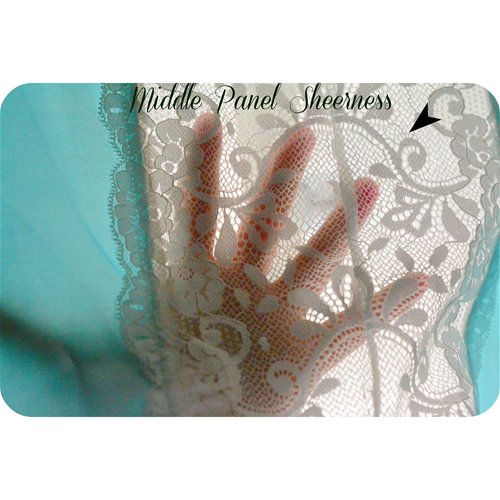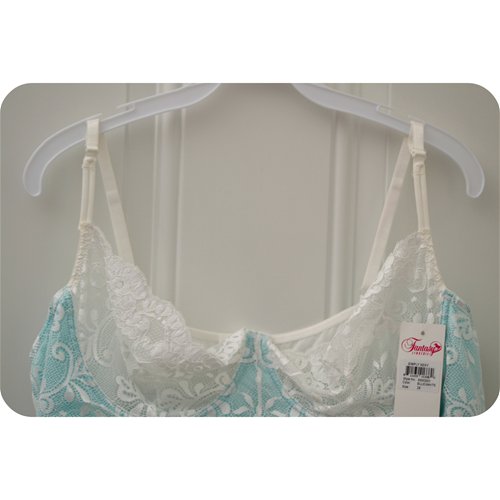 As I said above, the 2X was large on me in the stomach and hip area. My sizes and the chemise measurements are below.
Measurements/Sizing
My sizes:
Breast/Bra Size- 38F
Waist- 37.5"
Hips- 42"
Height- 5'2"
Torso length from collar bone to top of pubic bone- 25"
Chemise Measurements:
Bra underwire length:10 3/4"
Bra cup diameter: 6 3/4"
Bra straps longest length: 17 1/2" - unstretched
Bra straps longest length: 23" - stretched
Bra straps shortest length: 10" - unstretched
Bra straps shortest length: 13" stretched
Total length of chemise unstretched 23"
Total length of chemise stretched at lace panel only 27"
Waist measured across unstretched: 19"
Waist measured across stretched: 21.5"
Cup size will fit D-DDD best.
Garters
Garters at shortest length:4"
Garters at longest: 6"
G-string Sizing
G-string back is T-shaped
Waist measured across unstretched: 17"
Waist measured across stretched: 23"
Top front to top back unstretched: 20"
Top front to top back stretched: 26"
Length of cotton crotch panel: 1 1/2" - very small area
The thong was comfy and stretchy and non irritating. It has a very small cotton crotch that is white in color. The top of the thong is scalloped lace.
Full size lace front: 7 X 7 1/2"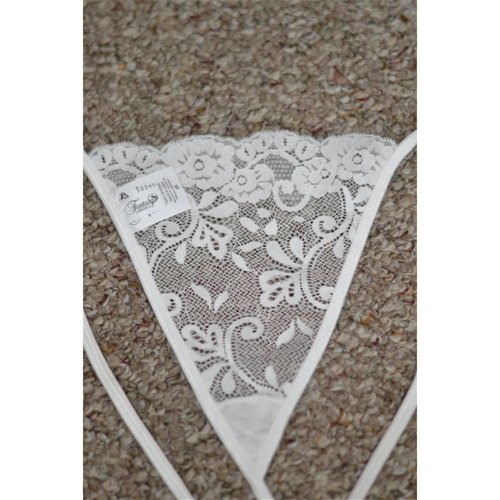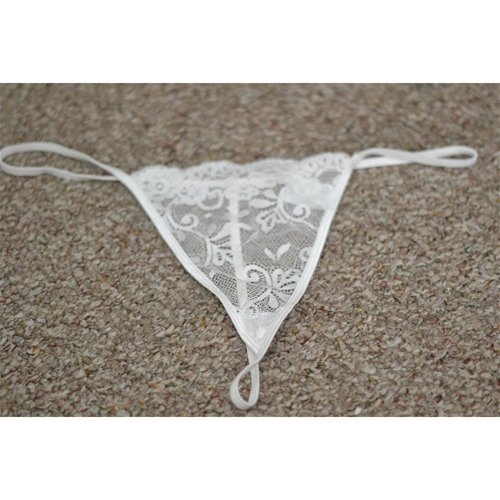 Experience
I ordered the size 2X since I needed a large size for the breast area. The size was very big in the torso area but the top actually fit my chest but the underwires were narrow. I just couldn't believe that I found something from Fantasy Lingerie that fit my breasts!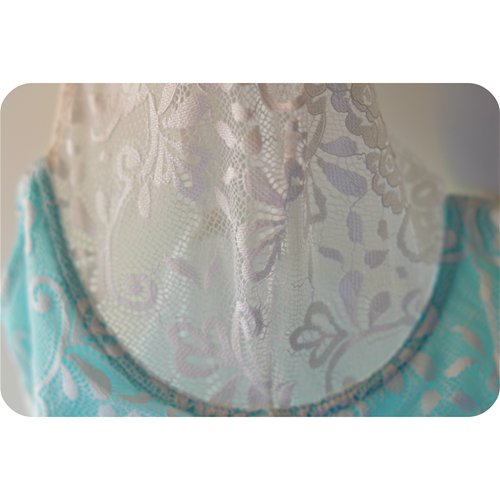 Here is the Fantasy Lingerie Size chart:
Bust (in) Waist (in) Hip (in)
One size6 - 12 36 - 40½ 27½ - 31½ 38½ - 43½
Small 6 - 8 35 - 37 26½ - 28½ 37½ - 39½
Medium 10 - 12 37 - 39 28½ - 30½ 39½ - 42½
Large 14 - 16 39 - 41 30½ - 32½ 42½ - 44½
X Large 16 - 18 41 - 44 32½ - 34½ 44½ - 46½
Queen 18 - 22 45 - 48 35½ - 38½ 48 - 51
1X 18 - 20 44 - 47 34½ - 37½ 46 - 48
2X 20 - 22 47 - 51 37½ - 40½ 49½ - 51½
3X 22 - 26 51 - 54 40½ - 43 51½ - 54½
This chemise set left my partner speechless when I tried it on.
This is one of the more beautiful pieces that I have purchased from here. My partner told me that all I needed was some wings and a halo, to complete this outfit. Let me tell you, without scaring you away; I tried it on one time and it was so very delicate, I was scared that I was going to rip it. The blue-mint material is an extremely thin satin material and if your partner is one of the people who is rough in the bedroom, you may want to go easy.
The colors and the lace scream pinup and vintage styling. This truly is beautiful.
I wore it for a very brief period and took it off because of how thin it was.
The colors are a blue green type with a hint of mint and white. These colors compliment each other well on this piece. The lace is a larger flower pattern with rounded leaves. I adore the lace on this chemise.
The back is also sheer. When worn, you can see the g-string underneath.
Care
The care tag states to machine wash in warm, gentle wash warm, with dark colors washed separately. Tumble dry low. Remove promptly. Do not twist or wring out. (This could damage the satin) The satin wrinkles easily and it's hard to get out the wrinkles.
This would be perfect to be worn in the spring, Easter time, or for a wedding night.
I paired it with some sheer white thigh highs and the garters held them up well. It would look nice with some color coordinating heels. It does seem to fit a bit smaller like the 1X size, if you take a look at the measurements you will understand what I mean.
There is also a variety of other matching pieces that are in the Vintage Doll category here:
Vintage Doll
This set comes in Small, Medium, Large, 1X, 2X, 3X.
It also comes in a purple & black set.
Follow-up commentary
23 days after original review
This is such a beautiful lingerie piece. I feel like an angel when I have this on. The colors are perfect for spring and they would fit in nicely around Easter.
This product was provided at a discounted price in exchange for an unbiased review. This review is in compliance with the FTC guidelines.

Thank you for viewing
Vintage doll garter chemise & g-string
review page!