All-in-one costume achieves the fantasy, yet lacks in quality
This is a great costume for creating the fantasy of a naughty french maid. It includes all the components you would need to achieve the look at a very appealing price. If you want a costume for light bedroom use or for a photo shoot, you'll do well with this flattering outfit. However, if you're a stickler for high quality stitching and pretty packaging, I'd look elsewhere and expect to spend at least twice as much. For the price, it doesn't get better than this.
Published:
Pros:
All accessories included, unique design, flattering cut, fits well, great price, will fit many sizes
Cons:
Poor presentation, cheap quality, not very simple to take off
Upon first opening the package, my expectations for this costume were low. Yet, in the end, I was happily surprised by how the French maid fantasy came alive.
The costume came in a flimsy bag without any label. It's the cheapest packaging that I've ever seen. Included are the skirted apron, a matching panty, a pair of white stockings, a little maid's "hat," and a choker. The stockings, instead of being folded, were wrapped around a piece of cardboard, like yarn wrapped around a spindle. If you're planning on giving it as a gift, I'd suggest re-packaging it yourself.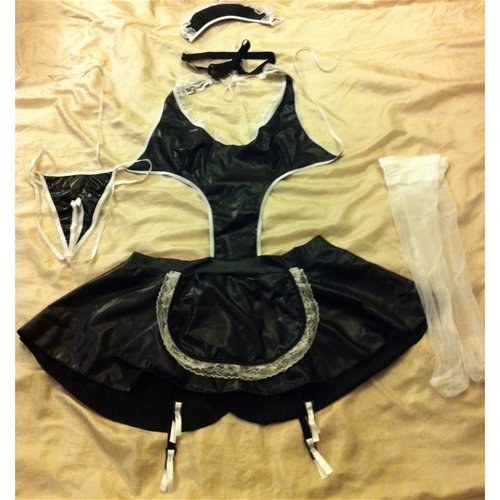 The choker is just a strip of black elastic, about 35" long. I found it ample for a cute bow. It didn't feel scratchy and was plenty comfortable. The fact that it's stretchy allowed for me to move my neck without feeling restricted and is safer for wearing around the neck. Though this is a simplistic element, it added detailing that a lot of costumes lack.
The hat is made of black foam (which helps it keep its structure), with lace and a tie on either side. Each tie is 16" long, which should let it fit anyone. The style of the hat is very accurate to the fantasy of a French maid's uniform and it fits securely. However, if you're planning on having sex while wearing it, expect it to fall off.
The stockings are very stretchy and comfortable. They'll fit most sizes. They're incredibly sheer and don't have reinforced toes, so I expect they'll get a run soon. They also aren't quite as soft as my other stockings. However, most costumes don't include stockings, so the fact that they're included earns points for this costume.
The panty is really unusual. The design is a cross between a crotchless panty and a jock strap. It looks normal from the front, with lacy elastic and shiny black fabric (almost like vinyl or pleather). It has a cute little white bow that hints to the location of the clitoris. I found this detail to be playful and unique. Traveling past the bow, you'll find a standard crotchless panty design. I like this aspect of the costume, because you don't have to interrupt lovemaking to take anything off. The back of the panty is where the design is so unusual. It looks exactly like a jock strap and offers no coverage. It is supported by two strips of elastic crossing diagonally across each cheek. Surprisingly, I found it to be more comfortable (and flattering) than normal underwear and to allow easier access to intimate areas. If you're open minded, you may end up really enjoying these panties in the bedroom.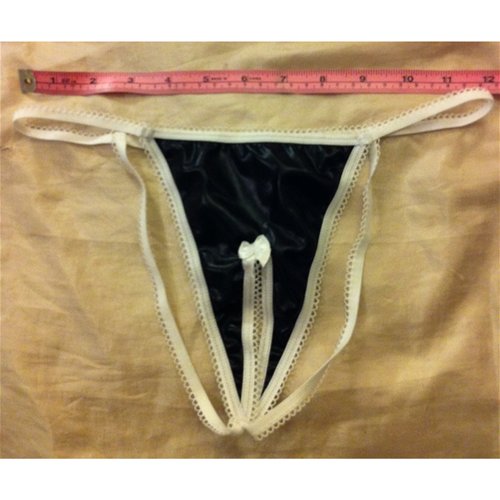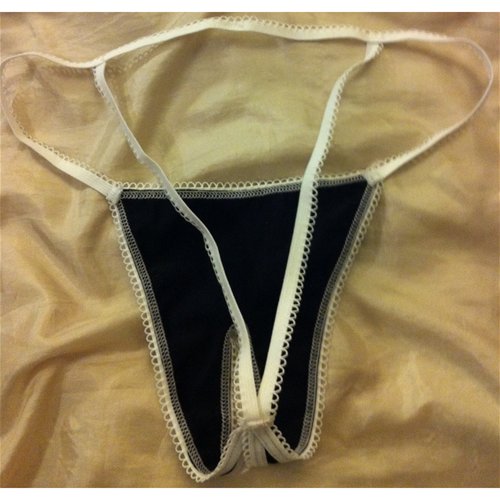 The apron is made of the same shiny polyester as the panty and has lace accents. Unfortunately, the lace needs to be ironed. The apron secures just like a halter bikini. the apron's ties (around the neck and back) are each 18" long. The elastic used for the apron's ties are inferior in quality to the ties on the panty and hat. This is one of the places where the quality of the costume really becomes apparent. Anyways, the shape of the top makes up for it. My cleavage (size DD) looked great in it and I suspect that it would flatter anyone's chest. The waist of the apron is my favorite part. The waist's shape is super flattering and accentuates curves. The bottom of the apron features a skirt that goes all the way around, without any sort of tie or clasp in the back. That means that if your hips won't fit in the skirt, you're screwed. However, the material stretches slightly. On the front of the skirt there is a faux mini-apron, on the back of the skirt there is a scalloped slit, which made it interesting. There are four built-in garter straps underneath the skirt. These were also flimsy because they are made of plastic and are unadjustable in length.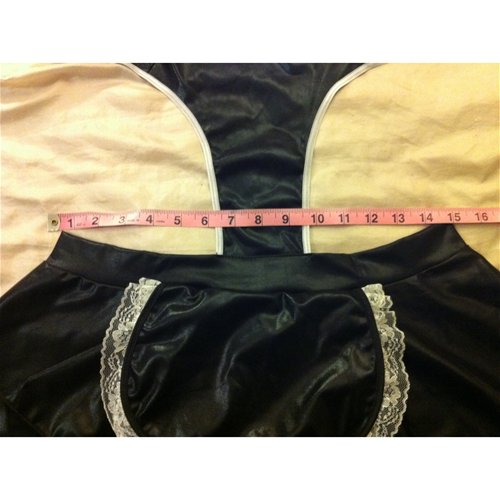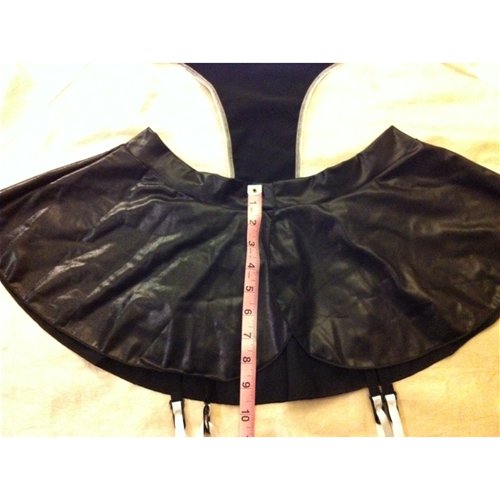 Individually, the components of the costume don't seem too promising. However, when put together, the fantasy of a French maid comes together PERFECTLY. I was happy with the comfort, flattering shape, and easy access that the costume provides. Considering all of what the costume includes, I think it is a great value and I highly recommend it.
The tag says it is 100% polyester, made in Mexico, can be machine washed, and can be ironed with low heat. I'm usually a size 6 in clothing and ordered the M/L. I found it to be roomy but not too big. I would recommend it for people who wear sizes 6-10. If you're larger than a size 10, you might find the skirt to be a problem, as it is not adjustable.
This product was provided free of charge to the reviewer. This review is in compliance with the FTC guidelines.

Thank you for viewing
Maid to please with hose
– costume review page!