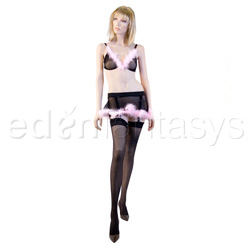 Marabou trimmed skirt set
Bra, gartered skirt and stockings set
by Leg Avenue
All the trimmings fall right off!
Size on the pieces of the set vary too much, feathers come off too easily and just poor quality in general. Might be enjoyable for a small person, but not for anyone with any bit of size.
Published:
Pros:
Not sure there are any.
Cons:
Bad sizing, poor quality.
Not too many good things I can say about this particular set of lingerie. I was attracted by the garter skirt and stockings, but the second I got it I realized that it wasn't really worth my time.

A big downfall is the one size most sizing. I'm normally between a medium or a large, 34D bra size. The stockings were huge, might have been nice if my legs were thicker and about 3-4 inches longer. The garter skirt has an elastic band to hold it up, which was barely large enough to fit on me unless I put it farther up towards my waist and then the skirt didn't cover anything (and I do mean that seriously; the feathery bottom of the skirt barely reached the top of my thighs.) The top fits like it was made for maybe an A or B cup, definitely no bigger than a C. The very edge of the top barely got past my nipples and the 1/4 inch straps of fabric that everything but the cup of the top was made of made for weak quality.

Material: The mesh fabric was extremely uncomfortable and the marabou feather trim around the cups of the top and edge of the skirt made the top awkward to put on and difficult to deal with in general. Not to mention that the feathers were continuously falling off and making a huge mess.

Another big issue is that since everything but the cups of the top (if they can even be called that since it's just a larger stretchy piece of fabric) are made of the 1/4 inch stretchy material straps (which are really only logical for straps, not the back and sides such as it was), the closure for the top was a front closer. The design was much like the removable straps on a bra. A small clasp that went into a small fabric loop that took forever to get done because of the feathers all over that stuck to you if your hands or anything else got sweaty.

I'm afraid to wash the set because I'm fairly certain that unless I washed it by hand in the sink I would lose a ton of feathers which would then also stick to everything else. I would definitely not pay any real amount of money for this set because it wouldn't be worth it. If you're tiny and don't mind ending up covered in feathers, then by all means buy this, you might enjoy it then. I'd honestly just go for a set that has similar components but isn't designed anything like this.
This product was provided free of charge to the reviewer. This review is in compliance with the FTC guidelines.

Thank you for viewing
Marabou trimmed skirt set
– bra, gartered skirt and stockings set review page!