Almost Purr-fect!
Do you want a comfortable bra and panty set? Are you looking for something that is playful and yet can be worn during the work day too? Are you a fan of animal print? If you answered yes to these questions I hightly recommend the Purr-fect bra and panty set for your next purchase from Eden Fantasy!
Published:
Pros:
Cute print, Not a lot of padding, Comfortable, Washes well
Cons:
No actual bra size
First off, let me just throw this disclaimer out. I LOVE leopard/animal print but I am not the type that goes overboard.
This Purr-fect padded bra and panty set immediately caught my eye and being that it has red on it I knew it would be thumbs up from my husband. Most of the set is made from
Polyester
and also
Spandex
with a little bit of lace on the panty part. The straps on the bra are spandex. I found these to be rather comfortable while wearing them throughout the day. I also found that they did not slide off the shoulder as some other bras do. The bra fastens just as most all other bras do with the hook and eye fastener. The padding for the bra is not a "give me a larger cup size" but it was enough for a small lift for myself (I am a 38C). The bra does have an under wire but was not uncomfortable at all.
This set is a thong set. The thong was not uncomfortable at all. I am currently a size 12 or 14 in jeans, and I found the size large to be a good fit. It was neither to big nor to small. The sides of the thong do have lace on them. I wasn't sure how I would like that, but they give the whole set a good balance of something for everyone. After a few washes the lace is still completely intact.
I have worn this a few times now since I have received it, and I will have to say that it washes up very well. The spandex straps do pretty much go back to "normal" after wearing it all day and washing it. I washed the set on delicate in my washer (on warm) and let the set air dry after washing. After I believe 2 or 3 washes the set looks the same way it did on the day I received it. The colors are still vibrant and it still fits well.
If I would have to say something I would have changed while making this; make actual bra sizes for everyone. I know for myself I have a hard time judging how a "large" would actually fit.
Here is the size chart for Fantasy Lingerie: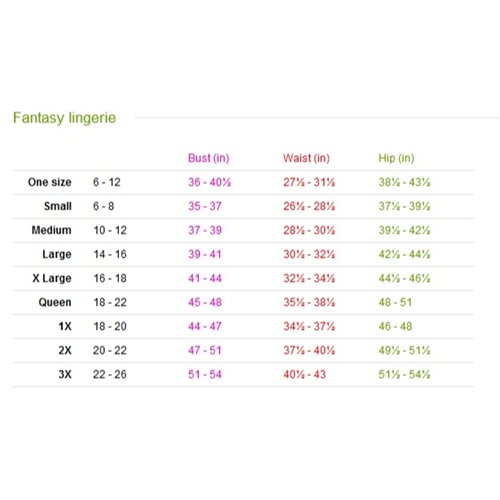 I hope that I helped you to decide for or against this set for yourself or someone you know. If you have an other questions I will try to answer them!
This product was provided free of charge to the reviewer. This review is in compliance with the FTC guidelines.

Thank you for viewing
Purr-fect padded bra and panty set
review page!