An Elegant Corset Indeed!
This beautiful corset is both elegant and feminine without sacrificing comfort. Made with rich pink polyester satin, this corset feels wonderful against the skin and really makes your cleavage pop!
Published:
Pros:
Convertible straps, fits a wide range of sizes, gorgeous color, beautiful lace, comfortable.
Cons:
Dry cleaning suggested, poorly planned boning, doesn't fit below a size 2 very well
I'm not really a pink kind of girl, but I'm totally in love with this corset.
The front of this corset is made of rich dark pink polyester satin with a black "eyelash" lace overlay and a black satin bow at the waist (the real waist, which is the smallest part between the chest and hips, not the natural waist, where your pants sit). The bow clips together via a black plastic hook, which is concealed when the bow is fastened. The front also has hooks and eyes that go all the way up the front. On me, there is a very slight gap where you can see a bit of skin through the closures at the bust, though I have a large bust so this may not be the case for everyone. A modesty panel would have improved this situation greatly, but it's not a deal breaker for me.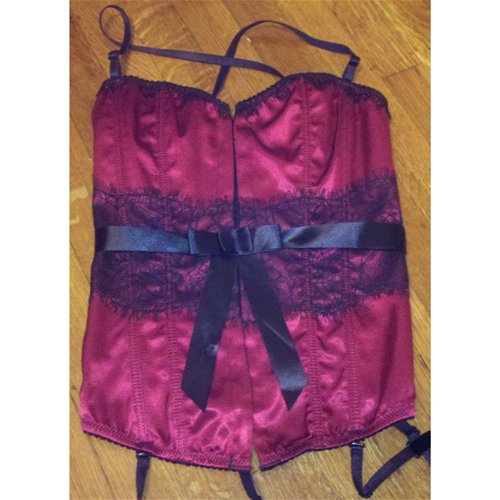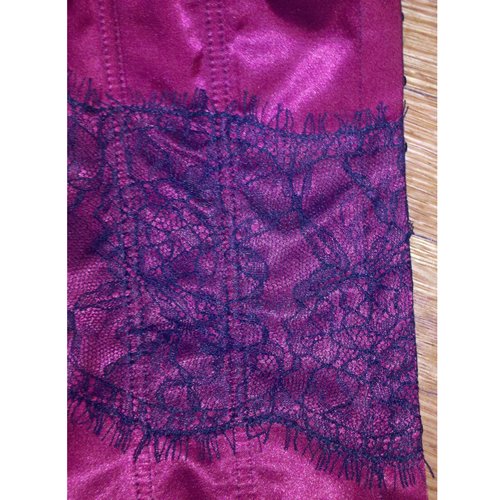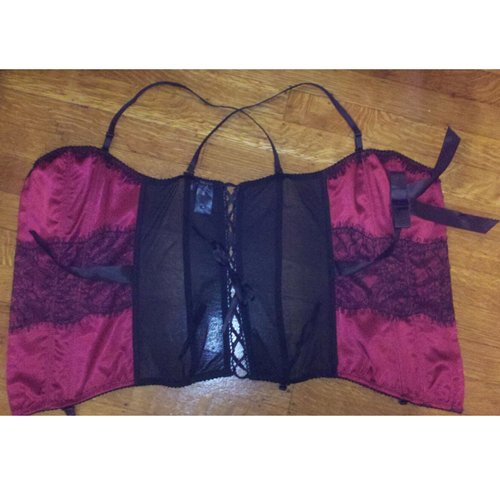 The back is transparent black mesh with two sets of black satin ribbon that start at the top and bottom and tie into a 2-ply bow in the middle of the back. There are ten pieces of plastic boning in this corset to help it keep its shape, and it does a decent job in the front and as reinforcement for the lacing, though I think metal boning would have been more stable. Unfortunately, the middle-back boning bowed terribly when I wore this. Mesh isn't really substantial enough to support boning, so I had to perform surgery. I snipped the underside of the pieces of fabric that hold the two pieces of boning at the middle back and slid the boning out. The removal of these two pieces of boning made a world of difference. Voila! No more bowing!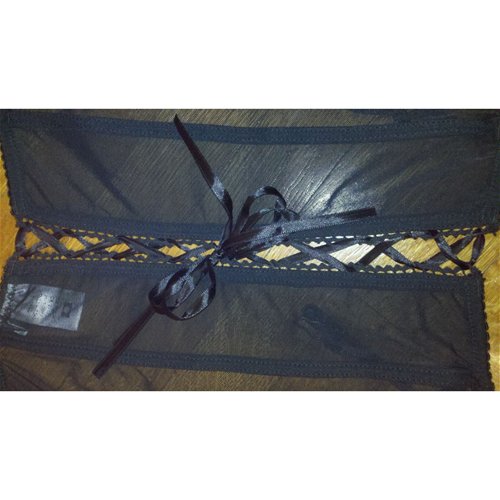 Because there are no cups in this top, I chose a small, which was closest to all of my other measurements except for my bust. The measurements for a small are as follows, with my measurements in parentheses:
Size: 2-6 (0-2)
Cup: A-B (32D)
Bust: 32-34 (35)
Waist: 24-26" (26")
Hips: 34-36" (35")
Weight: 90-120 lbs. (112 lbs.)
The corset fit me relatively well, though it would probably fit someone a little bigger better than it fit me. When I had it laced to the desired tightness, you couldn't see a whole lot of the criss-cross corset style in the back, which was a little disappointing. I I feel like this would be a better fit for someone who is at least a size 4 and would probably fit up to a size 8. Additionally, there was plenty of additional space in the bust, and someone with a DD bust would very likely fit into this corset.
The length of this corset from the top of the cup to the bottom of the corset is 15". The garters are 5" at the shortest setting and 7" at the longest and have plastic clips. There is an included thong with a cotton liner, which measures 26" unstretched and 40" stretched, meaning it should fit a pretty wide range of sizes.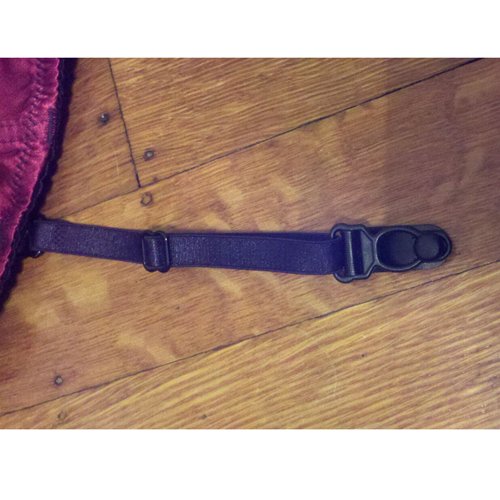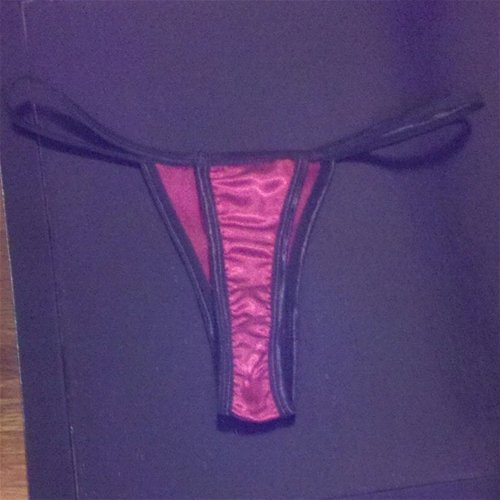 The straps are bra-type straps and are convertible. The corset can be worn with traditional straps, criss-cross, halter-style, or strapless. I felt that halter style was the most flattering and gave the most support, but traditional and criss-cross were supportive as well. Strapless was sexy but didn't give the support or cleavage that the other styles did.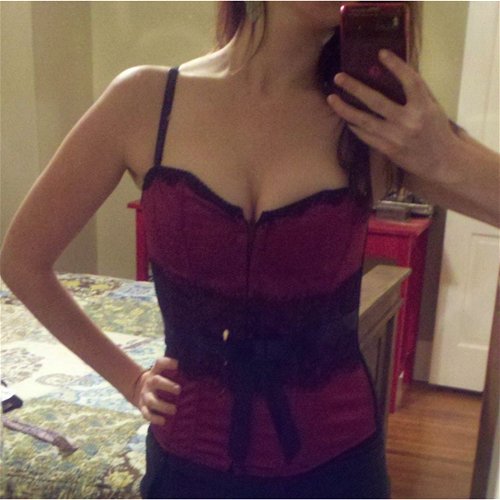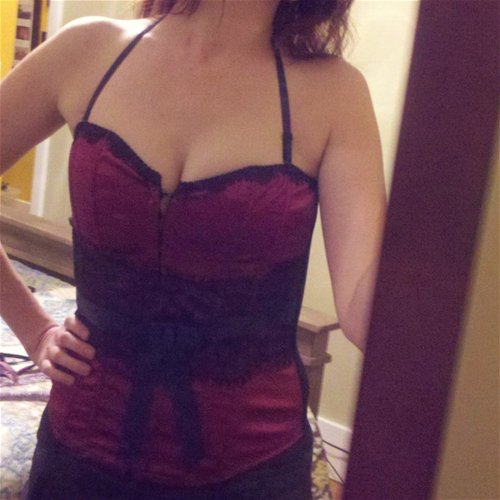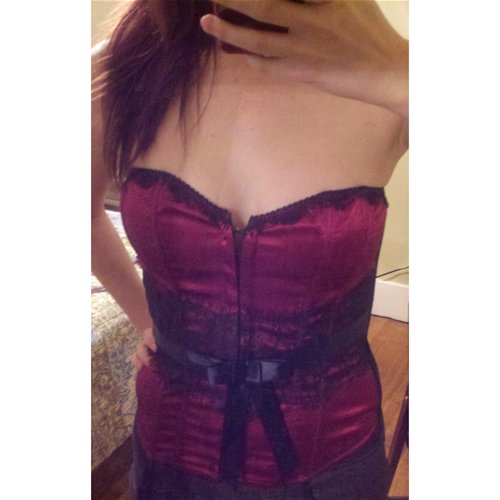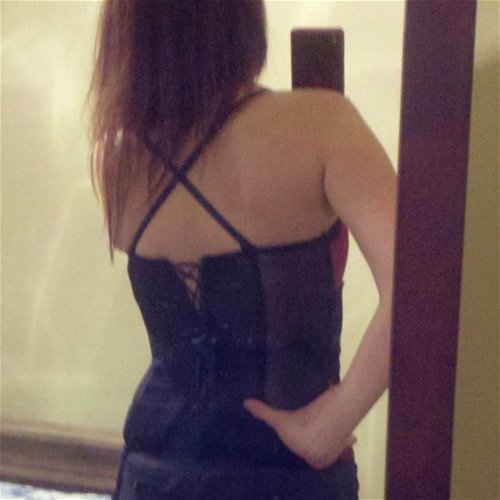 I found this corset to be very comfortable. It's lined with mesh, so it's soft against the skin and the boning doesn't poke uncomfortably. I do worry about the long-term durability of the mesh on the back panel due to the fact that lacing the corset pulls on it and mesh is a pretty delicate material. So far I haven't had any issues, however.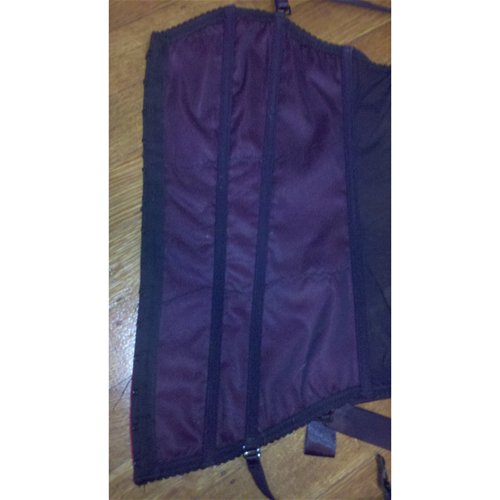 The composition of the fabric is 95% polyester and 5% Spandex, which is what gives the mesh panel its stretch. The tag states that this garment should be dry cleaned, but who takes their lingerie to the dry cleaners? I'd recommend spot cleaning, though because it doesn't have metal boning, it can potentially be hand washed. Don't put in the washer or dryer, however, and don't wring it out, as it can become easily misshapen. If you do elect to hand wash, hang to dry. Store hanging up, lying flat, or folded in half (symmetrically, with hooks and eyes and lacing being the "seams" of the fold).
Experience
Overall I think this is a gorgeous set, albeit a little high maintenance with the care instructions. I do wish that they would have left out the middle pieces of boning in the back or used a heavier weight mesh or other fabric to hold up the boning, as I found that part poorly thought out.

Because this set is so elaborate on its own, I suggest minimal accessorizing. I don't wear thongs, so I paired mine with a pair of black lace boyshorts, lace top stockings, and black pumps. I've given stocking suggestions in the related products.
This content is the opinion of the submitting contributor and is not endorsed by EdenFantasys.com
Thank you for viewing
Elegant interlude corset
review page!