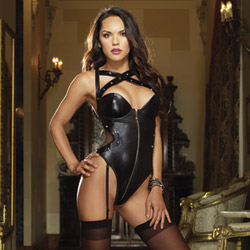 Naughty by nature teddy
Teddy
by DreamGirl
An outfit that exudes sex appeal and commands respect.
This is a super sexy, somewhat kinky outfit. Even though you may think you won't look as good as the model in the picture (I always have that issue), this outfit will look SEXY on anyone. Great details and features really complete the look.
Published:
Pros:
- Amazingly sexy dominant style.
- Removable garter straps.
Cons:
- Tag says dry-clean only.
- Garter straps can come off when not intended.
Are you looking to add a little spice to the bedroom? Maybe you want to try a little role reversal? Put this outfit on. Pair it with some thigh-highs or fishnets. Add some sexy heels or tall boots. When your man sees you in this, you will have to pick his jaw up off of the floor. Then he will be ready for your command. Make him worship you.

This teddy can make a great dominatrix outfit. It has a leather look, and the small details - like the high cut sides, thong back, zipper down the front, and fishnet panel sides - really add up to a sexy outfit that will drive your significant other absolutely wild! I could talk for paragraphs on how sexy this outfit is and how great it looks. There's no denying that (at least in my opinion).

I will just detail a few issues I have with this sexy little number:

- The zipper up the front is not exactly the highest quality, but it's not the worst either. It did come open on me once, but I was able to unzip and re-zip it just fine.

- The piece of the garter straps that you button into the clasp can come off easily, but you can put them back on easily too.

- The removable garter straps CAN come off when you are trying to fasten them.

- The tag says dry-clean only...a sexy piece of lingerie that is dry-clean only? Really?

Even though the tag says dry-clean only, I went against the recommendations and did a few test washings in my washing machine on the delicate cycle in a delicates bag. It seems to be holding up just fine for me so far. Of course, I can't guarantee you'll have the same results, but I just didn't see any practicality at all in having lingerie that can't be washed.
This product was provided free of charge to the reviewer. This review is in compliance with the FTC guidelines.
Thank you for viewing
Naughty by nature teddy
review page!