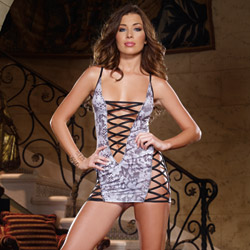 Snakeskin chemise and thong
Chemise
by DreamGirl
Aversion therapy in the form of trashy lingerie!
The Snakeskin chemise and thong is an inexpensive, hot,(albeit cheesy)little number from Dreamgirl. It really is "one size fits most", though boob support may be an issue. Blending rattlesnake print with black crisscrossing elastic it clings but still covers- get a little wild tonight with your reptilian side!
Published:
Pros
Inexpensive
Fits well
super stretchy
cut well
Cons
For the price? not much
So to start off let me tell you, I have been terrified of snakes most of my life. I have a history of mental illness and addiction (I'm 6 years into my recovery) and at my worst I hallucinated a heck of a lot of snakes (I know TMI) but I thought that it would say even more about how far I've come if I wear able to wear snakeskin (even faux snakeskin) without having an anxiety attack. So here I go......
The package arrived from Eden and the Snakeskin chemise and thong from Dreamgirl came in a purple and silver cardboard package. On the front is a sexy chick approximately a size 6 I would say, but it claims to be a "One size Fits Most" item. At 5'6 1/2" tall and 148lbs B36 boobs I should fit it just fine. Inside, the lingerie comes in thin plastic.
The chemise itself is 90%
polyester
10%
spandex
. Basically its like a thin bathing suit- patterned on one shiny side and white on the other. It's light grey, dark grey, and black rattlesnake pattern with black elastic lacing across the front in a deep V, repeated slightly smaller in the back and half way down each side. When I first saw it I thought "pure cheese" and giggled histarically when it got here, But WHOA!!!! I wiggled into it and it actually looks half decent! It's not classy but it really is kinda sexy!
Women with larger boobs would not be able to do this chemise. I would say a C cup at the most (unless you have implants) because it has
zero
support in the bust. As it is, the triangles barely cover half my breasts if I pull it up and just my nipples if I pull it lower. It is super stretchy though and other than the fact that it barely covers my bum, is quite comfortable.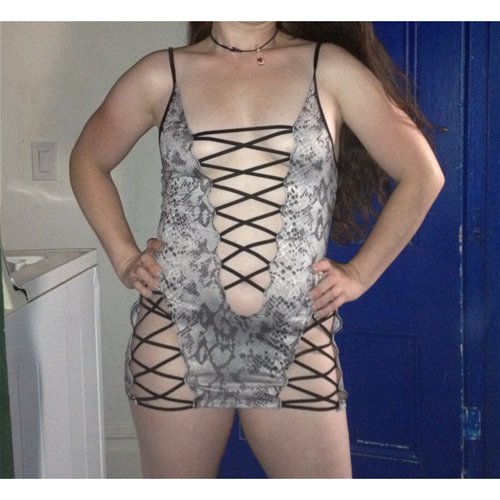 The thong is quite tiny but I usually wear a large (though I own M and XL as well) and it's more skimpy than anything. It's comfy and looks great peaking out of the cutout in the back.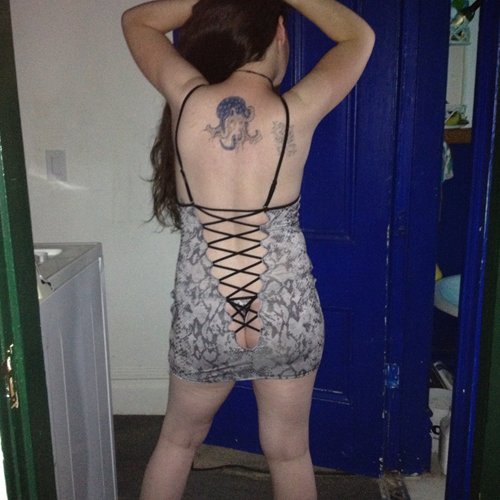 Dreamgirl is known for making lingerie that is cut just right. Sewn properly and made well, though simply and inexpensively, most of what they make fits well on any body type. This item also comes in a
teddy version
I haven't washed it yet but I'll probably do it by hand as it doesn't seem super strong. It's the kind of material that you don't want to sit on cement or anything scratchy with, as it will catch and create small runs.
Extra cool thing- another reviewer just reminded me that bullets can be put in thong pouches!!! and it is open so it would work! It would be fairly low though. I find it frustrating that the pockets are always too low or too high up on your mons but it might work for some people.
Experience
Wow! I actually feel sexy in this thing! How did that happen? I have 4 or 5 lingerie 'outfits' that I stuff myself into to do erotic massage. Usually I'm all self conscious about how the stockings cut my thighs in half and the garter belt either looks like a girdle or slides down my square hips. I seriously ordered this for a laugh and to see if I could squeeze myself into something snake like without shuddering like I did when I first opened the package. Mission accomplished! I love it!!! And it's a great length to keep on during sex! Too short to wear out but perfect for foreplay or roleplay or just to give a kick ass massage in! Thanks Eden!!
Plus I have a tendency to gain and lose weight (especially on pyche meds) and this I bet I can wear from 120 to 170!!
Follow-up commentary
2 months after original review

Even though this is totally trashy I have found a new appreciation for trashy lingerie. It doesn't come undone, it's so stretchy that it doesn't rip, it tends not to be figure type specific. And obviously it's cheap! I seriously love it you can crumple it up and find it in a corner of your room, shake it out and it still looks good. In fact I'm going to buy more like this. I think I'll avoid the animal prints though- try crochet type fishnet this time.
This product was provided free of charge to the reviewer. This review is in compliance with the FTC guidelines.
Thank you for viewing
Snakeskin chemise and thong
review page!