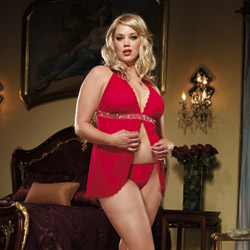 Babydoll and thong red
Babydoll and panty set by DreamGirl
Babydoll failed for me...
This item is worth it if you need a cheap sexy outfit and have smaller breast size and a wider waist, but if you have larger breasts save your money and get some other lingerie. The color and the idea of this is great but the execution was just a flop.
Published:
Pros:
Pretty color, cute idea
Cons:
bad fit, sizing is off, rough material
As soon as you open the box it comes in this is the baby doll and thong rolled up in a little plastic packaging.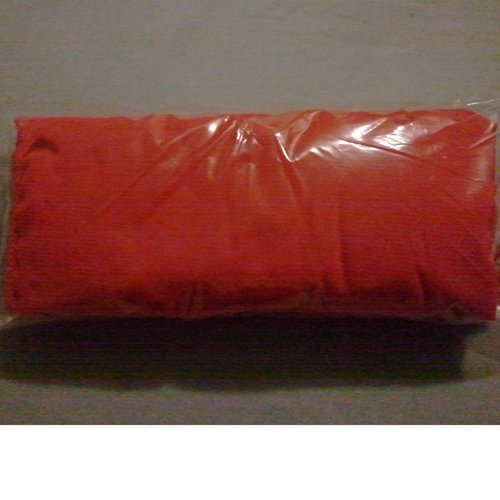 Here is the front of the baby doll unrolled and spread out on my bed.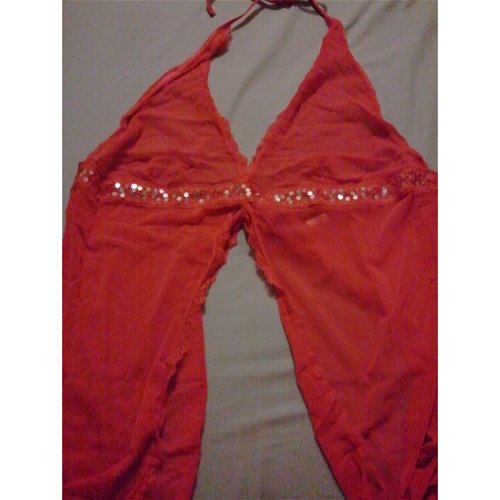 Here is the thong that comes with the baby doll front and back.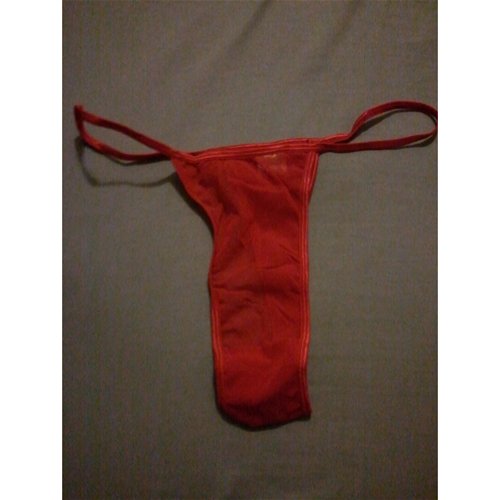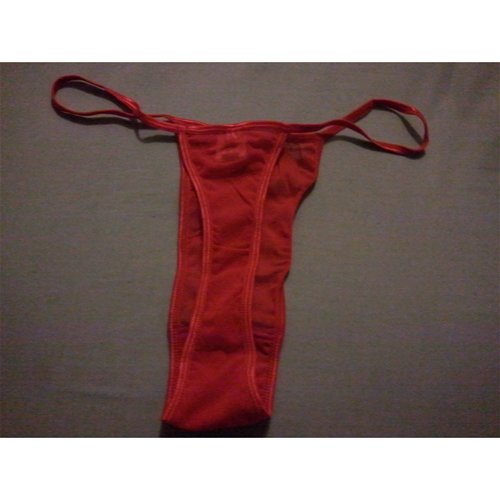 So I was just thrilled about this one, its fair priced, and from previous reviews I figured it would be a perfect fit, since I am a big girl. Breast size is 42 H and pant size is 18. The tie string that goes around the waist was tied to the smallest setting, and when I say smallest I mean where both the sides of the baby doll were touching. It was still to big for my waist. I was so disappointed since I was planning on wearing this for my husband that night and since I ordered the plus and it said it would be fine for people over 200 pounds I figured it was going to be spot on. I ripped open the package with excitement and tried it on right away. The jeweled part isn't able to be seen since my breasts are so large and the middle doesn't cinch tight enough. The triangles for the breasts fit fine but the middle wasn't tight enough so my breasts just went below the little band. The thong is made for a thin person with a very narrow strip in the front. If you have had kids then you know what I am talking about. Length was fine, but it just wasn't a good fit, this is definitely a fail in my eyes. It's like they took a small persons outfit and just made it bigger, without taking into consideration the larger woman's body.
This may work for you if your waist is larger then 39 inches, and you have extremely perky breasts, and when I say that I mean both. I really wish this worked well for me but now I will save it and give it to my friend who is about 320 in hopes that it will fit her. But in all honesty I don't think the thong part would fit, since it fit me.
Definitely a bedroom wear since the top part is rather sheer and you can see your nipples through the fabric, also the fabric is a bit rough, so if your hubby or s/o has rough hands then this will catch on their hands and possibly rip.
This product was provided at a discounted price in exchange for an unbiased review. This review is in compliance with the FTC guidelines.

Thank you for viewing
Babydoll and thong red
– babydoll and panty set review page!