Bad Ass Sex-Kitten is Truly The Only Words For This Piece.
Shredded sleeves, floral print and lace-up features make this one bad-ass teddy. This teddy goes on easily, feels comfortable for long periods, and the crotchless feature makes it something that can even be worn during sex, urinating and oral. It has a unique design that will stand out and flatter almost every shape, with a full-back panty for comfort.
Published:
Pros:
Comfortable.
Incredibly sexy.
Stretchy.
Crotchless.
Great fit!
Cons:
None.
This one size shredded-sleeved teddy with the "corset tied" imitation in the front is the perfect mix between sex-kitten and bad ass, excuse me for saying, but nothing else quite sums it up.
The design consists of a lace up look down the front of your abdomen and a pretty, floral pattern scattered about, the occasional net everywhere else and of course, the shredded sleeves.
The back of the teddy is far less busy. You only have the net/floral design back there, but you see the shredded sleeves too.
This teddy is much like a body-stocking in the way that it fits and feels. Body-stockings are similar to stockings you wear on your legs. They arrive very tiny, but are stretched to fit your body closely. The net this is made of is exactly like your diamond net stockings, and just as durable, but also just as easily snaggable. Clearly, it's entirely see-through.
Praise the Lord, this is not a thong! It's a full-back, but still comfortably shows more cheek than granny panties will. It's also crotchless, which I was happy to notice. The crotch split is a lot like crotchless panties in that it's basically a split where two small fabric strips lay on either side of your vagina lips, exposing your most vulnerable parts. It also exposes a little of my rear. The split measures 3" long and 1 1/2" wide until you have the teddy on, and the garment is stretched onto your body, causing the split to also stretch to fit around your crotch perfectly.
The lace-up detail running the entire length of my abdomen is just criss cross strips of fabric that lay against your naked abdomen. This runs from directly under the bust all the way to right beneath my belly-button. It'll fit differently on everyone, depending on their length and width. Taller people will find that this teddy rides further up their rear and the criss-cross would expose more belly. Wider people will find that similar things happen. On that note, this will fit at least 3" larger than my measurements (I tested), but any larger could be very uncomfortable.
The vulva area is fully covered, not a lot of side peeking out. As for the bust area, my breasts peek out a little where the belly-opening begins. I found this to be very flattering for my chest though! In fact, it's flattering for every part, and I feel sexier in this teddy than most of my others.
There is no bust support, no adjustable anything. You simply slip in this and go. It fit me perfectly, so it'll fit similar sizes about the same as it fits on me.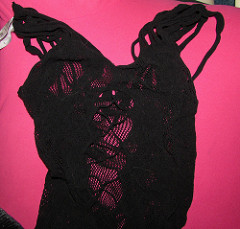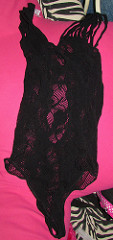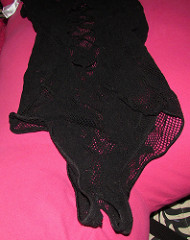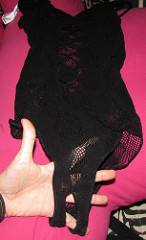 Material & Care
93% Nylon, 7% Spandex. Made in Taiwan.
Hand wash in warm water, non-chlorine bleach only, no iron, drip dry. It washes easily and dries quickly.
Teddie's Measurements
(See above for specific crotch split measurements. Front and back measurements are same except the ones stated otherwise.)
From chest to crotch: 20" long (same for back.)
Total length: 27"
Entire garment measures 8" wide, except the mid-section, which is 7".
Hip to Hip: 10".
Vulva area (top part of crotch):4 1/2" wide.
Entire crotch (labia) width: 2 1/2"
Butt: 6" across.
*NOTE:
These measurements are of the flat garment. When it's on your body, it will stretch drastically to fit. Like I said, it'll stretch to fit a good 3" bigger than me (I tested.)
My Measurements
Bust: Right: between a B and C cup. Left: 34B
Jean/shorts/size: Zero
Weight: 93lbs
Height: 5 2"
Waist: 26" Lower waist. Where I'm a bit wider, the love handle area: 29"
I've included a few photos of it on, but due to the extremely nude nature of this garment, I'm only including bits of photos to give you the best idea possible of what it looks like, without actually being nude on Eden.
Front & Straps: Back: Packaging
These come in the typical Leg Avenue paper box with a photo of the person wearing it, which is very distasteful and makes products such as theirs un-gift-worthy. This is folded up inside much like stockings are when they arrive, and it came inside-out, so I ended up wearing it that way for hours before noticing! It actually isn't noticeable to the eye though.
On another note, I thought this would work wearing it backwards, with the lace-up in the back, and it does, but you have the crotch on your butt, which makes it more uncomfortable and shows more cheek. It can be worn that way though, but the butt being on my crotch looked funny.
Experience
What kind of activity is this teddy suitable for? Almost any! I put it on in the afternoon and wore it until past midnight, comfortably! I was even able to wear it under my clothing. The shredded straps showed on my chest a little, but it actually didn't look strange. The only thing that became of any discomfort to me was the butt. Sometimes getting in and out of a truck caused me a slight wedgie, not any worse than what a thong produces though. It's comfortable enough that I wasn't reminded I was wearing it underneath.

I'll just tell you everything I was able to accomplish while wearing it.
1. Sex.
2. Oral (receiving). We had to situate the split just right, but it didn't get in the way.
3. Urinating. Yes. Even that. I'd worn a skirt and was on the toilet when I realized what was happening. I couldn't stop it by that time! But the split actually allowed me to urinate without it getting on the teddy! This means I didn't have to pull my skirt and shirt off just to pee.
4. Wearing under clothing. Jeans. T-shirt. Skirt. It's a great surprise teddy since it can easily be worn underneath.

And I must add, this looks so sexy with a pair of stockings! I only wish it had attachable garters.

Experience

It's been a while since I've stepped into a teddy and thought "yes! That's right. Uh-huh!" Instantly, I liked it and I liked me in it! Most of the time, I put on a teddy and I'm pulling and tugging all while scrunching my nose in the mirror. This teddy is pure sexy from every single angle. No extras required, although I really felt my inner sex-kitten emerge when I added stockings. This is a single piece of lingerie that does the trick with no added accessories! It's great for those who like it easy and simple, and especially for those who want to wear an underneath surprise. The material is durable enough for long-term wear and plenty of it. It doesn't become a frustrating mess during any kind of sexual play, or position and I wore this through "doggy-style," sitting on his lap and missionary!

When this arrived with my other order, I put it on before even opening the other items, and it just so happened that there was no time for opening the other items because my partner was all over me like a horse on grass. And then, we went for a second time! Okay, we can't give the teddy that much credit, but I did feel great in it. I felt very sexy and my partner certainly noticed that.
This content is the opinion of the submitting contributor and is not endorsed by EdenFantasys.com

Thank you for viewing
Floral lace teddy with shredded straps
– crotchless bodystocking review page!