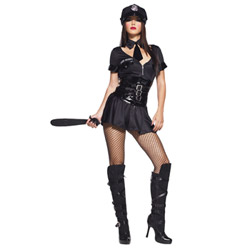 The bad cop
Costume
by Leg Avenue
Bad Lieutenant...
If you want a cute costume for a party or a night of fun, this will meet all your needs. It's comfortable, sleek and has lots of cute details that add to the overall look. If you're a picky costume shopper, however, keep looking. You can find much better naughty cop outfits on this site.
Published:
Pros
Comfortable, cute waist cincher that can work on other outfits, nice accents.
Cons
Surprisingly unflattering, shoddily constructed parts.
Cop costumes are something of a favorite of mine. They're usually fun, flirty, dark and flattering. They work as get-ups for parties as well as heating up private bedroom scenarios.

This Bad Cop outfit, meets all that criteria. It's a comfortable, sleek, simple, cute design that (at the time of this writing) is even on sale. It is not, however, one of my favorites. Despite the normally high quality of Leg Avenue products, this one was cheaply constructed and for no clear reason did not look good on me... or any of my friends whom I let try it on.

My first attempt to wear the Bad Cop outfit ended in defeat. I fit into a small/medium on most days but on the first day I tried on this piece, it was evidently a medium/large day. Based on the simplicity and comfort of the dress, I assumed this outfit would have a little more forgiveness of a tummy full from lunch than it did. The dress does, though, get its entire look of coolness from the waist cincher. And that thing will forgive your waistline nothing. Despite a spandex back, it's surprisingly unflexible. And without a little extra room to work with, the shoddily constructed zipper is impossible to close.

So, obviously, on my first shot, I couldn't wear the cincher. As a result, I stood in the dress, tie and hat alone and was underwhelmed. It was cute, in theory, but looked awkward on my body. The accents were adorable, including the "Officer Naughty" emblem on the breast. But the tie just doesn't look very good. It didn't look good on another cop outfit I already owned either. The hat is comically large but pretty adorable.

On another day where I was a little less bloaty, I tried it all again. The cincher fit fine but the zipper broke in three different ways within seconds. And although the cool cincher could be kept on with safety pins, it still wasn't a good look on me.

So I brought it to my best friend who happens to have one of those ridiculously long, lean bodies on which all clothes look immediately better. She remarked at how comfortable the dress was and how cute the waist cincher was and how NOT cute she felt like she looked. It was baffling. We stared incredulously. By all reasonable expectations it should have been adorable, but she didn't look particularly sexy at all.

The accents are enjoyable: the cincher is cute and could work with other outfits (if you can get a zipper that doesn't break immediately), the hat and badges are a nice touch of verisimilitude, and the dress itself feels as comfortable as pajamas. But if I find a friend who sees this outfit and wants to keep it, I won't hesitate a moment before handing it over.
Follow-up commentary
6 months after original review
No one will even take this from me for free! I keep trying to hand it off to friends so that it gets some use, especially since I already have a collection of much better cop costumes, but it seems no one really likes how they look in it. Several commented that the corset part is cute on its own, but unfortunately, that is the part that broke right away.
This product was provided free of charge to the reviewer. This review is in compliance with the FTC guidelines.
Thank you for viewing
The bad cop
– costume review page!