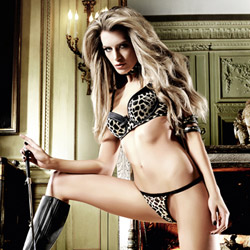 Cheetah mesh g-string
Sexy panty
by Baci
Bait And Switch
If you don't mind the thick band on this one, it might be a good thong for you; just watch out for the coloring to change drastically between what you see online, and what arrives.
Published:
Pros
Stretchy, Will Fit Larger Than Chart Says
Cons
Thick Band, Doesn't Look As Pictured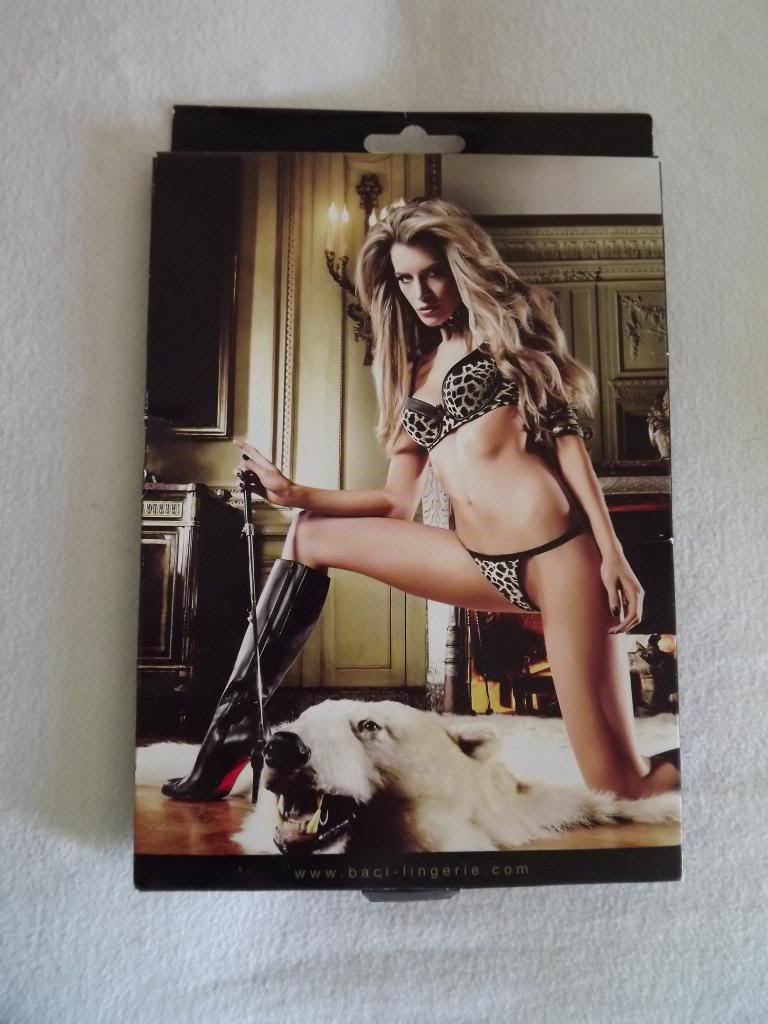 You know when you see underwear online, and you think you yourself "Oh great! I have the perfect bra to match that!" And, you order it in a snap, get excited when it showed up speedily, tear open the simple cardboard packaging, and inside you get something way different? Yeah me too. Stinks, doesn't it?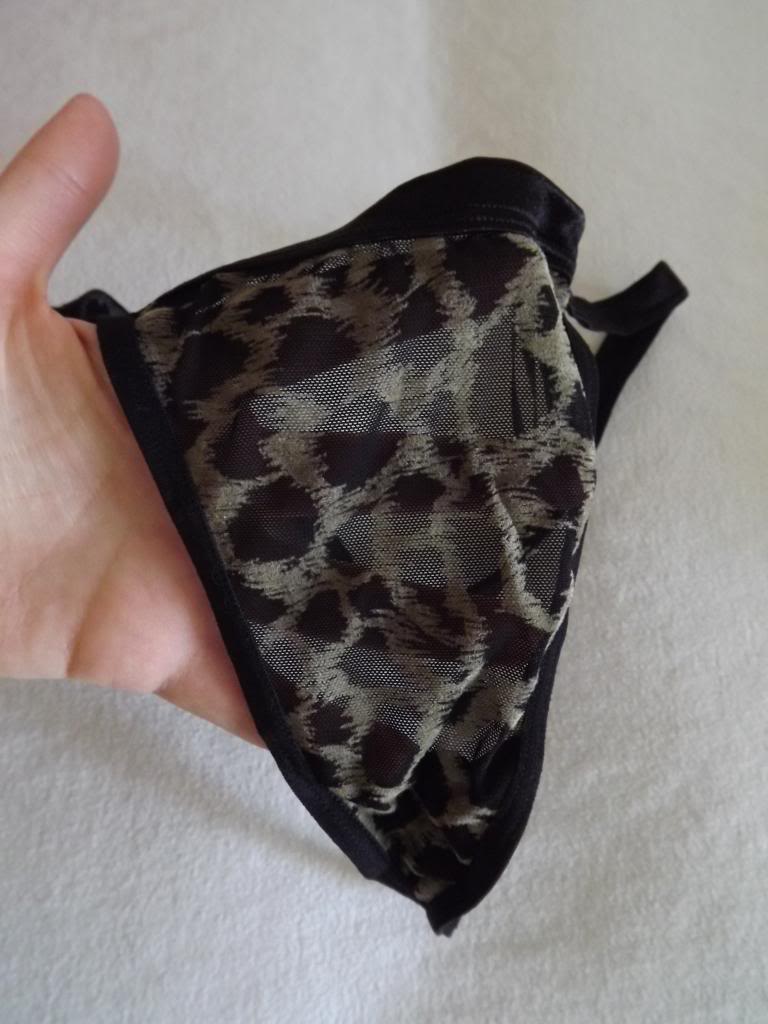 In the lovely stock photo (and the also lovely box), you can see that the thong is clearly opaque and brightly lit as well. I was very excited to receive this one, because I loved the colors on it. As you can see in my photo, the thong is actually see-through, and the colors are more dim than anything. How did they manage to get a cheetah print on the thong? There is a slightly fuzzy (almost velvet like) material on top of black mesh. It actually feels pretty cool on your fingers.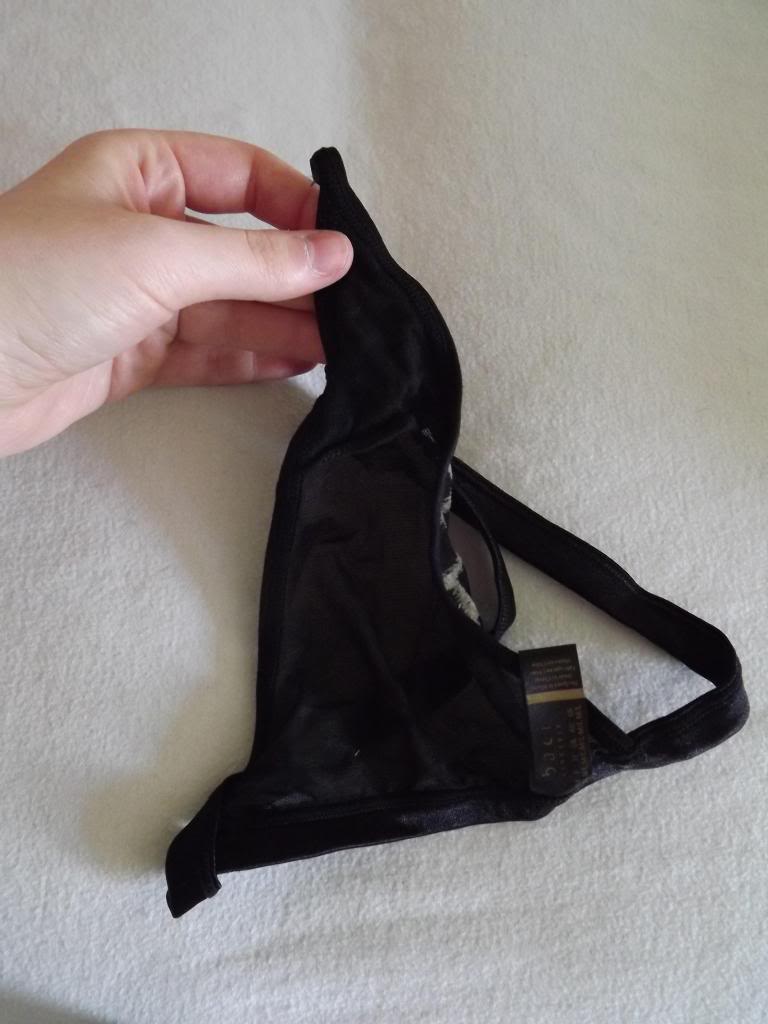 On the back of the thong, there's a small cotton crotch, and you can also see the giant tag. I will likely cut the tags off after my review, but I wanted to show you how big it is and how bad the placing is.
The thong is very stretchy, and according to the size chart, the M/L (which I purchased) will accomodate anyone from 28" to 32" in the waist, and anyone from 38" to 40" in the hip. I have a 33" waist, and a 40" hip, and as the thong is made with 10% spandex, and 90% polyester, I figured it would be stretchy enough to fit. Truth be told, you don't really need to worry about the waist measurement though, because the thong is a low rise one, and didn't go past my hips.
I will say that the hips were slightly uncomfortable, and not at all because of the fit. In fact, I think a 42" hip could probably fit comfortably, (but probably no bigger than that). Nope, the problem I had was how thick the top band is. It's thick and leaves a little impression in my skin after a while, where a thinner one does not. In fact, the string that goes up your butt is a lot thinner than the string that goes over your hips. I wish they had both been that thin, though at first glance I thought this would be a lot more comfortable than it is.
The material itself is very soft and nice feeling in my hands. The mesh is not scratchy, and the top band, while thick, is very soft to the touch.
Washing is pretty simple. This is mesh so don't let it anywhere near a dryer. I would recommend putting it in a pillow case (tie a knot in the end), or a lingerie bag. Wash this on a delicate cycle, and definitely hang it up to dry. My drying rack has a spot in the center where it hinges and I just hang it off of that. It dies quickly because of the thin material.
Experience
I like this thong best for in the bedroom.. Because it doesn't stay on too long! I would find this to be soo much more comfortable with a thinner string across the hips. However, if you find the thicker band comfortable, this would be comfortable to wear outside of the house though likely under jeans or a looser dress. I think that anything skin-tight might show the band too much.
This content is the opinion of the submitting contributor and is not endorsed by EdenFantasys.com
Thank you for viewing
Cheetah mesh g-string
– sexy panty review page!