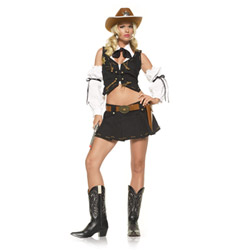 Good sheriff
Costume by Leg Avenue
Barbie Plays Dress Up
If barbie was a cowgirl this set would be her first pick, the sizing is very small and made to fit a tiny girl. If you have a chest size up. The skirt fits great even with a sticky zipper. The lack of hate and belt does make it look uncomplete, while the arm warmers and the vest can be painful if you aren't just the right size for it. It is well made and very durable, but taking it off is the first thing that comes to mind when you out it on.
Published:
Pros:
Skirt Fits well, Well Made, Durable
Cons:
Vest is very small, No hat or belt, Arm warmers hurt
The Good sherriff costume by Leg Avenue is a cute set in theory. I ordered the size small as these typically fit me, unfortunatly this was not true. The set comes with a vest, a skirt, the arm cuffs, and a small silk neck piece, the hat and belt are not included with this purchase. The set comes in a small plastic bag hanging from a black plastic hanger. At the front of the bag is a large picture of the model from the product page, along with the size purchased. The size small is said to fit the sizes of:
size- 5 - 7
cup size-A - B
Bust-32 - 34
Waist-23 - 25
Hip-34 - 36
Now I wear a size 8, and have a c cup breast, along with a 36 in bust, my waist is about 27 and finally my hips are about 37 In. Usually I can get a way with a small sized lingerie item as I do like it to be tight, but this set cam much smaller than anticipated. The skirt fit great and was comfortable and would fit a variety of sized women just by where you wear it on your hips, this also varies the length of it. The vest is very small though, when I put it on it barely even covered the sides of my breasts. It also cute into the area underneath my armpits badly, this caused a lot of pain and felt as if I would rip it at any time. I was unable to either button the under shirt or to snap the over vest.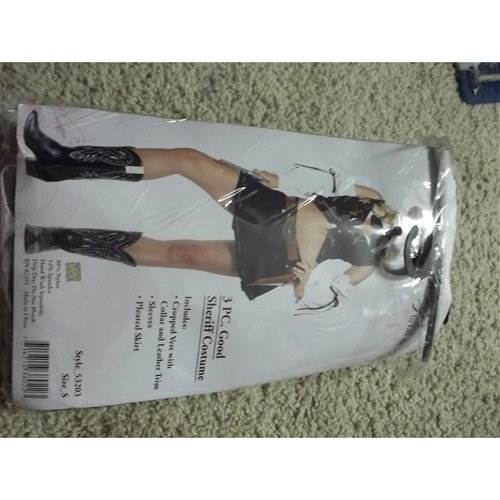 The workmanship and design of this costume is simply amazing. All three pieces are made very well and toughly. The set is made from 88% Nylon and 12% Spandex, this means the set is hand wash only, but then it is tumble dry. The vest is made up of three portions the first it a lightly made white undershirt piece. This piece is sewn together very well, and is light making it great for sweaty play, if you can fit into it first. The buttons on this piece are sewn on really well, and hold great ( I tested this by pulling on them since it didn't fit). The front portion of the vest is also very sturdy with holding pulling and tugging, from just trying to put it on. It has a small amount of give but not enough to count for help with sizing. The two brass looking clip buttons on the front are sewn in well and also are hard to pull apart. It is trimmed with a suede imitation leather that compliments the set and makes it look more realistic. Now the skirt is also made very well with the same black material with brass clips. The zipper on this piece can be hard to pull up though, and sticks easily. Now the arm bands are also well made, the ribbon was cleanly cut and the edges sewn into the elastic strongly.
The costume does look uncomplete without the hat and belt, but these can be picked up at a costume store for realativly cheap. The skirt does hug the body great making your legs look long and lean. I wore it along my hips and it made my hips look great to! The pleats help to add a great shape without it appearing to be large and bulky. The vest would be a great addition as the shape is simple yet affective, unfortunatly untill I recieve the size up I won't be able to verify that I enjoy the way it looks. The arm warms where very cute and added to the cowgirl feel, but unfortunatly cut into my arm to much to be worn comfortably for more then ten minuetes. I will follow up in my after review with how I liked the other sizing.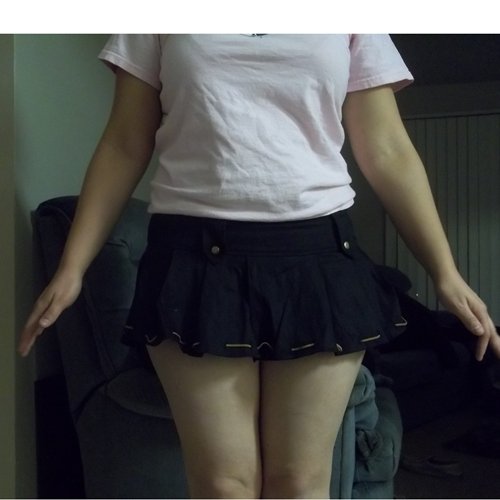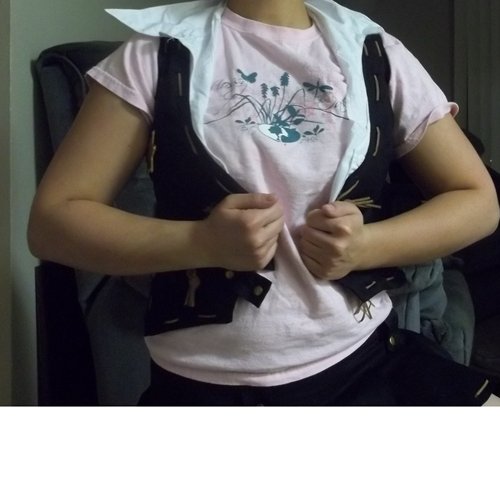 This product was provided free of charge to the reviewer. This review is in compliance with the FTC guidelines.

Thank you for viewing
Good sheriff
– costume review page!