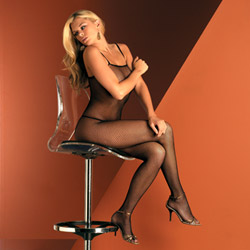 Seamless fishnet body stocking with straps
Bodystockings by Fantasy Lingerie
Beautiful
For those ladies tired of muffin top thighs or saggy, baggy ankles the body stocking is a great alternative. The fishnets on this stocking are soft, very durable and small. Your flesh will not look as though it is being tortured by being squeezed to death. Under a business suit or other lingerie this stocking looks amazing. It is also a great teaser for those times you don;t want to be completely naked but don;t want to be completely dressed either!
Published:
Pros:
Soft, comfortable, looks great under clothing, crotchless
Cons:
None
The best way to describe me is short and round. Oh you could go into details about my hair color and vibrant personality, but for the most part I am simply short and round. Buying stockings, for me, used to be a nightmare because my thighs aren't terribly large but my legs are short. My thighs are just a smidge too round for one size fits all but queen size falls down or sags. ICK!
Now, because I am so short and round I never thought about buying an all over body stocking because I look plain old ridiculous in a cat suit. Then I got to thinking, if I wear it like underwear instead of trying to wear it as an outfit then maybe I can get away with it. I can have nice stockings that are smooth and nice looking as well as a nice texture under low cut blouses and other tops. IDEA!!
I wanted to try a crotchless stocking because I figured it would be much easier to go pee. Yes, I know, it's already been established that I make decisions based on weird and wonderful criteria.
The Seamless Fishnet Body Stocking by Desire Hosiery arrives in the same sort of cardboard envelope as most hosiery in the department stores. This stocking doesn't cost much more than the stockings I normally buy but they are normally silk or silk blend. I find silk feel amazing, doesn't cause me to chafe or sweat, and ladders about as easily as nylon. I am pretty skilled at not getting runs in my stockings so I feel comfortable choosing more expensive hosiery. Still, a full body stocking should be more comfortable than even a pair of silk pantyhose, right? Actually, it IS right. I found that because I am so short the fishnet was very small and almost opaque on my legs. It was soft against my skin and I didn't immediately begin to sweat. I don't know about you but I HATE sweating up between my thighs! I found I wasn't missing my silk and I like the way this fishnet looks on my skin.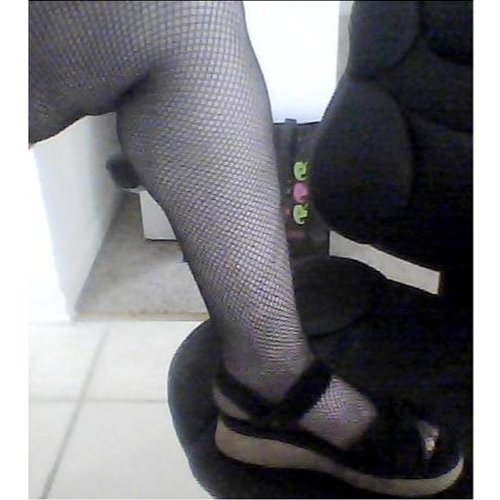 The queen or plus size fits a wide range of bodies. It comfortably fits a person who stands 5'0"-5'10" and weighs 170-245 lbs. I am five foot even if I stand really tall and I weight 196 pounds so this fits quite a lot more opaquely than it would on a taller, larger person. Still, it doesn't sag, bunch or wrinkle at my ankles, knees or between my thighs. My skin is not squeezing through the fishnet unattractively and I can wear a bra under or over the stocking. If you had a lovely bra with some bling on it, wearing it over the stocking would look pretty neat.
The fishnet on this stocking is very small, soft and fine. It has a subtle shimmer effect on the legs in low light and it can hide blemishes or spider veining attractively.
The stocking has thin spaghetti straps that can be hidden under a bra easily or go over the top of a black bra easily looking invisible. The neck line is square and looks great as a "dickie" or a "shirt" under a low cut top. I don't like wearing it without a bra because my nipples poke through the fishnet but the guys think it's just fine that way!
The Stocking is 100% nylon but soft and sturdy. I would recommend washing it by hand or in a lingerie bag on gentle wash cycle. I do not recommend drying them in the dryer as I had another stocking warped and ripped even though it was in a lingerie bag. It is best to either dry flat or hang by the straps and drip dry. I have not noticed the stocking being stretched out through wear and after hand washing and drip drying it always returns to it's original shape. If you are taller or rounder than I am your mileage may vary!
This is a seamless stocking so there won't be any potential for rubbing and irritation. There is a toe seam, however, to prevent your toes from poking through the fishnets. There are no harsh knots or bunched threads to bother the toes even when stuffed in pointed toe shoes.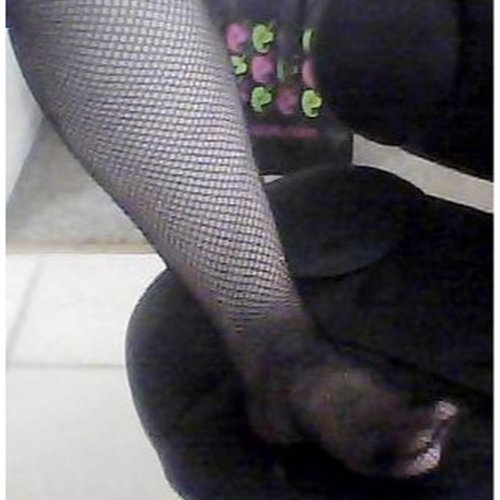 The crotch opening is rolled and smooth. It is sturdy and can take quite a bit of tugging and other pulling abuse. On me, it is wide enough to allow for easy access for any sexual games I may want to play as well as allowing me to, comfortably, use the toilet.
Experience
The straps are firmly attached to a piece of bias binding type material that attaches and finishes the edge of the top of the stocking. The sewing is even and hidden making this a really pretty stocking to wear under a low cut blouse, corset, or baby doll type top. The binding stretches quite far and I am sure it would fit the upper ranges of the sizing chart fairly easily without pinching or bulging.

Now, I prefer to wear my stocking without panties or with the panties over the stocking so that I have easy access for sex or toileting but this is really a personal preference. It looks great either way. I love to pair these with pumps or low boots but I have even worn it with a pair of sky high thigh boots and looked amazing.
All in all, though I still prefer a nice silk stocking or soft nylon stocking that fits properly, a body stocking is a great choice as well and offers a new and attractive way to dress up and outfit.
Follow-up commentary
12 months after original review
This body stocking is still going strong and hasn't begun to stretch out and sag at the ankles due to thread relaxation. Definitely a great buy!
This product was provided at a discounted price in exchange for an unbiased review. This review is in compliance with the FTC guidelines.

Thank you for viewing
Seamless fishnet body stocking with straps
– bodystockings review page!