beautiful in blue (S)
If you're looking for a bra and panty set that is affordable, attractive, and comfortable then this piece is for you. An added bonus for me is that the panty is actually a panty and covers the majority of my butt. I'm always sad when I like a two piece bra and panty set and the panty is either thong or g-string style.
Published:
Pros:
comfortable, sexy
Cons:
Only available in a few sizes
What it is
This is a two piece padded underwire bra trimmed in ruffles and lace and lace panty set by Leg Avenue. The bra offers padding and underwire for support. I know this is very important for those that require support in their bras. I prefer bras that are not, but that's easily fixed. The bra has a small bow located in the center of the cups and has the cups outlined in a ruffle pattern. The entire bra is overlain with lace.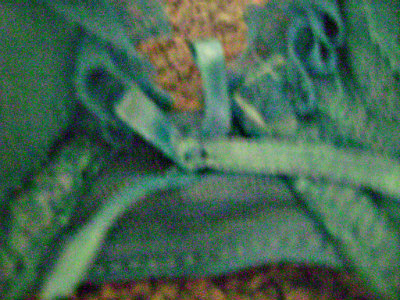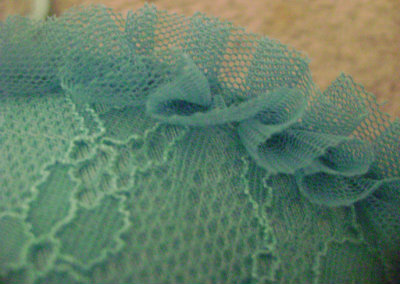 The panty is see through and is considered to be a normal panty brief style. Those that want the majority of their butt covered rejoice. There is a very tasteful in size bow located in the middle of the panty that gives the panty an extra cute feature. The panty is outlined in a decorative edge.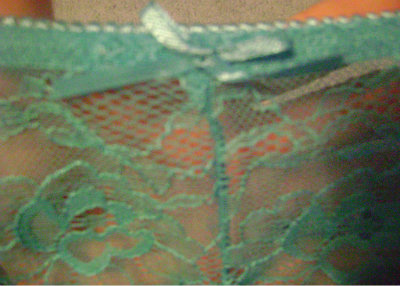 Sizes Eden Carries
Eden currently carries this in S,M, and L. I have this in size small and my review will be based on the information for a small.
Leg Avenue Size Chart
Small: A-B cups, 32"-34" bust, 23"-25" waist, 34"-36" hips
Medium: B-C cups, 34"-36" bust, 25"-27" waist, 36"-38" hips
Large: C cups, 36"-38" bust, 27"-29" waist, 38"-40" hips
My current Sizes
Size 4-6
AA Cup
32" bust
27" waist
32" hips
121 pounds
Given the following information, I expected it to be too large in the bust area, but I couldn't pass up the color. It is large and is best suited for those in the bra size that it suggests. It's very difficult for a bra marketed small to fit my AA breasts, but I loved this too much. My sizes fit nicely with their ideal size for a small in the panty and I had no difficulties with the panty at all.
Measurements taken laid flat
Laying flat, the panty measures 14" wide and 3 1/2" long at the hip area. It progressively gets longer the farther you are out from the hips and measures 7 1/2" long at the panty. the panty is lined by a thin liner that is sewn on all edges. The panty liner measures 4" long by 3 3/4" wide at the top, 2" wide in the middle and 1 7/8" wide at the bottom.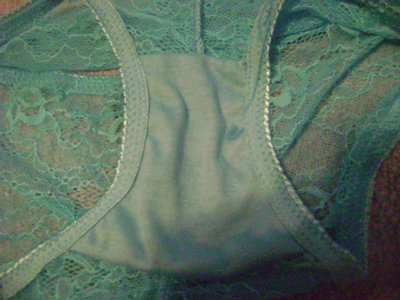 The bra has adjustable bra straps. The back has two rows of three hook and eye closure for the best fit. They are spaced about 1/2" apart.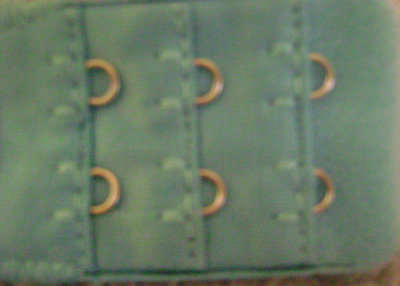 The bra strap measures 10" long at the shortest length and 19 1/2" long at the longest adjustable point. The cups measure 6 1/2" wide by 5 1/2" long. Laying flat the bra measures 12", 12 1/2", and 13" depending on which setting you have the bra clasped on.
Front of the piece laid flat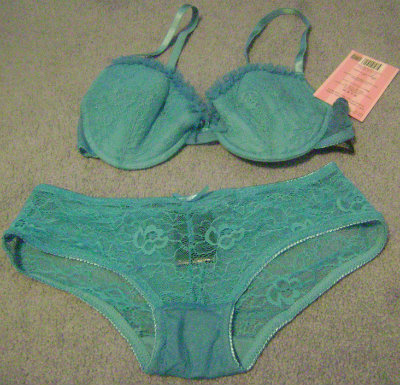 Back of the piece laid flat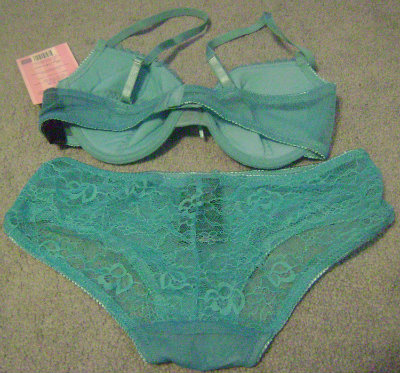 Material and Care
According to the tag, it is best to hand wash this bra and panty set in cold water and drip dry. It is best to use non-chlorine bleach when needed. Do not iron. I never hand wash my bra and panties so I put delicate materials in a lingerie bag or pillow case and wash on the delicate cycle in my washing machine. I do allow it to line dry.
Both pieces are considered to be made of 71% bylon, 25% polyester, and 4% Spandex.
Craftsmanship
It had a few (about six or seven) loose strings when I received it. It does not have any unfinished edges to it. The lace on the panty has a visible vertical seam running down the center where the two pieces have been sewn together on the front and back, but it stops right at the panty liner. Overall, I feel this piece is nicely constructed. With any lace material if you're rough with this the lace could potentially tear.
Front of the piece while worn.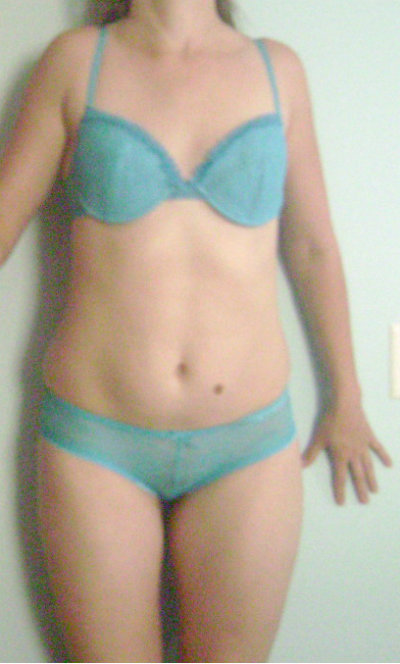 Back of the piece while worn.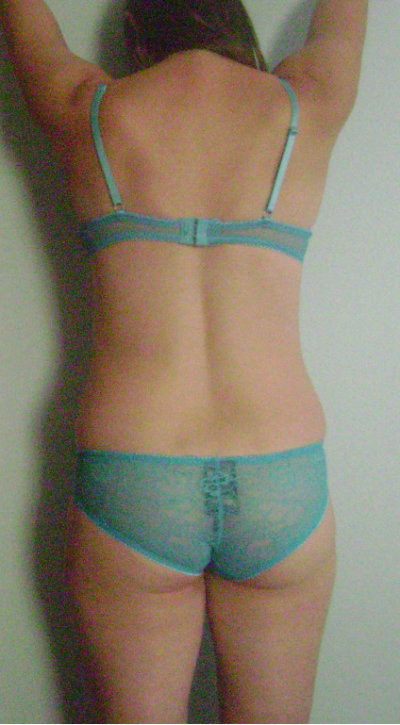 Packaging
The packaging was very simple with this bra and panty set. It was packaged in see through plastic that was folded over and had a sticky edge that kept it closed. The bra had a cardboard picture of a model wearing the outfit and information about the garmet attached to it.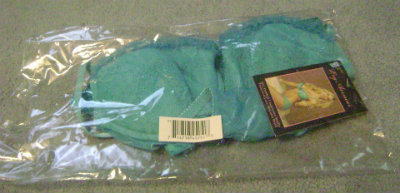 Experience
My husbands first reaction was ooh that's pretty, but then he looked at it closely and said "wow, it's see through." He really likes when I wear see through clothing. It has a light smell to it so you'll need to launder it or spray some lingerie mist to it before wearing it out. It is very comfortable to wear and I did not have any itching, bunching, or problems with the bra or panty. I highly recommend it as a cute set to wear every day or for special occasions.
I decided to do something a little bit different than I normally do, I'm going to enclose a picture of my normal VS bra on top of this bra to show the difference in sizes for those that might not be quite an A or B cup. It has the same length as my 32 AA bra, but the cup area is a litle bit larger since it is designed for A and B cups.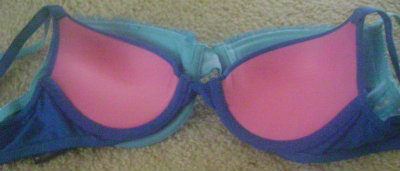 Follow-up commentary
43 months after original review
I've always liked this set. I'm a lover of all things lace so I jumped on this when I saw it. When originally purchased the bra was a little bigger than my AA cup size. In recent years I have had another child and the bra fits better. I am able to wear it without excess cups. The material has held up well with occasional use.
This product was provided free of charge to the reviewer. This review is in compliance with the FTC guidelines.

Thank you for viewing
Ruffle bra and brief
– bra and panty set review page!