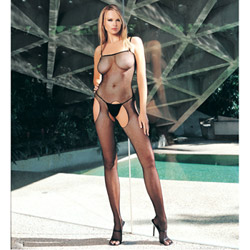 Crotchless suspender fishnet bodystocking
Crotchless bodystocking
by Leg Avenue
Beauty, The Way It Should Be!
The Leg Avenue Spaghetti Strap Fishnet Suspender Bodystocking is a great outfit. It has an eye-dazzling effect when you stare at it on your partner. It is fully functional and comfortable to wear. Remember, the outfit does not come with the G-String. I, personally, have to say I like it that way. For the low price of $11.99, this one should definitely be in your wardrobe.
Published:
Pros:
Well made
Fully functional
Eye dazzling design
Cons:
Placement and size of tag
Leg Avenue has definitely done it again. The Spaghetti Strap Fishnet Suspender Bodystocking is truly a sight to behold. It is extremely functional, as well as durable. The concept and design of this bodystocking definitely shouts out that those special times really don't have to be planned. They can happen at any given time.

This bodystocking is a one size fits all. That puts the range from 90 lbs to 160 lbs. The material is 100% Nylon and is made in Taiwan. Nylon is Hypo-allergenic, so anyone out there can wear it, if they fit the size. The bodystocking is extremely well made, and the stitching is excellent. It has an open crotch and also openings on the sides of the hips. The open crotch and sides have no heavy lace encompassing the opening, but are extremely strong and rip resistant in those areas. The open crotch compliments the opening in the thighs in size and structural shape. The neck has lace that is about 1/4 inch in size that compliments the shoulder straps. The back is the same cut as the front, which is a straight cut. The tag is a white, 1.5 inch by 2 inch rectangle, near the shoulder strap. It contains the care instructions and material, but may need to be carefully removed for aesthetic reasons. The stocking portion of the bodystocking has no toe nail protector. Although in most nylon wear it can be a detriment, this outfit is made with heavy enough material, so it shouldn't create a problem.

The care on this outfit is similar to most of Leg Avenue products. Nylon is to be hand washed, warm water, non-chlorinated bleach if needed, no iron and drip dry. This particular bodystocking comes in three colors: black, white and red. My wife and I chose black. Yes, this is her color of choice for such outfits.

The box was pretty much the usual of Leg Avenue. On the front is a full picture of a model wearing it. On the back, it is the same picture, but only from the knees up. It pictures the model wearing a G-String, but this is not included in the outfit. The box is also sealed in plastic. For all practical purposes, the box can be used to store the outfit, but it takes care as it was never intended for that purpose. The box covers are also pretty non-discreet, as it shows the model wearing the bodystocking.

Overall, this outfit is an A+. It is comfortable enough to wear under everyday clothing (being careful of the shoes) and does not need to be removed for those special times. Most of all, I love the way I can hold her hips without holding the material. It also does not put the focus on the hips, though, and the netting does cover any minor imperfections. I had to state this, as my wife is touchy after having kids and a C-Section. It was amazing on her. It is truly a remarkable outfit. Thank you Leg Avenue! And now, my wife's part:
Experience
This piece was a nice change of pace, as it was extremely easy to put on. I recommend stepping through the neck part of the garment, then begin with the hose or leg part and wiggle until you can put your arms through the straps. I did have to be careful with the wiggling so as not to tug too hard. The toe of the garment is not reinforced, and only one good tug could end up ripping out the toe portion.

The piece, otherwise, is pretty forgiving when you go to adjust all the openings. At 140 pounds, 34B cup size, and 36" hips, I have never had a problem with fitting into Leg Avenue's one size fits most, and this was no different.

I would not recommend this one size for anyone over the 160 pounds, as stated on the box. The fit would be affected because of the placement of the openings. Also, this garment does not provide any kind of breast support, so larger breasted woman might begin to have issues.

The stockings measure about 6" stretched, and the body portion can stretch to about 12" (about 2 inch stretch from its normal rest). The netting itself did not dig in, nor was it tight.

There was a bit of an issue with one butt cheek being covered more than the other because of the side openings. It seemed that no matter how I tried to adjust everything, that flaw was never able to get fixed.

This fishnet bodystocking was not as soft as I would have liked, but it was not itchy or scratchy at all. I happen to like the more cottony feel that some fishnet items have.

Cleaning was a breeze, as I wash it like I do everything else: some mild soap and warm water and hang to air dry. I did remove the tag, as it was large and attached along the side inseam. It was very noticeable. All you have to do is carefully snip it without cutting into the seam.

Overall, I really liked this bodystocking. I felt sensual and sassy while wearing it. Next time I would like to try wearing a g-string in either black or red to make it a bit more challenging for my husband. I probably wouldn't wear this under clothing, at least not for very long, because I am sure shoes would take their toll on the toes of this garment.
Follow-up commentary
2 months after original review
I am once again leaving this to my wife, but I still enjoy seeing her put this one on. On to her input;

I am surprised that this garment has held up. I have worn this a half dozen times and the toe has not torn yet. I am still very careful putting it on, but love the challenge that my husband must conquer, if I put a g-string on underneath.

The fabric or netting has not shown signs of weakening after the uses or the washings. I am pleased with the overall results this bodystocking has given both of us, especially with it being such a low price.
This content is the opinion of the submitting contributor and is not endorsed by EdenFantasys.com

Thank you for viewing
Crotchless suspender fishnet bodystocking
– crotchless bodystocking review page!