Best Fishnets Ever!
I recommend buying these and possibly buying a few pairs because they seem to go fast on here and I totally understand why. This was the best 3.99 that I have spent in a while. Especially if you LOVE to have a few nice pairs of fishnets in your lingerie rotation. I give these two thumbs up and a 5 star rating. You can't get much better than these!
Published:
Pros:
Reinforced Toe
Size, Stretch
Cons:
None
Introduction/Packaging
Upon arrival of these fishnets by Leg Avenue, I had my doubts if they would hold up well and for the sizing but for 3.99, who cares right? Needless to say, I wasn't expecting much so I would have been fine with it. Oh, how I was very wrong... They arrived in a basic plastic packaging with the stockings wrapped in and around the cardboard piece. These are very lightweight and the package was sealed well. I have included a photo of the packaging.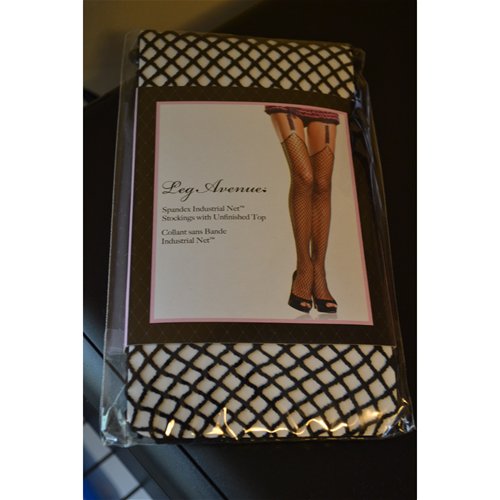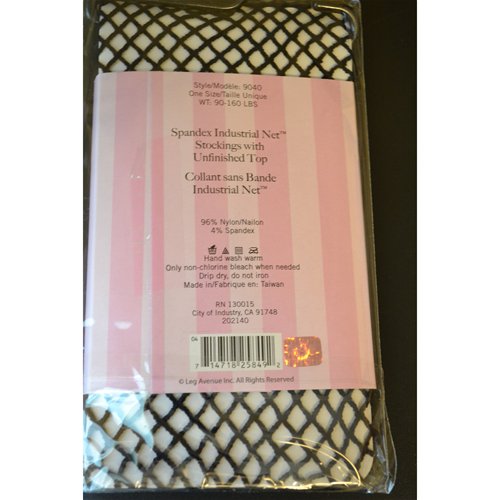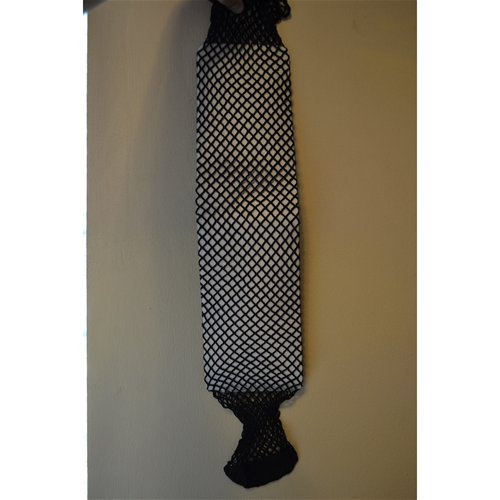 Material
These fishnet stockings do feel like an industrial grade, not because they are rough but just because I could tell that they would hold up really well before I first put them on. They feel on the softer side to be a spandex/nylon mix. I stretched them out with my hand and they didn't have the feel that they would rip or tear easily. The knit feel was thick, unlike most fishnets that you buy in a store. In fact, I have never found fishnet stockings of this quality and workmanship. If only they came in white, red, and other colors. I would definitely purchase all of those colors. Yes, they are just that great! These are made of Industrial net (Spandex)and nylon that is 96 % Nylon and 4% Spandex, with an unfinished top. The unfinished top does not ravel but there is no extra seam up near the top, it just stops. You will need a garter belt with these or they will fall down. I took a photo after walking for a few minutes without garters. You will notice that they are down quite a bit.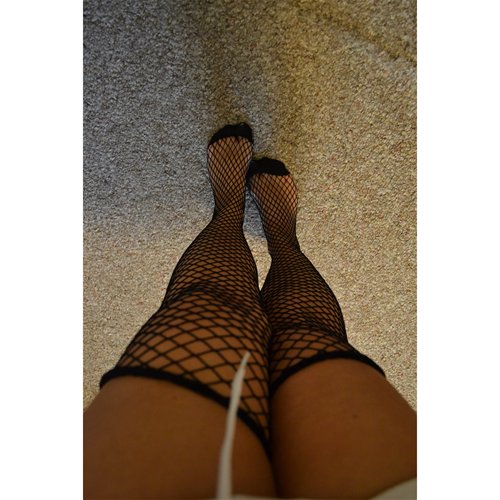 Sizing
I ordered the One size fits most and usually those sizes fit smaller. On this particular item, they fit larger. They could accommodate plus sizes up to 3-4X, maybe even larger. I am usually a XL in stockings and tights and these fit me just perfectly. They can also fit smaller sizes just as well because of the stretch in the material. The OSFM is usually meaning the weight ranges from 90-160 pounds from Leg Avenue but in this case, they reach a wider variety of individuals. I am within the range so they fit pretty well. I am about 5'2" and these reached my upper thigh without having to do stretching, if I had stretched them out, they would have been able to go up my torso because of the great stretch. Luckily, these will fit a variety of ladies and for us, that is a good thing!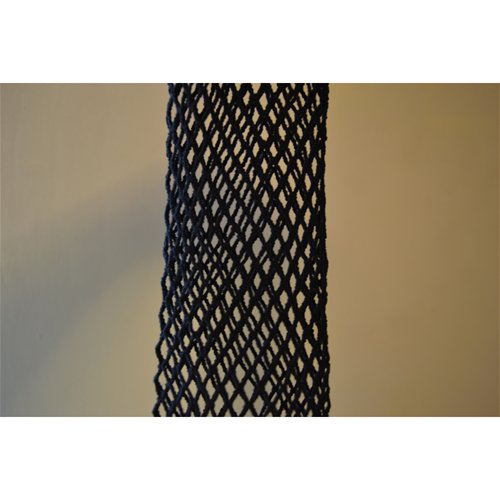 The stockings measure about 22 inches long in length and can stretch to about 30 inches or more. I didn't want to push it with any more stretching. The opening of the top of the stockings are about 6-7 inches unstretched. One measured at 6 inches and the other measured closer to 7 inches. Once again, these can be stretched quite a bit more. My thighs are about 23 inches at the widest point and they are 15.5 inches around at the smallest point and these fit perfectly and could have been stretched out more.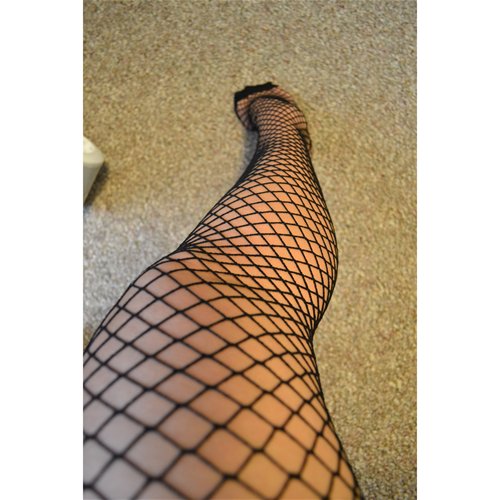 If you need other measurements, send me a message and I will get any that you need.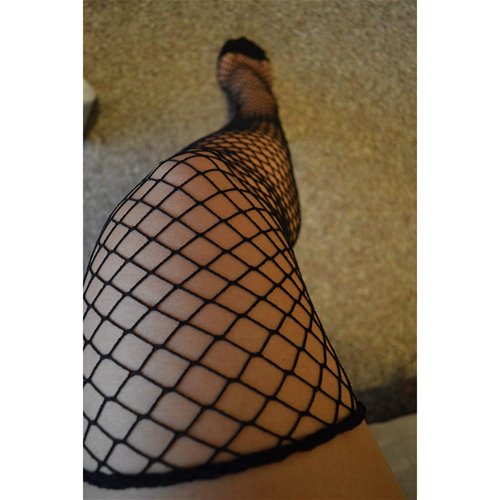 performance/Function
These performed high on my standards chart because of the fit, the quality and the shape. You MUST have a garter belt with these or they will fall down. One of the main parts that I liked is the reinforced toe because now my cute little french manicured toes won't be poking out when I don't want them to or causing my toes or feet pain because it can feel as if the circulation is being cut off if you have ever worn the really cheap fishnets from other distributors. The seams are sewn well and they do provide more comfort in the toe area. If you will be wearing in the winter, these will provide some warmth. The only downside which is not really a bad thing, is the fact that these will not be as sexy with open toe shoes because of the reinforced toe. It is about 1.5 inches wide and does show through on peep toes and some high heels. Don't let this deter you from buying these. The stockings are a steal for this price. Don't hesitate to buy now because they go out of stock quite often because of their popularity. I am happy with this purchase because I can not only wear these in the bedroom, but out on the town and I purchased these specifically to wear to a Halloween party. I will be excited to share with you how these hold up with lots of dancing and partying going on.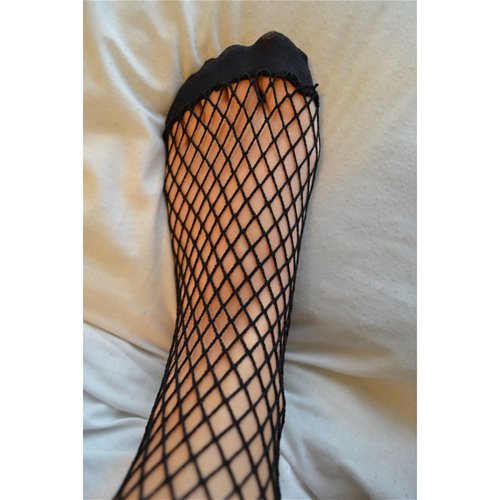 (Continued)
Experience
Care/Maintenance

The packaging for the stockings suggests to Hand Wash in warm water and to use only a non chlorine bleach
when needed. Drip dry these in a shower or another place that is safe for that. Do not iron these. I use a Woolite delicate wash for my stockings and lingerie. I have also purchased Dreft to use, which is a detergent that has a suggested use for infants. These both work well for Lingerie and stockings.
These stockings were manufactured in Taiwan. I would not machine wash as these can get tangled and they can possibly be ruined.
Follow-up commentary
1 day after original review
I put these on today to wear with my new garters and they looked spectacular. I MUST by a few more pairs of these to have them handy when I am washing my others or if they are dirty.
This content is the opinion of the submitting contributor and is not endorsed by EdenFantasys.com

Thank you for viewing
Industrial net stockings
– hosiery review page!