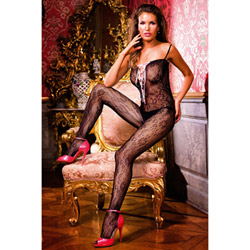 Flower lace-up bodystocking
Bodystockings
by Baci
Best weight loss tool ever made!
Body stockings are sexy and this one is comfortable to wear. If you want to see your partners eyes pop out or just need motivation to lose weight, this is the item for you. I would wear this out under clothes to a party, but not to work. I really like this piece and I will be using this regularly to keep me motivated to eat right.
Published:
Pros
Price is right, Comfortable against your skin, Stretchy
Cons
Lacing the top up
I could not wait to get this out of the box and try it on. This cute body stocking made by Baci arrived in a small box with a picture on the front of a woman wearing this suit with cute red heels and her back view on the back of the box. Not in the least bit discreet. There is no smell.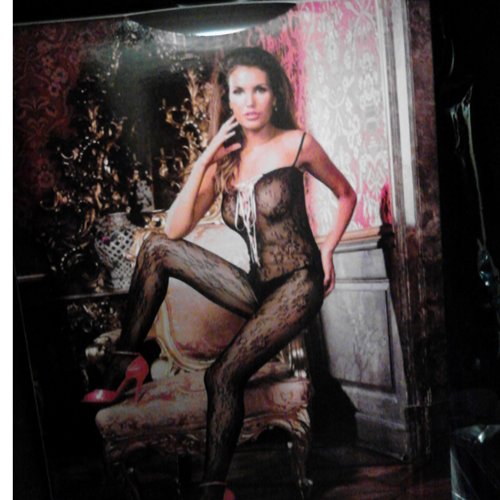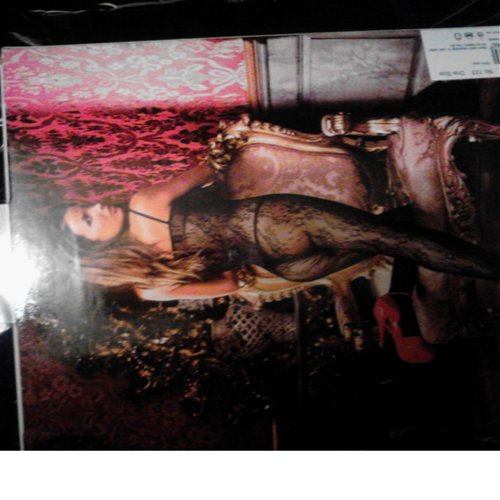 This is one size fits all. There are washing instructions written in very fine print on the bottom of the box. Hand wash in cold water, no bleach, line dry. Inside the box, the suit was in a plastic bag and once removed from the box, you could see the flower pattern as part of one leg had a cardboard piece inside of it to show the pattern off. (You know, the kind that comes in a pair of panty hose.) Included in the box was also a long pink ribbon that was used to lace the front of the body suit up with. Putting it on was a bit of a challenge. The chances of causing a run or snag are high because there is so much to pull up.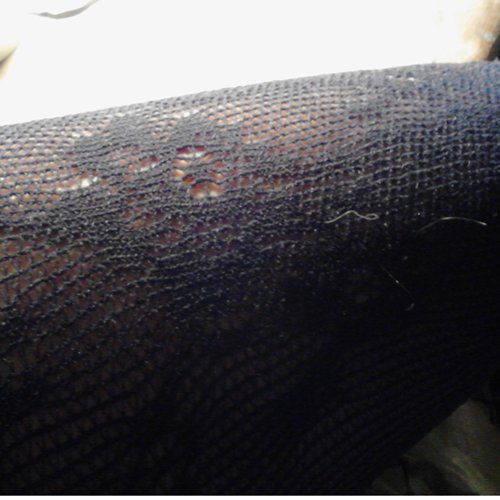 I guess I got in a bit of a hurry, as I had the material twisted and this caused the legs to not fit correctly so they didn't pull up high enough. This made the crotchless area hang a little lower than it should have. Lacing the ribbon is also a major pain in the behind. Once you get it on correctly, it is much more comfortable than it looks. It is 100% nylon, designed in Paris, made in Taiwan. The toes, while not reinforced, are sewn together to ensure your toes stay inside instead of poking out. The straps are just elastic cord as is the top trim, and the lacing holes are small, making it a bit difficult to get the ribbon through them. Just laying out non-stretched, this doesn't look like it would fit an adult. It has no support in the breast area and it is form fitting, so it hides nothing if you are a little bigger.
I wear a size 20 and when I first took this out of the box I thought NO WAY is this going to fit. I quickly laced this up in a hurry to try it on and ended up skipping several holes, (looked like some kid just learning how to lace) and was very pleasantly surprised to find that it fit just fine. Once it is laced up and tied it looks good. In fact, my husband was standing there speechless with a really stupid grin on his face. Wow, did that do wonders for my self esteem. It also motivated me to start eating better so I'll look even better every time I wear this. I would recommend a body stocking to any woman looking for a reason to lose weight.
Experience
When putting this on, take your time and do it right. Make sure the legs are in the correct direction and be careful when pulling the suit up, as you don't want to snag it the first time you wear it.
This product was provided free of charge to the reviewer. This review is in compliance with the FTC guidelines.
Thank you for viewing
Flower lace-up bodystocking
– bodystockings review page!