Black Novak mini dress (Size M)
I really like this dress. It can be worn both in and out of the bedroom, since it's not see through and it covers everything. The body, while a bit tight fitting, is slimming and soft. I love the little rhinestone detailing on the shoulders. I also love that this mini dress is made in the US!
Published:
Pros:
cute, made in USA, can be worn both in and out of bedroom, slimming
Cons:
a little tight fitting, a little expensive
Recently I've started to take a liking to dresses. I have absolutely no idea why, but I've been hording skirts and dresses like crazy. Then because I like to be lazy on my days off from work and hang out at home in my pajamas, I never wear them. Go figure. I decided to do a buyout review on ForPlay's Novak mini dress, available in black, red, blue, and white. I chose the black dress in size medium.
The dress arrives on a black plastic hanger and is wrapped in a plastic bag printed with ForPlay's logo. A hang tag attached to the dress does not list any useful information. If you look inside the bottom of the dress, there is a small tag that lists some information. The material content of the mini dress is 92% polyester, 8% spandex. This dress must be hand washed in cold water or dry cleaned. It cannot be bleached and should be tumble-dried. The dress is made in Hollywood, USA. The hanger is great for this dress, since it will get wrinkly if folded or left lying around. I like it when manufacturers take that extra small step and provide a hanger.
I like this dress. It's pretty fancy in appearance. When it's hanging on the hanger, it looks way smaller than it really is. It will stretch quite a bit to fit your body. The material feels very soft, almost like microfiber. It's very smooth to the touch and feels good against skin.
The whole dress is bunched, gathered, and ruched to help make you look slimmer. The straps are wide, measuring 2 inches wide. They aren't sewn throughout the entire strap, so they can be folded out to create a 5 inch wide strap, too. Each strap is 11 inches long, followed by a 3 inch long rhinestone and metal decoration, making the straps 14 inches long total. Each cup on the dress is very lightly padded. This may not be enough to forsake a bra, depending on how large your breasts are. It does help to make them look very slightly larger. Between the breasts, the material has a knotted-together look. From there, the rest of the dress is ruched. There is an elastic band running down the middle of the front and back and off each side all the way to the bottom hem of the dress. The hemline at the bottom is just a simple hemline.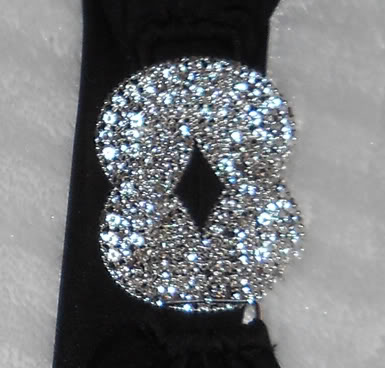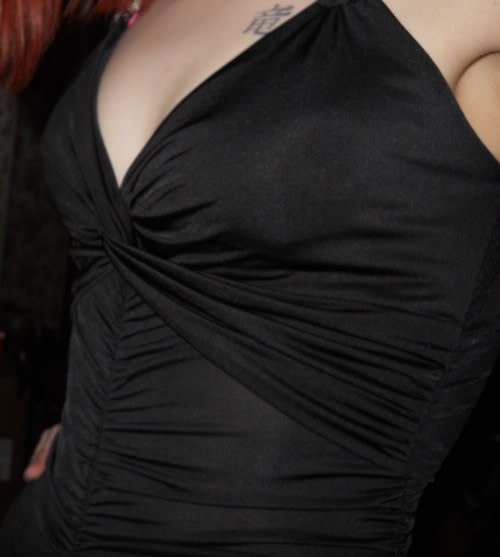 This dress is amazing. If you want lots of ruching, you can just pull the dress down your thighs a tiny bit. If you want a longer dress, you'll lose ruching, but the dress will be long enough for your comfort. Moving around does not cause the dress to rise up or go down any further. It stays in place well. I love the amount of coverage this offers. It's great to wear both in the bedroom or out as a little black dress. Sure, it's pretty tight-fitting, but it covers everything pretty well.
Size Chart (Medium):
Dress size: 6 – 9
Cup: B – C
Bust: 34 – 36
Waist: 26 – 28
Hip: 36 – 38
Weight: 115 - 135
Measurements (unstretched/stretched in inches):
Length (from top of cup to hemline): 26/35
Chest: 30/38
Waist: 24/34
Hip: 34/44
My Measurements:
Dress size: 5 – 8
Cup: B
Bust (under/over): 32/34
Waist: 27
Hip: 35
Height: 5'8"
Weight: 140
When I put this dress on, it's a bit tight of a fit over my shoulders. At first, this caused me to panic over it not fitting me. When I finally slid it down to my thighs, it fit a bit too tight for my liking. The back and underarm portion comes up high enough to almost completely hide a bra, should you choose to wear one with this. I suggest wearing a black one, not a hot pink one like I am in my photos. Sometimes my bra cups will peek out a bit, but some lingerie tape, found in the lingerie department of some stores, can be used to tape the dress in place so it does not expose your bra cups. This fits very nicely on me. I like it pulled down pretty far, so it doesn't do much of covering up any flaws on me. I am able to pull it most of the way to my knees. I cannot see my bra or underwear through the material, no matter how tight different areas are on me.
Continued..
Experience
I picked size medium because that's what the size chart put me at. When I wear this, I feel like I would have preferred a size large. It's a bit difficult for me to get out of this dress, just because of how tight fitting it is. Unfortunately, if I go a size up, the cups won't fit me. While yes, the measurements and sizing info of this dress are correct, I personally like clothing that has a bit of wiggle room to it.

To care for this dress, I strongly suggest taking it to the dry cleaner. If you are unable to do so, spot cleaning with a gentle detergent such as Woolite should be okay if the dress isn't heavily soiled. I would spray it with a fabric refresher as well. I do not recommend throwing it in the washer and dryer. I can see the light lining in the cups getting messed up in the washer. This almost always happens to me with lined tops. I can also see the metal adornments on the straps getting wrecked.

All in all, I liked this dress. I initially did not think it's worth the price tag on it. It's just a dress and not really one I can wear out every day. My opinion on that changed when I saw it is made in the USA. Garments made in the USA help create jobs in the USA. Some clothing pieces sold by "designer" stores can go for much more than this and are made in other countries. I like to support jobs in the US any way I can and will definitely look at more of ForPlay's lingerie.

For these reasons, the Novak mini dress by ForPlay receives a rating of 4 out of 5 stars.
Follow-up commentary
2 months after original review
I still really like this dress, however I wish I had ordered a size up. I prefer my clothing to be a little bit looser fitting if I am going out in public. Tight dresses just make me feel a bit too self conscious.
This product was provided at a discounted price in exchange for an unbiased review. This review is in compliance with the FTC guidelines.

Thank you for viewing
Black Novak mini dress
review page!