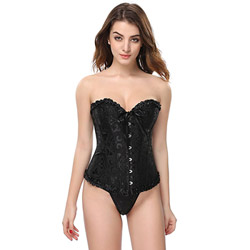 Seductive corset
Corset
by Charm Wear
Black.... Seductive.... A Corset.... The Seductive Corset by Charm Wear
I love this corset. It's nice, flirty, sexy and looks amazing in person... I only wish they would have bigger sizes and a sizing guide on the page. Other than that, I think a large size corset would fit a person of a 10/12 size in clothes, maybe a 12/13... I am not sure...... It won't fit a 14/16 sized person (like me) or women who have larger than average breasts.
Published:
Pros:
Will hold up to a ton of yanking and pulling.
Is extremely soft on the inside.
Looks amazing.
Cons:
For the first corset, I cannot say it has any cons. It would be good for women with smaller breasts.
The Seductive Corset is beautiful, well made, and a great addition to any sexy wardrobe. It is made of polyester and plastic. The plastic is on the inside of the corset, so is the boning. It has ribbon ruffles running around the entire top and bottom edges of the corset.

At the front, it has two long pieces of ribbon that you can tie close for an extra sexy look. This corset is coal black, and has a beautiful floral pattern in shiny black thread embroidered on the front, sides, and back.

At the top inside of the corset there are two loops you can use to hang on a hanger. The inside is a soft black material. It comes with a thong that is the same material as the corset and is nice to wear. The thong is elastic and polyester.

The corset and the thong do not stretch. The closures are made of steel and are a keyhole closure type (I mean when you close it, the holes go from big to small, so the pins don't come out). The closures are well stitched into the rest of the corset.

When I first got it, it smelled like new clothes smell, but after a couple of days the smell went away. It doesn't have a taste (not that I tried, it's odd to lick a corset). It's still new so I haven't tried cleaning it yet, but I would assume you don't stick it in the dryer.

In the back of the corset is this flap that is behind the corset strings, and keeps your back from being seen. The grommets are well embedded into the material and don't move when you yank on the strings. The stitching is nice, and I can see no loose threads on either the corset or the thong.
Experience
My experience with this is one of sadness, not because there is anything wrong with the corset or thong, it is because it does not fit me. I tried everything to get this on. I've never owned a corset before and when I saw this, I thought, YESSSSSSSSSSSSSS, finally, something for me to wear to the Ren Faire( that's what I wanted it for). Imagine my disappointment when the girls wound cooperate and fit like they were supposed to... I pinched a nipple trying to get this on.

I pulled on this thing, and I tugged, I yanked. I almost thought about putting Vaseline on, but thought "No, that would ruin the material and wouldn't work anyways." And through all the yanking and stress of pulling on the corset this way and that, it never came apart or felt like it was ripping..... Since this was my first time putting on a corset, I probably should've gotten help.....
This product was provided free of charge to the reviewer. This review is in compliance with the FTC guidelines.
Thank you for viewing
Seductive corset
review page!