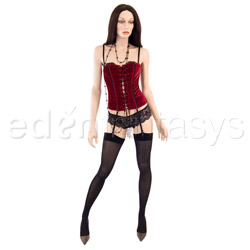 Samantha velvet corset set
Corset and panty set
by DreamGirl
Blood Lust
What man could resist being seduced by a sexy vamp wearing this corset? Besides a few minor flaws, this corset is sexy, nicely made, and comfy.
Published:
Pros
Comfortable, sexy, easy to adjust, holds up well.
Cons
Low quality stockings & lace up string.
Recently, I've been asking a lot from my boyfriend. He was reluctant to integrate toys into our sex life. Sex toys are an important element in my sexual pleasure and satisfaction in the bedroom, so I kept pressing the issue. Although wary at first, he decided to give them a try. Since he has been open to trying new things for me, I decided to try something new and sexy for him too. He's really into vampires and role-play, and has always expressed interest in having me dress up as a blood countess and seduce him. When I found this corset, I knew it would be perfect for pulling off this fantasy.
Ok, so it looks perfect, but there are more important things than just looks, especially when it comes to corsets - I've had several bad experiences with poor quality lingerie tearing up easily. This corset changed my mind about this type of lingerie. I no longer think you need to spend $200 for a decent corset. It was comfy, nicely made, and economical.
Corset - The velvet material isn't luxuriously soft, but it isn't scratchy either. There is a lace demi-cup bra attached to the corset. The underwire provides excellent support when the bra straps are on, but not so much when removed. Ladies blessed with C or D cups would probably get the most out of this bra when it comes to cleavage. If you're an A or B cup, the material is likely to cover your entire breast, and if you're DD or higher you'll probably experience spilling over. The corset is lined with plastic boning, which doesn't really do much for shaping like metal boning does.
Having hook-eye closures in the back, and a lace up front make it really easy to put this corset on, and size it according to your shape. The hooks are easy to fasten, and don't slip out of place. The strings weren't the highest quality, and might break with tight pulling.
Panties - The lace panties (fits up to size 12) are very comfortable. My favorite thing about them is that they are very forgiving when it comes to love handles. They didn't squeeze my hips, or give me a muffin top.
Stockings - Blah is all I have to say. I'm on the petite side, and these stockings squeezed against my thighs. My left stocking got a run in it the first time I tried them on. The garters fit down my thighs nicely (I'm 5'3) but would be tight, and might inhibit movement in people with longer legs or torsos.
Beads - It's really nice that they included the beads to add to the sexiness of the corset. They're the same quality as you would expect from most plastic costume jewelry- not too cheap but not too fancy. They can withhold light tugging, but not heavy jerking.
The most important thing about this
velvet corset
is that it made me feel sexy. It's hard for me to find flattering corsets because I get self conscious about my wide hips. I get easily frustrated with back lacing because they always seem so difficult to adjust by myself. I really enjoyed having the the lace up front (this was my first).
This corset also held up well. I danced around, and then made love while wearing it. It was worn for about an hour with no problems or discomfort. Usually when I wear lingerie I can't wait for it to be taken off, but I actually enjoyed keeping this one on.
Care - Hand washable only.
Experience
I usually go for the cute & frilly look, but couldn't wait to be transformed into a sultry temptress! I felt so elegant in this Victorian gothic style. Since I was going for the vampire look I also got some fake fangs. Looking at myself in the mirror after my transformation into femme fatale was empowering. Sin & temptation rushed through my veins as I awaited my lover's arrival. He came home to find a dark mistress in a candle lit lair, sipping a glass of red wine. I don't think I've ever seen him so turned on. I don't want to get pornographic so I'll just leave it at that… but you can guess what happened next.
This content is the opinion of the submitting contributor and is not endorsed by EdenFantasys.com
Thank you for viewing
Samantha velvet corset set
– corset and panty set review page!