Boobs, where do you go?
I wish I had more to say about this piece, but the fact that it couldn't even cover my boobs just ruins it for me. I can't wear this at all, and I don't really think many women will fit it appropriately. I also didn't think it was very convenient being dry clean only. If it had adjustable straps, or a longer bust, I'm sure I would have loved this piece. As it stands, I'm just waiting to return it.
Published:
Pros:
soft fabric on the top..?
Cons:
way to small for projected size, dry clean only
Presentation
When I fist saw this set online, I fell in love with how simple and pretty it looked. I loved the flowing look of the babydoll and how it seemed to be a sure win for fit. With a tie-front babydoll, how can you mess up?
This garment arrived wrapped in pink tissue paper, devoid of any other packaging. There is a tag on the babydoll, with a picture of the model and the size. It comes with a sheer black thong.
Craftsmanship and Design
On the thong, there are a few frays where the elastic waistband is sewn together. The tag is also rather large and sewn onto the back. You will definitely need to cut it unless you like huge, obvious white tags through sheer black thongs...
As far as the babydoll goes, there are some frays on the bottom hem where they end the seam on a corner. Basically, this garment is flawless except for their seam endings.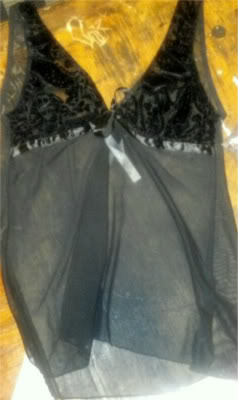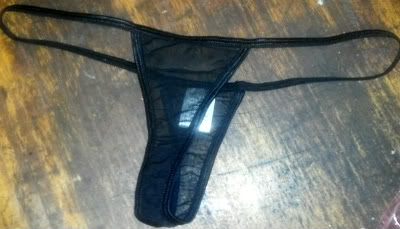 Materials
The thong says that it is made of 90% polyester and 10% spandex. I found it to be okay as far as thong fabric goes, sometimes I touch it and I find it soft, other times abrasive. I think it depends on the direction you're caressing. The elastic band isn't soft or comfortable for me at all.
Now, as for the babydoll, there are some discrepancies. The materials depend on what language you read. If you speak English, this is just 100% Polyester. However, Spanish, French, and German speakers will find this is 90% Polyester, 10% Spandex.
Uhm..?
Well, the mesh part is relatively soft and breathable. The detail on the cups of the garment is velvety and soft, but does not extend to the back of the babydoll. The design for this part is abstract little flowers and swirls. The ribbon in the front that ties the piece together seems to be made of satin or something of the like. It is sort of cheap, and wrinkles easily.
The design is such that you can tie and untie the piece at the center of your breasts, which has great appeal to those who like easy access (aka: my boyfriend).
The set is made in China.
Experience
Care
This is dry clean only, which is a pain. If I had to guess, it would be due to that velvety accents.
You could probably spot-clean this with mild soap and water.
Sizing
DreamGirl thinks a size large fits someone sizes 10-14, cup C-D, bust 36-38", waist 28-32", hips 38-40".
I am sizes 10-12 roughly, I wear a 36C bra (32" under the bust), my waist is 30" and my hips are 39".
This piece?
Wow, it is
way
off.
The thong measures 28" around unstretched, maximum would be a very uncomfortable 44". The widest part of the crotch is 4", the back of the thong is 2.5" widest.
For me, this is a throwaway thong, even with its tiny cotton liner. The stitching itself was abrasive enough to turn me off before I even tried it on.
The babydoll is also incredibly off. I am unsure if the reason is due to my height and wide swimmer shoulders, but at the same time, I'm pretty sure it has nothing to do with that...
Let me explain.
The babydoll is 25" from the top of the shoulder strap down to the hem. The arm sleeve (tank top style) is in no way adjustable.
From the top of the sleeve to the bottom of the bustline? 11"
Take out a tape measure, and try that out on yourself. Roughly from the seam at the shoulder of your t-shirt, down the front of your chest.
Perhaps it's my height, but that makes the end of the bust just barely at my nipple.
Without stretching, the width of the babydoll (just across the under-bust ribbon tie) is 33". The width is adjustable with the ribbon tying it shut.
For me, it doesn't matter how wide it is if it doesn't even cover my boob.
Because the sleeve holes are lined in slightly irritating elastic/stitching, I figured I should include a measurement for that as well. Around, they measure 17" (which is exactly my shoulder/arm circumference).
The cups are 7" wide, across the bottom.
The result? A garment that has no chance of fitting me. It looks ridiculous, even with me trying to tug it down over my boobs.
If it had been appropriate length for the bust, then this would have been absolutely perfect (minus the throwaway thong).
Even when taking photos, I pulled the chest down as much as I could, but you can see how it doesn't go down nearly to where the bottom of my bra lies.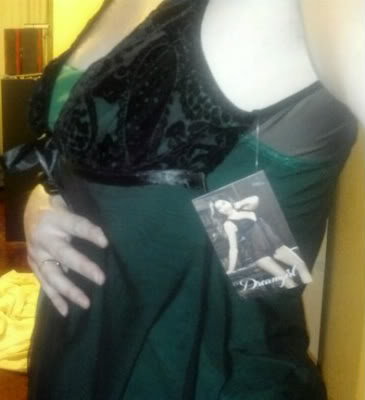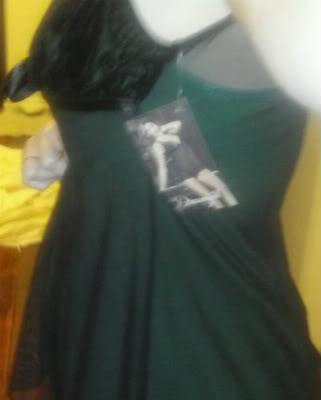 Finger is pointing to the bottom of my bra. You can see how cute the babydoll would be if the chest had actually reached the proper length..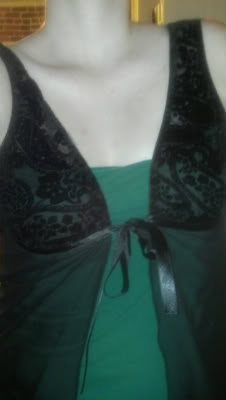 From the front, it just looks.. awkward.
My personal thought is that even if you are a shorter large-size buyer... You may have a shorter amount of distance to cover between shoulder and bottom-of-boob, but you will probably find this still too small for your C to D size cups. If I don't put this on, and lay it over my boob, it would barely cover adequately. I'd guess maybe a B-cup would fit nicely.
I'm pretty disappointed with this one, and I will most likely return it once I find a printer to get the return label printed out.
This product was provided at a discounted price in exchange for an unbiased review. This review is in compliance with the FTC guidelines.

Thank you for viewing
Flyaway babydoll
– babydoll and panty set review page!