Boss Lady
Who knew I could be a sexy mafia boss lady? This costume is super sexy and slimming. All the accessories for this costume just add more sex appeal. The model does no justice to this costume. I am in love with this costume.
Published:
Pros:
- Slimming
- Sexy
- Nice material
Cons:
- Stitching is crap
- Removable ruffle piece is a mess
- Buttons are plastic
The Suzy Silencer by Leg Avenue is a sexy gangster costume. The costume comes in two pieces: a garter dress and a removable ruffle. The black fabric and white pin stripes make this costume super slimming. I haven't felt this sexy in a while. This costume is a hit or miss with people. You are either going to love it or hate it.
Details
Collar and straps:
The garter dress is a version of a halter dress, but instead of pulling the straps over your head you velcro the white collars together around your neck. Once you have attached the collars, your dress will be held up and the red tie will hang perfectly.
The straps are made of an elastic material. Unstretched they are 7', but stretched they are 9'. They did a bad job sewing the tie and straps to the collar. The collar is white, so you can see where they sewed the straps and tie to it because the thread is not white.
I do wish the garter dress were a halter-top and the collar was separate. The collar and tie would look better if they were separate because you wouldn't have the straps pulling them down, making the collar fold a bit.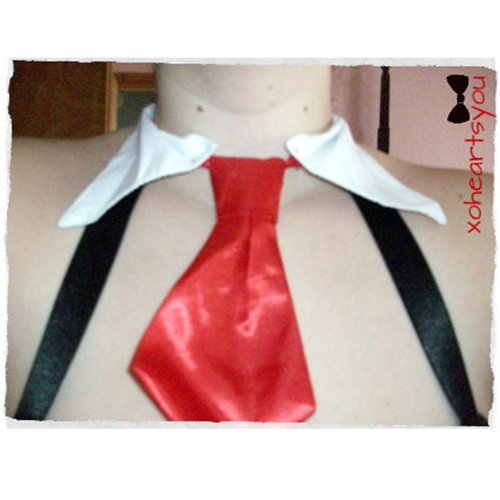 Buttons:
There are 16 gold buttons running vertically down the dress. There are 8 buttons on each side. The buttons are plastic with a shiny, gold paint. Be careful, because the buttons are attached with loose string. They can come off easily.
When I received my costume the buttons were already beat up. There were scratches in the gold paint that made them look worn. Some of the buttons even had little holes in them. The buttons could have been made of metal.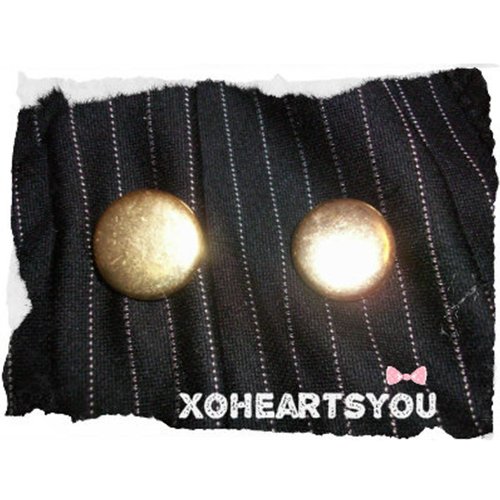 Garter dress:
The garter dress is made up on 98% polyester and 2% rayon. The material isn't too stretchy, but it does give enough to put on over your boobs. The garter dress is a mission to put on, especially if you have no one to zip it up for you. The easiest way to put on the garter dress is over your head.
The garter dress features some nice pin stripes that slim down any body type. There are also pocket flaps on the front of the dress that sit perfectly on your hips. The garter dress is just so sexy.
The bottom of the garter dress is a white ruffle.
The zipper is on the backside of the dress and runs only half way down. It ends right above your butt.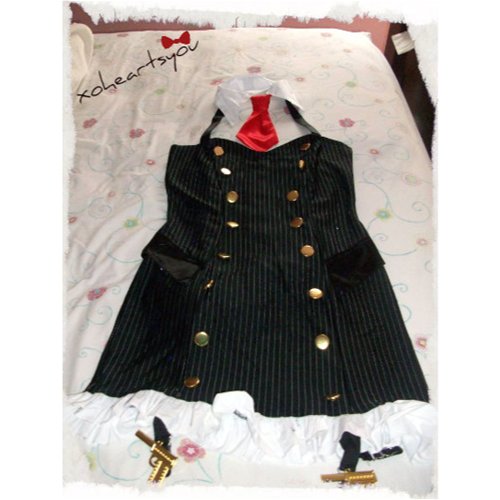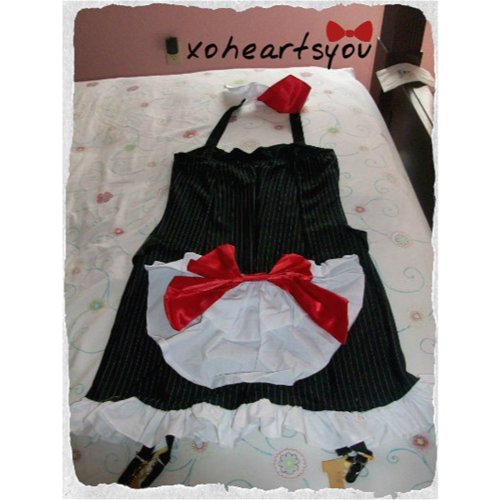 Garter straps and decal:
The garter dress has garter straps that can't be removed. The garter straps feature a nice, rubber backing, which is good if your stockings have a lace top. These are the best garter straps I've seen.
Attached to the garter straps are metal, gold-plated pistols. I am glad that the decals are metal, but they could have made the buttons metal, too. The pistols have a bunch of little holes in them for detail. I do think they could have added some gold rhinestones into the holes to make them more attractive.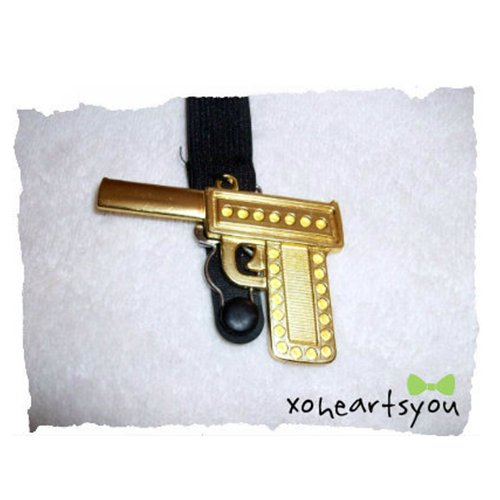 Back ruffle:
Thankfully the back ruffle piece is removable, because this thing is a mess. The model picture shows it nice and pleated but NO, it's wrinkly and unattractive. The bow is awful, and it doesn't hang right at all. You can see the stitching and strings like no other. The bottom 2 pieces of the bow actually slide right out, they aren't even connected to the ruffle.
I will not be using the ruffle piece because it is awful and it takes away from your curves and sex appeal.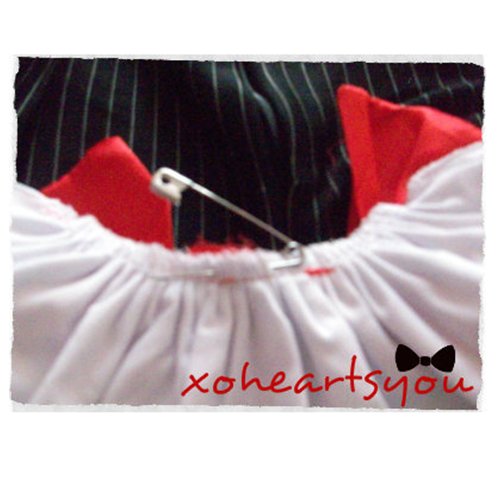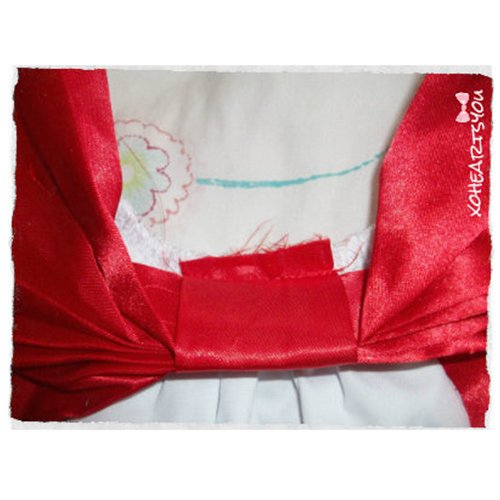 Size
LEG AVENUE MEASUREMENTS
Small/Medium BUST:32-36 WAIST:23-27 HIPS:34-38 DRESS:4-8 CUP:A-B
Medium/Large BUST:34-38 WAIST:25-29 HIPS:36-40 DRESS:10-14 CUP:B-C
MY MEASUREMENTS
BUST: 36
WAIST: 27
HIPS: 38
DRESS: 11
CUP: D
As you can see, the sizing was accurate. The cup size was good too, I just can't wear a bra with this costume. No bra means more comfort to me. The garter dress is very form fitting and it fit me well. If you are larger than the size range, I would avoid this costume. I do wish that it came in larger sizes, though.
Care and Maintenance
Polyester is a very hardy fabric. What I love about polyester is that it doesn't wrinkle. Polyester does hang on to stains pretty well, though. Be careful not to stain it. Thankfully the garter dress is black, so it is hard to stain.
Polyester can be placed in the washer but not the dryer. Even though it can be placed in the washer, I would recommended that you hand wash this costume because the buttons and pistol details are sure to fall off otherwise.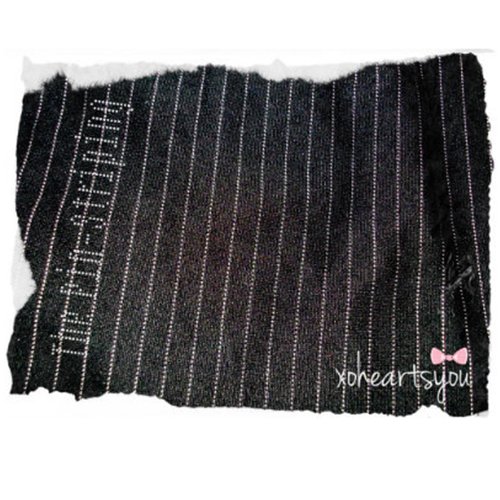 Experience
Packaging
This costume comes in clear, plastic packaging. The front shows the model in the costume, along with images of the front and back of the costume. It also states the name of the company and the product. There is a hanger attached to the packaging, so that you can store your costume in the bag and hang it. The garter dress doesn't come with any hanger strings attached, so it doesn't hang properly. If stored in the plastic bag it is safe from almost everything, so you can keep your costume for years to come.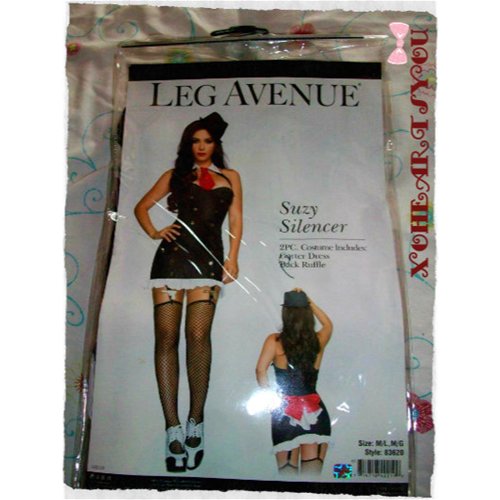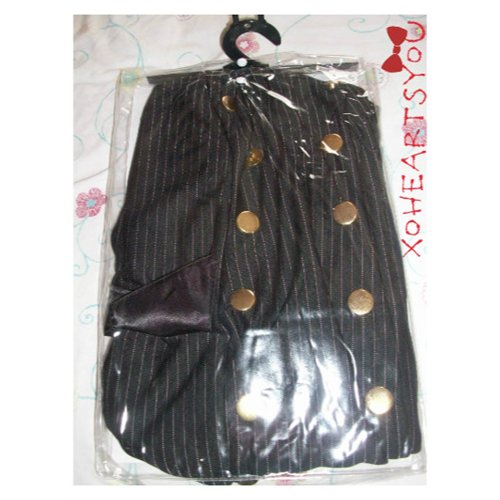 Experience
When I received my costume I was super excited. I tried it on immediately and WOW, it slimmed me down so nicely and I felt super sexy in it. The only problem I had was the collar. I wanted to cry, it was so tacky and I couldn't remove it. Later on that night, after our shower, I tried it on for my partner. I have never seen his eyes so wide. They were wider then when I told him we were pregnant. Needless to say, the costume led to some extreme intercourse. Afterwards I really noticed that the collar looked better with your hair down. When I first tried it on I had my hair in a messy bun, but when I had my hair down it made a difference. I am very impressed and will be keeping this costume for as long as I can.
I am giving this product 4 stars because of the bad stitching and awful looking buttons. Everything I don't like I will be fixing. Other then the minor little problems, this costume is great! Definitely add it to your collection if it catches your eye.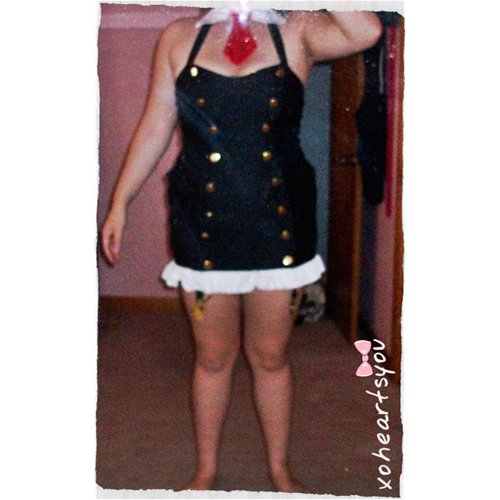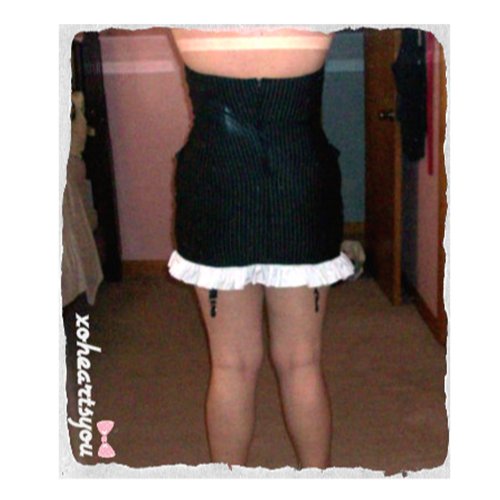 Follow-up commentary
12 months after original review
I still love my costume. Even though it didn't include the hat I was able to score one for $1 at the family dollar. The costume has held up great. Fabric is still in great shape and the buttons have no fallen off.
This product was provided free of charge to the reviewer. This review is in compliance with the FTC guidelines.

Thank you for viewing
Suzy silencer
– sexy costume review page!