Bound, by wild desire!
This two-piece, one size fits most garter skirt and g-string set is ideal for those with a thin frame and a low waist-to-hip ratio. The shiny, PVC/PU detail can be a gentle introduction to fetish play, or can really bring out the tigress in you! Sexy diamonds and a ruffled skirt add a seductive and feminine feel. This is a great starter set for anyone interested in getting into fetish play, or just looking to spice things up in the bedroom.
Published:
Pros:
Two separate pieces, Wide waistband, Sexy "wet look", Very flattering to thin frames
Cons:
Hand wash only, Not for heavy wear and tear, Does not flatter curvy figures
*Overview
Bound by Diamonds by California Exotics is a 2 piece set. It includes a garter skirt, which is designed to be worn low on the hips and hold up stockings, and a g-string. This is One Size Fits Most. The set is made in China; the packaging is made in the USA. While the g-string could very easily be worn under clothing, the garter skirt cannot be, unless your clothing is a fairly full skirt. Under pants or a tailored skirt the ruffle on the garter skirt would look lumpy and weird.
*Packaging
This set comes in a thin cardboard box. It displays a model wearing the set, has the "Bound by Diamonds" name on all sides, and sports the California Exotic Novelties logo on 3 sides. Inside the box, both pieces are neatly folded in a plastic bag. It is certainly not subtle or luxury packaging, but it could be used for storage if desired.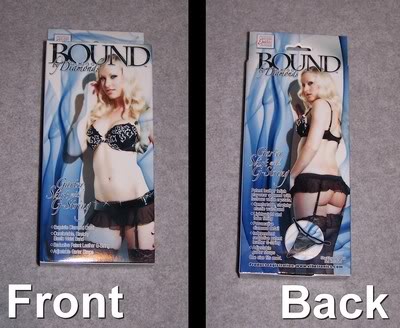 *Material
Though the back of the box calls this "patent leather", it is not. The bottom of the box clarifies, by giving the material list: 65% PVC, 30% Polyester, 5% PU (waist belt, panty), Crystal Glass, Polyethylene (diamonds), 35% Rubber, 65% Polyester (elastic), 90% Nylon, 10% Spandex (ruffle), 85% Nylon, 15% Spandex (garter straps), Steel, PVC (garter snaps).
The shiny bits on this set (the waist band of the garter skirt and the front panel of the g-string) are polyester with a layer of a PVC and Polyurethane mixture over it. There is no texture to the shiny, wetlook parts; they are completely smooth. Being the PVC/PU mix, it does have a tiny bit of a smell to it. It was certainly not bothersome or even very noticeable to me, but be aware if you are sensitive to those smells.
The washing instructions are: "Hand wash, cold water". I would definitely stick to that. The shiny material will not wash well in the machine, and the strand of fake diamonds would probably come off the garter skirt as well. So this is one set I would recommend actually hand washing, and hanging to dry.
*Garter Skirt
The front section of the waistband is shiny and has 1 strand of diamonds going across it. The back section of the waistband is made of solid elastic and is fairly stretchy. It has a short nylon miniskirt going around it. It was uncomfortable for me to wear during intercourse because the diamonds dug into my skin a bit too much.
*Waistband
The waistband is 1.5" wide. It measures 14.5" across, unstretched. The front panel is shiny, doesn't stretch and measures 16" across. The back panel is made of elastic and measures 14" across, unstretched; it can stretch up to 17". So, the entire waistband of the garter skirt can stretch to about 17" across.
The strand of fake diamonds that goes across the front is tacked on with a few stitches in 3 places: each end and in the middle. The strand is designed to drape just slightly when the waist band isn't stretched, but unfortunately when the garment is stretched, the strand of diamonds has a tendency to migrate up and off the top of the waistband. Disappointing, and not cute at all! (Plus, fake diamonds cutting into your soft tummy flesh isn't exactly a pleasant feeling.)
*Miniskirt
The miniskirt is made of nylon and hangs about 2.5-3" long. It is slightly stretchy, and has a very cute hem that causes it to ruffle out just a bit.
Total length of the Garter Skirt from waistband to bottom of the hem is about 4.5".
*Garters
These adjustable garters have a metal and rubber closure. They adjust from 4.75" to 8.5" long. They can stretch an additional 4" due to the elastic they're made of.
*G-string
The g-string is made entirely of elastic, except for the front triangle section, which is the shiny polyester/PVC/PU material on the outside. The interior is polyester. This front triangle section of the g-string measures 5.5" long from top to bottom, 4.5" wide at the top and 0.5" wide at the bottom. It did not give me full coverage by any means, but it did not create camel toe either.
Unstretched, the waistband of the g-string measures 11" across, and can stretch up to 21" across. The g-string of the panty measures 6.75" long unstretched and can stretch up to 15". The g-string on this panty attaches to the waistband via a small loop, so it can actually be moved across the waistband from side to side. This would definitely make it easy to move that string out of the way to have sex while wearing the panty.
There is no crotch liner where the g-string and the triangle section meet, nor is the front triangle section lined with anything.
Experience
*Sizing

While this is labeled "One Size Fits Most" it really won't fit above a size 10. I wear a size 8. My waist is about 29" and hips about 39". While I could wear both pieces of this set, the garter skirt was not extremely comfortable, nor did it want to stay in place.

The garters were not quite long enough to reach the tops of my stockings either. I am 5'6", and my stockings usually reach mid-thigh, which is about 26" up from the floor. The garters fell short by about 1.5". That meant that the garters had to really stretch down to grab my stockings, and in so doing, they drug down the entire garter skirt.

*Craftsmanship

This is certainly not one of those pieces that you can count on remaining in pristine condition for years. The shiny material gets marred fairly easily, the strand of diamonds is just tacked on lightly, and the seams are not reinforced. That being said, however, it will last through many light-use wears. It just isn't quite sturdy enough for day-to-day functional use.

*Personal Experience

*Hers

I thought this was a really cute, sexy set. Sadly, it just isn't ideally cut for a curvy body. This set is more suited to a thinner frame, with a smaller waist-to-hip ratio. The model wearing it has a very small waist-to-hip ratio, and it looks great on her. On me, however, it didn't want to sit properly on my hips, and kept trying to ride up to my waist.

Another problem I had is that because only the back section stretches, it caused the front section to get off-center, and the diamond strand to ride up. This will fit better if it only has to do a bare minimum of stretching on your frame. If you can wear it lower (and on smaller hips) the garters will reach the tops of your stockings better too.

Just based on looks, I really like this set so much. It was my first time to try anything "fetishy", and in all honesty it really isn't incredibly fetishy. That aspect of it can very easily be played down if you wish, or you can very easily play it up with the right accessories. Once I had it on and was strutting around, I absolutely wished I had a whip, crop or flogger in my hands though! If you want to dip your toe in the fetish waters, this is a great place to start.

I give this set 3 stars.

*His

Even though this did look hot on, the payoff wasn't quite big enough to make up for the shortcomings. (Like the fact that it didn't reach her stockings and wasn't entirely comfortable for her.) The shiny parts of the set were the big draw, and they were cute, just not quite cute enough to make up for the sizing issues. Not being into BDSM, dominatrices or the fetish look, I still liked this set because it wasn't over the top in those areas.

I give this set 3 stars.
This product was provided free of charge to the reviewer. This review is in compliance with the FTC guidelines.

Thank you for viewing
Bound by Diamonds garter set
– garter belt, panty and stockings set review page!