Bound to please
With this set you're getting a gorgeous red and black bra, panty, and wrist cuff that is skimpy and sexy at the same time. The wrist cuffs may be too small for most unless you have really small wrists.
Published:
Pros:
Three piece set
Cons:
No support, underwire, defined cups
What it is
It is a three piece set from Espiral Lingerie. The set includes strapless bra top, thong style panty, and wrist cuffs.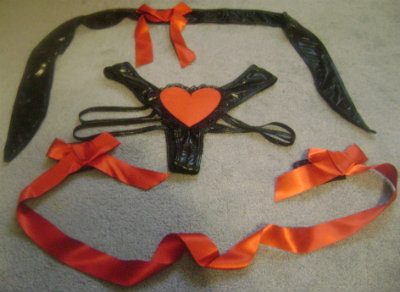 Strapless top
The strapless top is a black shiny material with a red bow in the middle of the bra area that ties around your back. It does not have any underwire, cups, or support to it at all. If you need support, I do not recommend trying this outfit. The back is not shiny at all.
Thong
The thong panty is also a black shiny material that has a large red heart in the center of the panty with black lace trim and two strings on each side of the panty.
Wrist Cuffs
The wrist cuffs are mostly red ribbon that matches the red in the heart on the panty and bow on the strapless top. It has a small section of shiny black at the wrist cuffs. The black wrist cuffs have a red bow on them with the ribbon attaching them together. They are pretty small and will not go around larger wrists or any ankles. There's enough ribbon to give you room to move around if you please. These are designed for light, sexy play in mind not any heavy duty bondage and restraints.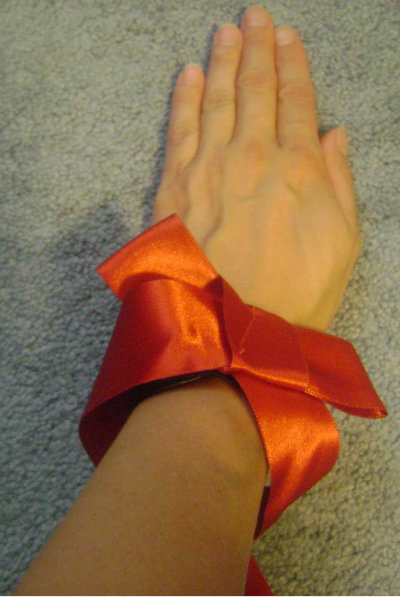 Sizes Eden Carries
Eden currently carries this in sizes small-medium and medium-large in one style black and red. I have the small-medium and the information in this review will be based on that.
Espirial Size Chart
On the product page they suggest the cup size will fit most. I'm a AA cup and it just goes around my nipple area and you can see slight under bust peaking out. For being so small chested, and having areas visible underneath the material, I don't know how well it would do with larger chested ladies. If you didn't care that the top and bottom of your breasts show and your nipples are covered, then I suppose it would work for you.
Small: 34" bust, 25" waist, 34" hips
Medium: 36" bust, 27" waist, 36" hips
Large: 38" bust, 29" waist, 38" hips
Extra Large 40" bust, 31" waist, 40" hips
My current Sizes
Size 4-6
AA Cup
32" bust
32" waist
34" hips
130 pounds
Given the following information, a small-medium should fit 34-36" busts, 25-27" waists, and 34-36" hips. I am smaller chested than the given measurements, but as I mentioned earlier, that really isn't important in this case. As far as the panty is concerned my waist is not within range, but that doesn't matter because they do not sit on my waist but instead at my hips. My hips however are perfectly in range for this piece. I find that the panty is pretty accurate in sizing. I have a little room in there, but it is not anything drastic where the panty falls off of me.
Measurements taken laid flat
Strapless top
The strapless top measures 51" long. The center of the bow is in pretty much located in the center of the top at 26 1/2". It measures 5" across starting at 24" and ending at 29". The ribbon is 8 1/4" long from the center. It is between 2 1/4"-2 1/2" wide with an 1/8" area sewn on both sides.
Thong
There is a very thin liner in the thong that is sewn in. The material is completely sewn down and does not offer any place to place a small bullet. This liner measures 3" long by 1" wide.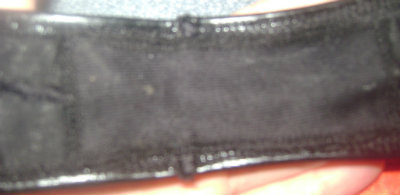 The panty is a Y shape with two separate strings on each side of the panty. The straps are high, but the design cuts low. The thicker main strap measure 2 1/4" wide with 1/8" on each end. The panty measures 7" long diagonally to the middle. It is 5 1/2' down from top to the bottom the crotch. The back has a seam where the two pieces are sewn together, but it coincides with your butt crack that it's not really noticeable. The first string is 11 1/4" long. The second strong is 14" long. They are stretchy and are very easy to slip into.
Wrist Cuffs
My wrists measure 5 1/2" around and unstretched these wrist cuffs are 5 1/2". Stretched they will accommodate up to 6 1/2". The wrist cuff measures 2 1/4" by 3 1/2". The bow looks quite large and out of place for such small wrist restraints. The ribbon is 4 1/2" across and is 7 1/4" long on one side. The ribbon that connects the two wrist cuffs together is 42" long.
Front of the top laid flat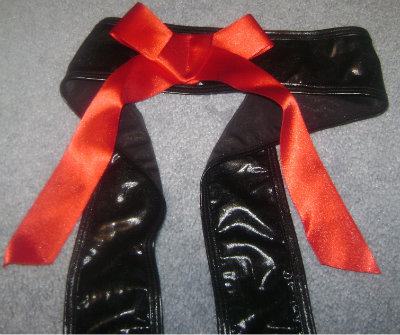 Back of the top laid flat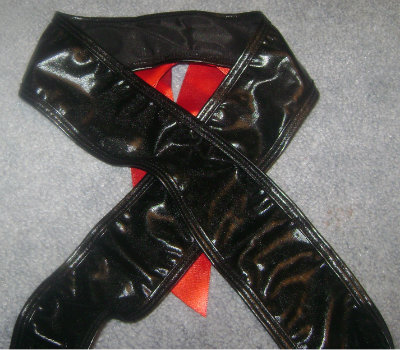 Front of the panty laid flat before I took the heart off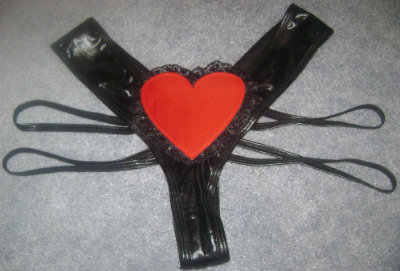 Experience
Front of the panty laid flat after I took the heart off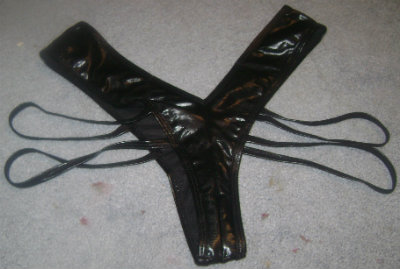 Back of the panty laid flat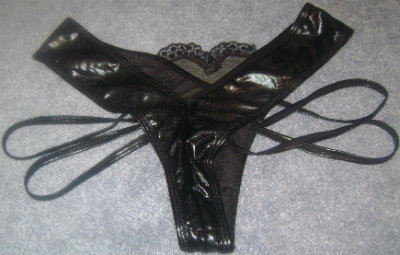 Material and Care
According to the tag and the back of the box this came in, it is 93% polyester and 7% Elastano. Elastano is like Spandex and is very stretchy. It is best to hand wash this separately, drip dry, do not bleach do not iron, and do not dry clean. I personally do not ever hand wash the majority of my lingerie, but instead use the gentle cycle on my washer and have them inside a pillowcase or lingerie bag.
Craftsmanship
There were no loose strings on any of the pieces and the material does not tear when I pull on it. I didn't like the gigantic heart on the panty so I removed it by cutting the thread in places and then finally was able to tear the heart free. It was pretty sturdy and as I mentioned I had to use scissors to accomplish this task. Once removed, you can faintly see small indentions where the heart was sewn in, but you can only see it if you are looking closely at it.
Front of the piece while worn before I took the heart off.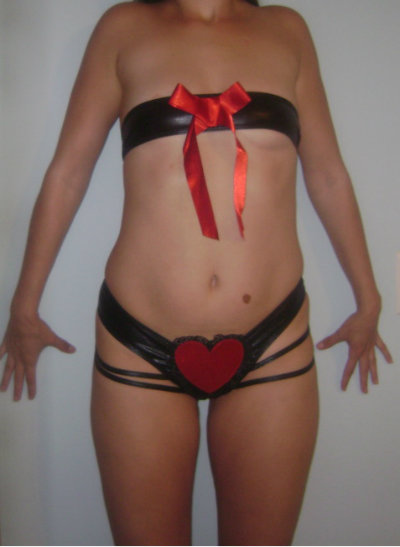 Front of the piece while worn after I took the heart off.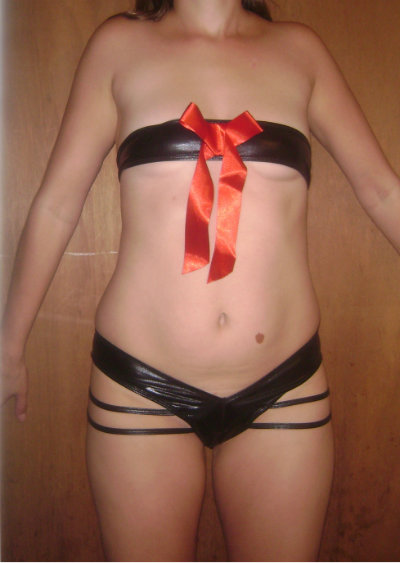 Back of the piece while worn.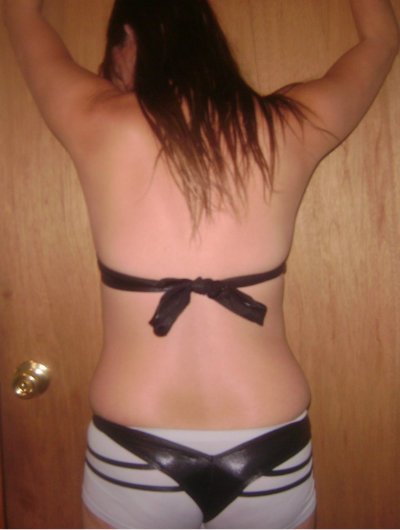 Packaging
It is wrapped in plastic and the plastic is located in a cardboard box that can be used for storage or you can recycle it and store the three-piece set with your other lingerie items. There is a model showing the three piece set on the front and back of the package. The pictures below will show the packaging.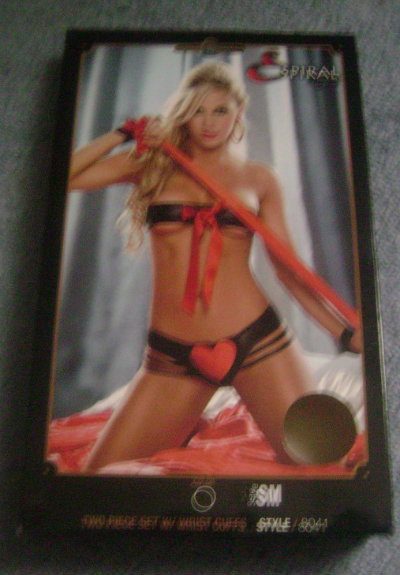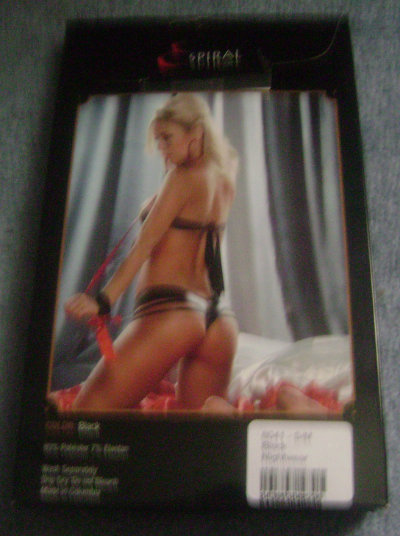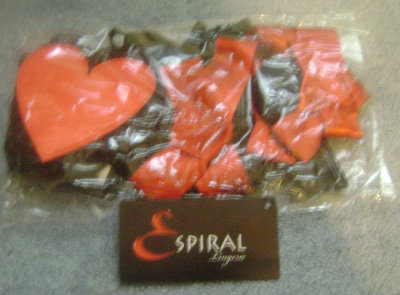 Experience
My husband and I celebrated our 9th wedding anniversary in July, but were not able to celebrate because we were in the middle of completing an exit project for his Bachelors degree. I came across this outfit and I knew I had to have it because he loves red and black color combinations in lingerie and it would be something nice to add to my lingerie collection for when we were able to use it. Now that things are less hectic, I have been able to wear this outfit for my husband and he loves it. He's the type of man that less is more and loves when I find skimpy outfits to wear. This definitely has the skimpy quality to it because there's not really much to this outfit at all. If I do not tie the back of the top tight enough when I walk around it likes to fall off. This could be caused from a number of things, one I'm too flat chested to hold it there properly and the other like I mentioned if it's not tied properly. I really like the red bow on the top because it's like I'm presenting myself as a present to my husband.
This product was provided free of charge to the reviewer. This review is in compliance with the FTC guidelines.

Thank you for viewing
Nightwear set with wrist cuffs
– bra and panty set review page!