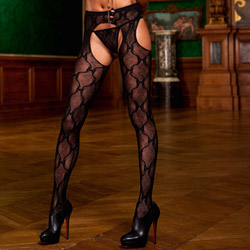 Bow lace suspender pantyhose
Pantyhose
by Baci
Bow Lace Suspender Pantyhose (OS) Review
I spent months lusting after these, and I was so excited to finally get them in my hands... but unfortunately, I was truly disappointed. These stockings are sexy, but they seam and holes are so uncomfortable on me that I just don't feel sexy. Maybe they'll work better for someone with a different body type, but I really think that these have some serious design flaws.
Published:
Pros:
Cute, Crotchless
Cons:
Uncomfortable seam, Large holes make these difficult to wear out
When I saw these pantyhose, I knew that I had to have them. I waited several weeks for them to come back in stock, and I was very excited to finally make the purchase. I imagined myself wearing them with my favorite dresses on date night. I imagined my lovers reaction when he realized that they're crotchless. Then... they arrived, and I found myself disappointed.

The Basics:
These crotchless pantyhose are made by Baci. The packaging dictates that these were designed in Miami, and made in Taiwan.

These are available in two different colors: black, and red. I purchased the black colorway.

Material and Care:
These stockings are made out of 100% Nylon.

The material is primarily a mesh material. The mesh is soft to the touch, and comfortable to wear.

I believe that the material will withstand the test of time, as it doesn't seem prone to running at all. That said, you should still be careful with these as the mesh could snag on things.

To care for these, it's recommended that you hand wash them in cold water, and then allow them to line dry. Do not bleach, or iron.

Sizing:
It's unfortunate that these stockings are only available in One Size Fits Most. This means that they should fit anyone that weighs between 90-160lbs, but weight is really a dreadful way of sizing things.

My thighs are 26" around, at the widest point. These stockings fit great around my thighs, with some stretch. I would say that these could probably comfortably fit up to 28" in the thighs.

These sit at my waist, which measures 32". I am able to stretch these a LOT more than that, so they could certainly fit someone larger.

My problem with the stockings is the height, but that's more of a design flaw than a sizing flaw. I'm 5'6", and technically, these fit me. The trouble is, the large holes make it impossible for me to wear these out of the house. Anyway, I would hesitate to recommend them for anyone taller than 5'7".

Design:
These pantyhose feature an open crotch. The open crotch is very large, and so it's certainly possible to have sex while wearing these. In fact, the hole is so large that your entire butt will be exposed, as well.

Unfortunately these also feature holes on the outer thighs. This is a shame, as the holes stretch so far down that it makes it difficult to pair these with dresses. I had high hopes of wearing these out of the house, but it's just not possible unless I go with a knee length dress (and I prefer shorter dresses). Further, I find myself getting annoyed at the holes on the legs, as they seem to stretch more the longer you wear them.

Another annoying thing about these stockings is the large seam that runs down the back of the legs. Or...the seam that's supposed to run down the back of the legs, but good luck getting it to! I found it to be really irritating during wear.

I was also disappointed to discover that the toes were not reinforced at all.

Now, the actual pattern on these stockings is adorable. The mesh stockings are accented with a sort of bow and ribbon pattern. It's very sexy, and very elegant. It's just too bad that the rest of the design was such a flop for me.

Packaging:
These arrived in a cardboard sleeve. The cardboard sleeve features photographs of a topless model (though she is covering with her arms).

Quality:
Quality wise, these are okay. They're durable, they're just not very comfortable for me.
Follow-up commentary
2 months after original review
I have tried to make these work for me several times, but it's just no use. They're very sexy, but they're just not comfortable and the thigh holes are just way too large for me to wear these under dresses. Such a shame, as the pattern is so cute!
This product was provided at a discounted price in exchange for an unbiased review. This review is in compliance with the FTC guidelines.

Thank you for viewing
Bow lace suspender pantyhose
review page!