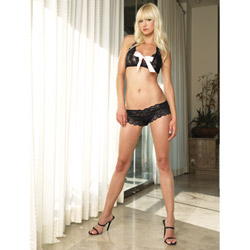 Butterfly lace halter bra set
Bra and panty set
by Leg Avenue
Bows without the Fuss
For the price, this set is quite a value. It's very comfortable, and at the same time it is very sexy in a cute not-soo-innocent way. I love the bow accent on the tanga shorts. Overall, I'm surprisingly happy with this cheaper set. I think a variety of women will really love it and find it fits them well!
Published:
Pros:
comfortable, good sizing, adjustable bra, adorable keyhole tanga shorts
Cons:
material easily snags
Presentation
This two piece set from Leg Avenue comes in a neat little box, pictured below. There is a cardboard fold in the box to keep the lingerie neatly folded within. While I felt like the lingerie couldn't breathe within this packaging, I did appreciate that it was done up more than throwing it into a plastic bag.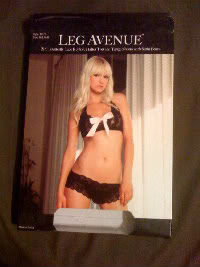 The tags on the lingerie are pretty easily seen. Leg Avenue has designed its panties with the tag in the front, pretty much ensuring that you will cut the tag out (my boyfriend thanks you, Leg Avenue, because I usually forget about tags poking out of my lingerie- which is his new pet peeve).
Materials
Leg Avenue's box informs that this set is made out of 90% Nylon and 10% Spandex, exclusive of the trim. The trim is pink satin bows.
The material is extremely comfortable and not at all scratchy or abrasive. As far as craftsmanship, there was one fray on the Tanga Shorts, where the lace got caught on something and pulled a little bit. I am unsure if I did this while pulling the lingerie out while wearing an easily-snagging ring, or if the shorts simply came that way. Either way, take note that the lace is delicate to pulls and snags.
The pattern on this lace is very pretty- thick lines and swirls, with an occasional flower-y looking shape (I suppose a "butterfly" as the title of the set points out).
The halter bra is lace patterned along the cups and halter straps, but it is mesh material for the straps that clasp around the back. It fastens by tying along the halter top. The straps fasten like a classic bra, two hook and eye closures with three options for sizing. The hooks seem to be made out of very sturdy plastic or metal.
Care and Maintenance
Leg Avenue suggests that you wash this by hand with warm water only, let dry by hanging it up.
I would definitely agree with this, since the lace is delicate and the ribbons would probably be ruined in the washer. Definitely do not put this in the dryer.
I would suggest only washing this when you have to, it seems like a pain to clean (my opinion only).
Experience
Sizing and Fit
This set comes in two scary sizes- S/M and M/L. I say scary, because it is almost the least exact sizing you can get when purchasing lingerie online. Next to "one size fits most," I usually consider the two-size scheme as pretty crappy and likely not to fit me. However, at the price, I figured I'd give it a shot.
I measure 38" across the full of my bust, 33.5" across the band. My hips are 40" and my ass, at fullest is 43.5". I usually wear a pants size of 9-11, and my dress size is usually 10.
Leg Avenue's size chart says that a M/L is made to fit a 34-38" bust, waist irrelevant, 36-40" hips. It also says it should fit sizes 10-14.
For once, I think that the size chart is pretty damn accurate. Considering my butt is larger than my hips by a bit, I found this fit me pretty comfortably.
I feel that women who have more breasts than I do (I guess I'm a full C, roomy D cup) might find this to be severely lacking in support. The only real support you have is the halter around your neck, which might not be comfortable. Those who have big hips and booty will find this really well-fitting.
Measurments:
The bra top is about 28 inches around, and it has very good stretch too it as well.
The straps for the halter are about 14" long, so you definitely have room for adjustment.
The cups of the bra are about 7" at its longest.
The hip measurement for the tanga shorts are about 14". The tanga shorts flare out to their widest point being about 16".
As for length, these tanga shorts measure just about 8" from top to bottom.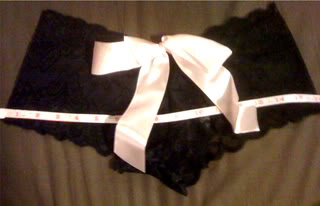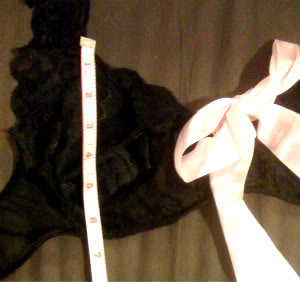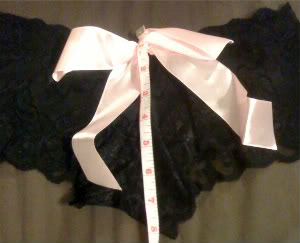 Experience
Overall, I really found this set to be surprisingly pleasing. It was comfortable, flexible, and stretchy. I was very shocked when it fit my body so well. My breasts are rather perky, and I found the bra to be comfortable but definitely did not feel snug or supportive in any manner. Women with larger or saggy breasts, who need or want a lot of support, will do best to pass this set up.
I don't feel like I could wear this under other clothing- the bra offers no padding, and the bow would bug my butt. But for lounging about and being sexy in general, this set is definitely a keeper. The keyhole in the butt of the tanga shorts is
adorable
; I found myself wagging my butt in a mirror because it looked so cute. I felt that the bow in the back definitely accentuated and flattered my big booty. The bow on the bra is big enough to hide a little bit of your nipples underneath the see-through lace fabric, if you so choose. It is great for teasing.
I liked this set because it felt so casual, but looked special at the same time.
Follow-up commentary
3 months after original review
While this doesn't get much mileage from me, I still stand by my 4-star rating of it. I think this set is sexy and simple, awesome to surprise your partner with when they come home from work. The reason it doesn't get much wear from me is the big bow in the back and the lack of padding to the cups. However, that keyhole on the bottom is also one of my favorite aspects of this piece! It's so damn sexy and flirty!

It is extremely easy to store, too, since I just fold it up and throw it in my lingerie drawer.

I really like this set, and I recommend it for anyone who wants a cheaper but still sexy little number.
This product was provided at a discounted price in exchange for an unbiased review. This review is in compliance with the FTC guidelines.

Thank you for viewing
Butterfly lace halter bra set
– bra and panty set review page!