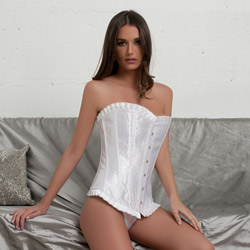 Tres Sexy corset and g-string
Corset
by Oh La La Cheri
Bridal Lingerie? Date Night? Feeling Beautiful? Yes, yes, yes!!
This is a gorgeous set. While the pro's and con's balance out, I would suggest getting it if you absolutely have to have it. If you're on the line about it, I'd suggest waiting for it to go on sale. I'm sad to say that this is only a four star piece, though. The cons are too much for me to make it a five star.
Published:
Pros:
♦ Beautiful
♦ Semi-well made
♦ Adjustable
♦ Strong boning in the front
♦ Feminine
Cons:
♠ Hard to put on by yourself
♠ Fraying strings
♠ Rhinestones fall off
♠ Thong's uncomfortable!!
What's this?
This is my very first corset, the
Tres Sexy white corset and g-string
, made by Oh La La Cheri (made in China). I think it is meant for bridal lingerie, but my husband and I find it sexy for any night I feel elegant and super feminine. This can be worn by male or female, as long as you're sure to get the right
size
. Eden has it listed as being made out of nylon (95%) and spandex (5%), the tags even say nylon and spandex, but the
manufacturer site
has it listed as white satin and rhinestones.
So... What is it made out of?
I am no expert on these things. But from my judgement it is made out of many things, many of which aren't listed on either site.
♥ Nylon makes up the most of the inside of the corset.
♥ Cotton covers the areas on the inside where there is boning.
♥ The boning in the back feels like a very flimsy plastic, where the boning on the front has more support and feels to be made out of a more durable plastic.
♥ The outside of the corset seems to be made out of a more silkier material, possibly spandex, but it has zero stretch to it.
♥ The rhinestones are only on the front of the corset; they seem like they were suppose to be symmetrical, but aren't. This doesn't bother me, as it doesn't matter if one side matches the other, but I know it may bother some people.
♥ Also, the rhinestones fall off very easily, this set needs to be handled with care.
♥ The clasps are metal hook and eye, making it a pain to put on by yourself.
♥ The corset laces up in the back by a cheap, but pretty (and LONG) ribbon; the ribbon is strung through metal holes in the back of the corset.
♥ The thong, or g-string, is made up very similar: coarse material on the inside, satin like material on the outside, and very little stretch around the front of the thong.
♥ There is no panty liner in the bottom of the thong.
♥ The stings of the thong are about as thick as the ribbon, they have
some
stretch to them, but not very much. The top string is strung through a loop on the top of the back string making it where you can slide it to fit a bit more comfortable. This doesn't not effect the fit very much.
♥ The thong is very uncomfortable and very tight on me.
How do you care for it?
The tag says to: Hand wash- Cold water- Do not bleach- Hang dry only. You could probably get it dry cleaned, but I would stick with this method because washing it in the washer or dryer could possibly cause some melting or cause the rhinestones to fall off. This set is very difficult to hand wash as it takes a lot of time and care. I don't suggest this set for someone who prefers their lingerie to be low maintenance.
This set comes to you on a hanger, and can be stored that way. Or if you prefer you can roll it up and stick it in a drawer like I do. Because this set has metal all over it, I don't suggest traveling through a metal detector with it. But if you were to travel with it you can merely roll it up and stick it in your suit case. During the time I've had it, I haven't had to deal with wrinkles. If your set does get wrinkles I highly recommend you
not
iron it.
Other comments?
The set is beautiful and I can say that I would love to get this as a gift for a bridal shower, bachelorette party, a gift from the significant other, or a number of other things. If the person receiving is modest you should probably give this gift in private. You can even leave it in the packaging if you like and just slip the whole thing in a gift bag.
I've noticed that some of the stitching on the corset piece has some fraying, I don't know if this could cause some problems in the long run, but I'll include a picture of it in the next section.
Experience
How does it fit?
I got the small.
Company Suggestions (Small):
♥ Bust: 36"-40.5"
♥ Waist: 27.5"-31.5"
♥ Hip: 38.5"-43.5"
My Measuremets:
♥ Bust: 32"
♥ Waist: 28"
♥ Hip: 33"
My Measurements of the set:
♥ The frill on the top & bottom: 1"
♥ One half of the corset: 12.5"
♥ Shortest part of the corset (from top frill to bottom): 11.5"
♥ Longest part of the corset (from top frill to bottom): 17"
♥ Avg length between boning: 2"
♥ Avg length between hook & eye pieces: 1.75"
♥ Length of front of thong: 8.25"
♥ Width of front of thong (top): 5.5"
♥ Width of front of thong (crotch): 1"
♥ Length of back string: 5"
♥ Length of waist string: 19"
My Comments:
The top fits well, but I have to have help to put it on, making it not a good piece to surprise the husband with as I had planned. It requires loosening the ribbon, fastening the hook and eye pieces, and re-tightening the ribbon. I love wearing it around the house for my husband, and even plan to wear it with a nice pair of jeans soon for a date night. The bottom, on the other hand, is too tight and is very uncomfortable. It squeezes me and leaves marks on my hips.
How does it look?
In the packaging: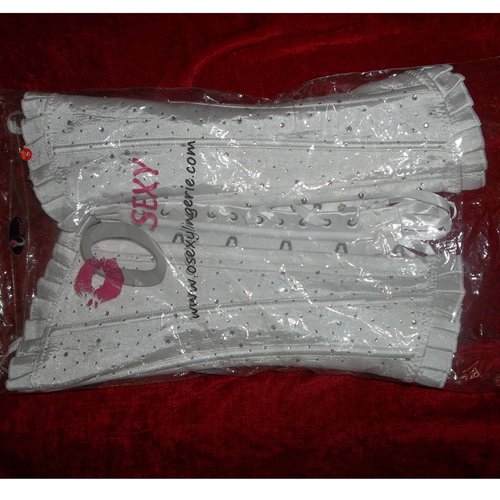 On the hanger: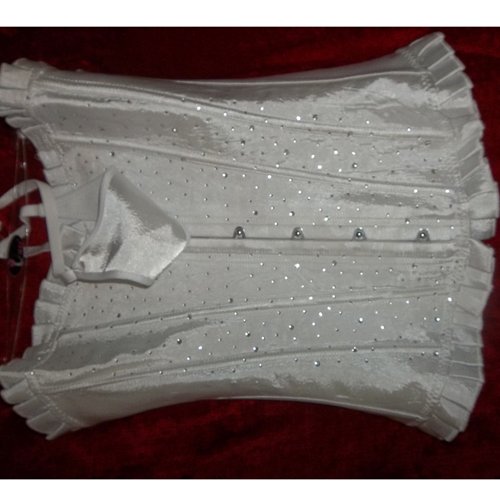 Frill & some fraying: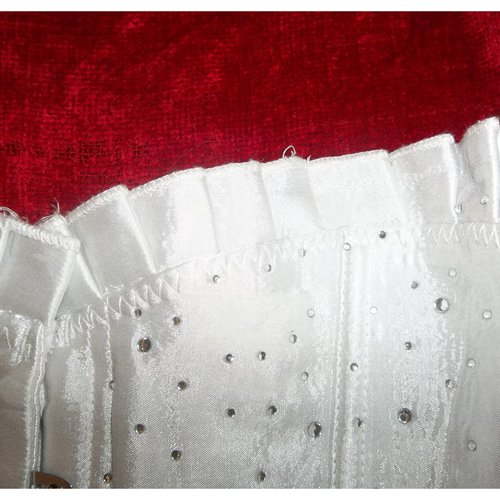 As you can see by the picture titled "On the hanger" it has a metal hook and eye system, which is one of the things that makes it so hard to put on.
Follow-up commentary
21 months after original review
Although, after much use, I still find this hard to put on, BUT it is still one of my favorite lingerie sets. Makes me feel classy and sexy. I still suggest this set for anyone looking to add a little class every now and then in their bedroom lives.
This product was provided free of charge to the reviewer. This review is in compliance with the FTC guidelines.

Thank you for viewing
Tres Sexy corset and g-string
review page!