Bright, red, and shiny!
These tights are so great! I wish it was warmer so I could wear them out tomorrow, but it's too cold where I live right now. They're a really vibrant red, have the rhinestones down the back, and are super soft and comfortable. I really can't find anything wrong with these, except that they are a little baggy for someone as small as myself.
Published:
Pros:
stretchy, bright, rhinestones are a unique touch, soft, comfortable
Cons:
a little baggy for small people
I've been meaning to buy red tights for a long time, and I saw these rhinestone backseam pantyhose by Leg Avenue on such a great sale ($2.80?! Who wouldn't try them...) so I snatched them. They are very bright red out of the package, but dull down upon stretching, as was expected since they are sheer, not opaque. They look like a Santa red, for lack of a better description. They're pretty soft, and I was really excited to try them on upon their arrival.
Here's the front, lying flat: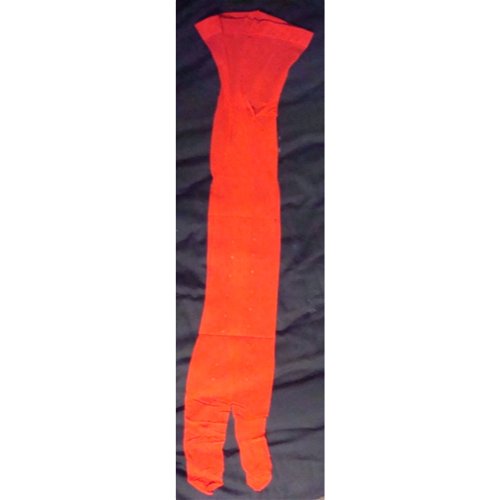 What is unique about the back of these tights is that they have 11 rhinestones in a single line down the back of each leg. This is similar to the backseam style but with a bit of extra flair. The rhinestones are glued to the tights. I suppose you could also wear the rhinestones in the front if you wanted to.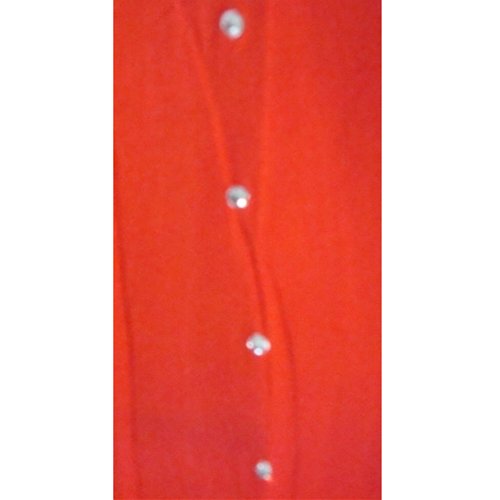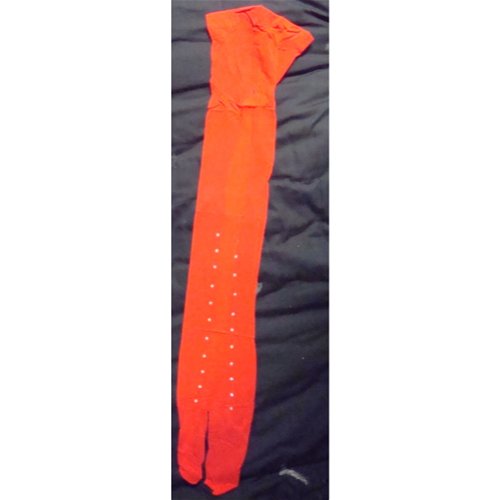 These tights are one size fits most. The packaging says they should fit people from 90-160 pounds. They are made from 100% nylon, except the rhinestones of course, and are to be hand washed separately in luke warm water, drip dried, and never bleached. They are made in Taiwan. This is all indicated on the packaging, that looks like this: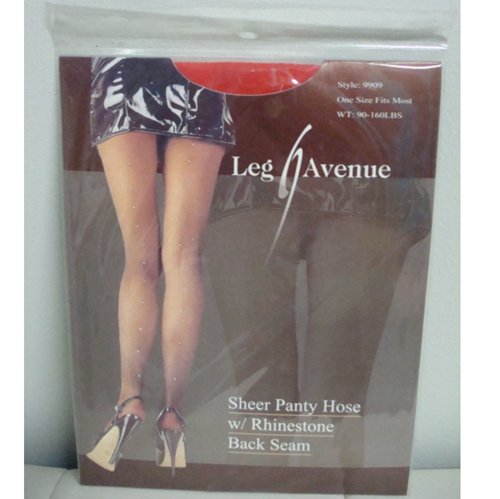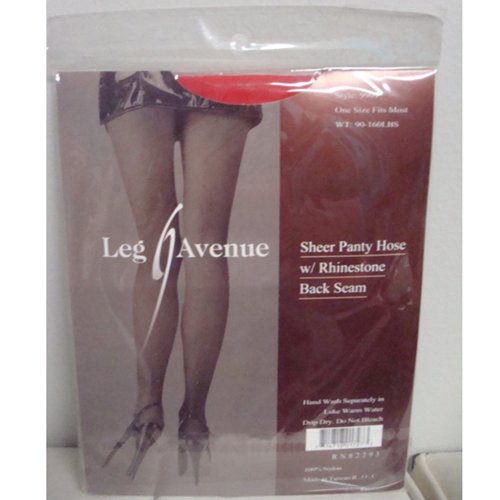 The packaging features a vinyl skirt, which is a little sexy looking but I think many people would overlook it. This could easily be given as a gift to anyone who likes tights. I would be thrilled if I received these as a gift.
Measurements:
Waist, across - 9" unstretched, 21.5" stretched
From top of waist to crotch - 9"
Entire length - 33.5"
Leg width, across - 3.25" unstretched, 9" stretched
Rhinestones - 3/16 of an inch wide and spread apart 1.125" unstretched (will change when it's on your body)
These are really soft and really comfortable. I can't wait to wear them out! The problem is, it's really cold where I live right now, so I probably won't get to wear them much for a while, especially since I am a college student so I spend a decent amount of time walking outside each day. Now I have two reasons to be excited for spring to come: because I hate winter, and I get to wear these! They're light enough that you could easily wear them in the summer even, as long as you're not one of those people that gets deathly hot. I don't see these keeping much, if any, cold out though.
These tights are also really stretchy, so I think they really will go up to 160 pounds. I have small legs and only weigh around 110, as you can see by the pictures in the experience section, and I think they're a little baggy on me, especially in length (I am about 5'2"). I'll have to see if this causes problems wearing them all day long when it's finally warm enough for me to do so.
Experience
As I said before, these tights are really stretchy. Here's how they fit on me: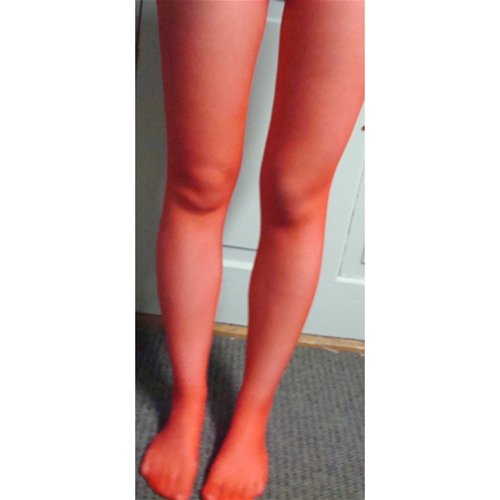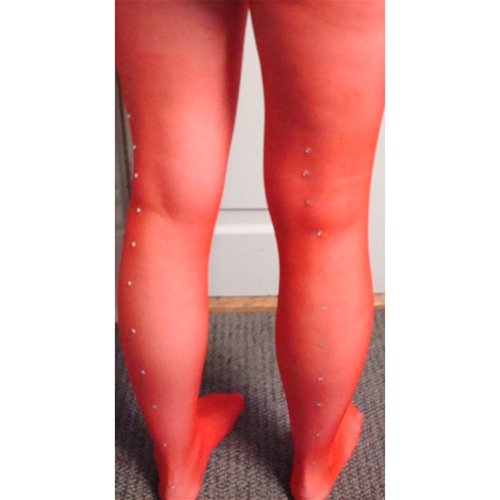 I love these tights and I'm so glad I bought them--especially at the sale price of $2.80. If these are about to be discontinued, get some asap! They're really soft and comfortable. I can't barely tell they are there. They probably snag easily since they're so soft and sheer, so they should be treated with care. The only downside I found to these is before putting them on for the first time you have to unstick the front and back because the rhinestones were glued and it made it stick together. As long as you're careful, it doesn't cause problems, and it only took a minute or so to do the two sides. I am worried that a rhinestone could fall off, but they are small, so it wouldn't be noticeable unless you were really looking.
Although I prefer more opaque tights than these, I still love them! I can't wait to wear them. My partner, a who has a bit of a tights fetish, saw them and is also very excited.
Even when not marked down 60%, these tights are still a great price at $7. They're really stretchy and will fit many people, even if you are really tall or have larger legs. The waistband is a little less forgiving but the hip area is really stretchy just like the legs. I love these and would definitely consider buying the other colors, but I think they are being discontinued because there is no alert for being back in stock. Bummer...get the red ones when you can. 5 stars for these!
Follow-up commentary
4 months after original review
I really like these, but often times they are more of a hassle to wear than they are worth. They are very thin, so they don't keep my legs any warmer than if they were bare. They are much more for the look of them. They have a great look, but sometimes I'm too annoyed by making sure the rhinestone line is lined up to bother wearing them so I pass them over for another pair of tights. I also had to run outside quickly in them without shoes during a fire drill and they ripped on the pavement. Luckily, that's the part no one would ever see, and when I have worn them since, I've worn them with a shoe I can wear a sock with to help protect the thin, delicate bottoms. I still like them and got a great deal and would buy them again, but they just aren't for daily use or a practical item. I use them when I really want the look for a date, but not to wear all day. The rhinestones are just too annoying to line up!
This content is the opinion of the submitting contributor and is not endorsed by EdenFantasys.com

Thank you for viewing
Rhinestone backseam pantyhose
review page!