Bring Them Back!
It's terribly sad that the Back Seam Fishnet Pantyhose by Leg Avenue had been recently discontinued. They were offered in a variety of colours, the back seam is easy to line up because it's zig-zag, they have the length to fit those who are taller, and will fit those who are larger than the suggested measurements/weight. The only problem I had was that my toes stuck through the netting. These pantyhose are very comfortable and I'm happy I purchased them before they because unavailable.
Published:
Pros:
Inexpensive, comfortable, fits larger than suggested weight/hips, length, colours available.
Cons:
Toes not reinforced, discontinued.
The Back Seam Fishnet Pantyhose by Leg Avenue arrived in typical stocking packaging. The pantyhose were wrapped around a thin piece of cardboard, with a cardboard piece wrapped around them, and sealed in plastic. The front of the packaging states the product and company name, and has an image of legs wearing the stockings. The back states the size, suggested weight bracket, care instructions, and material composition. The packaging is not ideal for storing the stockings. I just keep mine in my sock drawer.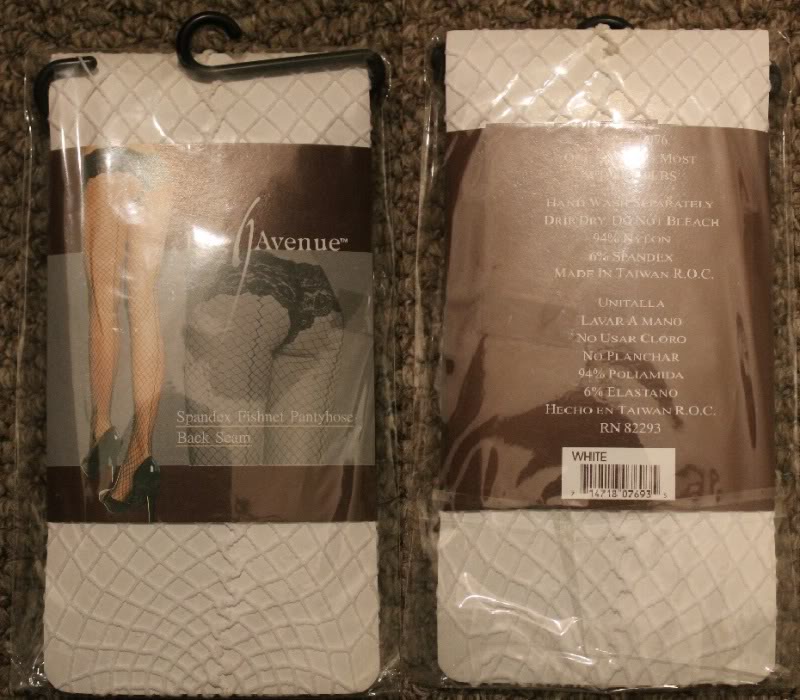 The pantyhose are 94% nylon and 6% spandex. They are all white in colour. The pantyhose are netted and have a zig-zag back seam on each leg. I typically don't wear pantyhose with back seams to them because I hate having to line the seam up with the back of my leg and make sure it stays there. Below is an up-close photo of the netting.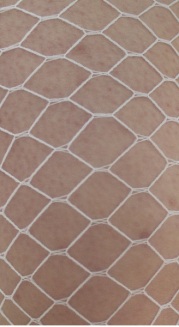 I purchased these particular pantyhose because I thought the zig-zag style was neat and they were on clearance for $2.80. I purchased the white pair but they were also available in black, hot pink, and red. They were only offered in one-size-fits-most. They've since been discontinued.
I've taken a couple measurements of the pantyhose laying flat, both stretched and not stretched. If you need any additional measurements, please send me a message and I will get them for you.
Waistband not stretched: 9 ½ inches
Waistband stretched as much as I could: 26 ½ inches
Length of stockings not stretched (top of waistband to toe): 27 inches
Length of stockings stretched as much as I could (top of waistband to toe): 60+ inches (my arms will only stretch so far)
Like most stockings, these are extremely stretchy in both width and length. The waistband is 5/8 of an inch long and is elastic. These pantyhose are not control-top. The netting to the hose begins directly beneath the elastic band. There is no liner in the crotch of the pantyhose and the toes are not reinforced. I don't mind that the crotch has no liner but I feel like all netted pantyhose should have reinforced toys. When they don't, you're left with your toes sticking through the netting (or at least I am). This means that you'll probably want to wear close-toe shoes when wearing these stockings.

The packaging states that the one-size-fits-most is best suited for those within the weight bracket of 90-160lbs. The only information on the company's
size chart
that I think would be important for pantyhose is the suggested hip measurements. They suggest hip measurements between 34-40 inches. I'm above the highest suggested number in both of those brackets. My weight was in the high 160's the last time I checked (I assume I'm a bit more now) and my hip measurement is 41 ½ inches. My height is 5'6".
If you've ever read any of my other stocking reviews, you know that half the time the stockings fit me, half the time they don't. Either I'm too tall, my thighs are too thick, or the waistband is too tight. Then there are other times where the OSFM stockings fit perfectly! I was quite sceptical with these pantyhose because the waistband looked small, and I sometimes have problems with my chubby thighs sticking through the netting in a non-sexy way.
I'm extremely happy to say that these fit magically. Well, other than my toes sticking through the netting. They were easy to put on and the back seam was easy to line up at the back of my legs. I really like that it's zig-zag because it doesn't have to be perfectly lined up. My height was not an issue for these stockings. I was able to pull them up to right below my chest. I probably could have pulled them up over my C cups but then I'd have a bit of camel-toe action happening. This is great news for those who are taller than me!
Experience
...continued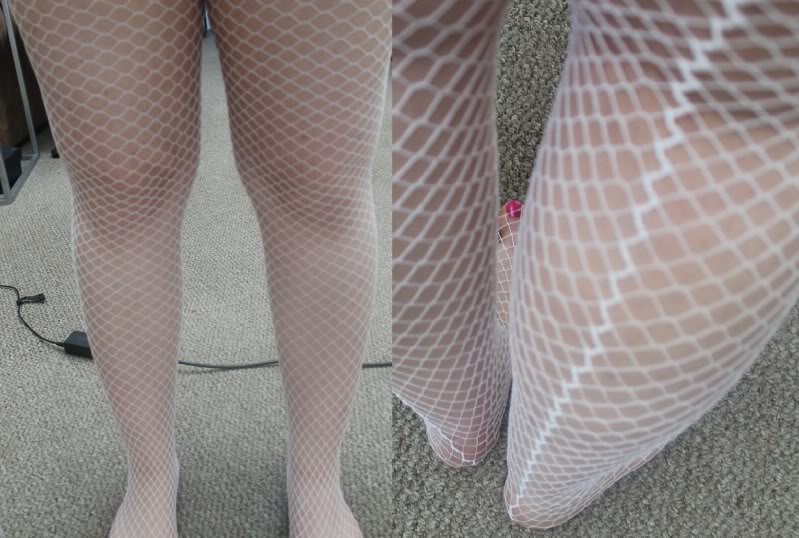 The waistband fit me nicely and still had quite a bit of stretch to fit those who have hip measurements a few inches more than my own. The waistband wasn't tight or uncomfortable while I wore it. My thicker thighs were also not an issue for the stockings! The stockings were comfortable against my skin and I'd be fine with wearing them all day without any issues. The packaging states that the pantyhose should be hand washed separately and drip-dried. They should not be bleached.
Overall, I'm really happy with these pantyhose! Being a bit larger than a OSFM, I expected that my size would create at least one issue. The only real issue with the pantyhose that I had was that my toes stick through the netting. It would have been nice if the toe area were reinforced. I've deducted one star because of this. I'm disappointed that these stockings were discontinued. They're really nice. When I had purchased them, there were only the white coloured stockings left available. If they were to come back, I'd purchase all of the colours. Here's to hoping!
This content is the opinion of the submitting contributor and is not endorsed by EdenFantasys.com

Thank you for viewing
Back seam fishnet panythose
– pantyhose review page!