Brothel Wear? Probably Not.
This is a really pretty piece of lingerie. It would be great for a lady with smaller, pert breasts. For me, however, it just couldn't hold up! Pun, definitely, intended!
Published:
Pros:
Very pretty.
Well-Constructed.
Cons:
No Support.
Panties are laughable.
Too Short.
Sorry that the pictures are blurry. My regular camera died and I had to use my phone. Sad day.
The Bedroom Bordello corset is lingerie designed to excite your partner, while making you feel sexy; and it comes with a matching g-string pair of panties. The corset is very pretty. It has a large bow at the base of one of the straps that is sewn on. If it's annoying, you can use a seam ripper to pull out the stitching. I think it's a smidge annoying, but not enough to pull it off. The top of both the panties and the corset has a strip of mesh fabric that is ruched to make a ruffle. The material is a nice, deep red that is printed with a pattern that looks like a lace overlay that has flowers on it. The flowers are patterned into heart-shapes. That could be seen as fairly cheesy, or you could really like it. Personally, I'm ambivalent on whether or not I like the hearts, but overall, I do like the pattern and colors.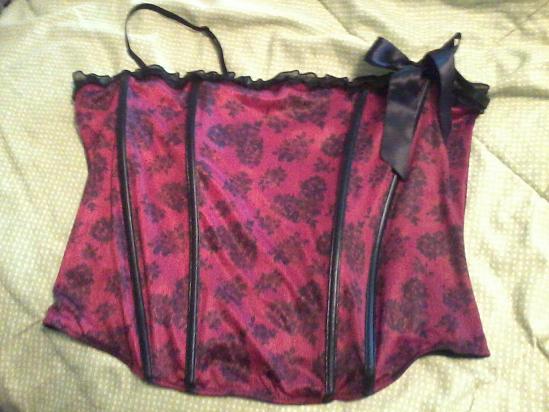 The Corset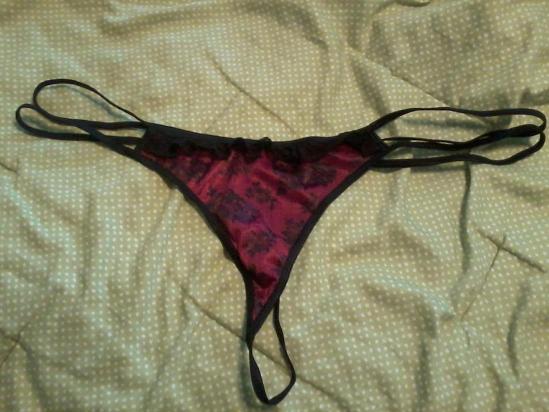 The Panties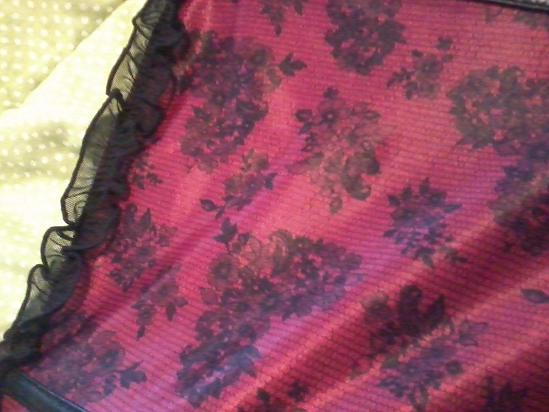 The Pattern
The straps that go over the shoulder are thin and adjustable, like a bra. Please note, if you're looking for support, you will not find it in this corset, but more on that later. I wouldn't even, truly, call this a corset. It does not cinch or enhance any particular part of your body as real corsets are designed to do. The boning in this is plastic. The fabric material is 92% polyester and 8% spandex, according to the tag. It feels like swimsuit material. It is
very
thin. When I say "thin," I mean it's pretty much see through if there's any light shining.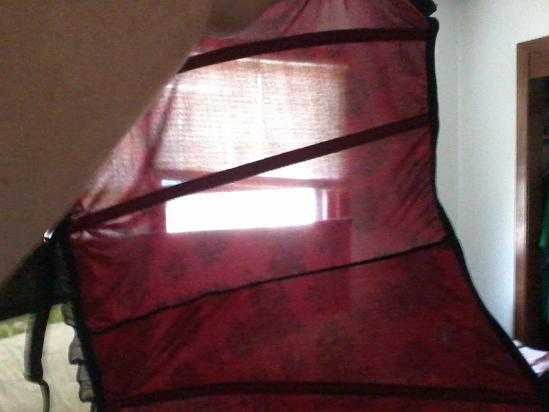 Wave to the neighbors outside! Kidding, I'm on the second floor, but still, very see-through.
Around the boning, the material is meant to look like leather or vinyl, but it's just a wet-look poly/spandex blend. It has hook and eye closures on the back, which I find to be rather a pain to hook. Two choices, you can do the bra thing where you hook it in the front and spin it round to the back
OR
you can hook it and just pull it over your head. Pulling it over your head could cause the stitching to pull a little, so I recommend the prior method over the latter.
Speaking of the stitching, I'm actually pretty impressed with it. it looks pretty sturdy for the most part. I am a little concerned with how thin the fabric is, though. If you're not careful with it, it could pull apart from the seams and produce holes. There are three panels of fabric: one larger piece in the center and two smaller pieces that have the hook and eye closures. The panels are stitched
very
well, in my opinion. The fabric-covered plastic strips that constitute the boning are just stitched onto the fabric, and this is where I think most problems with the stitching might occur.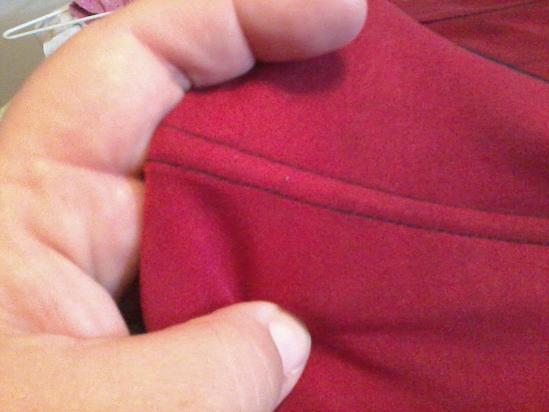 How the boning is stitched on.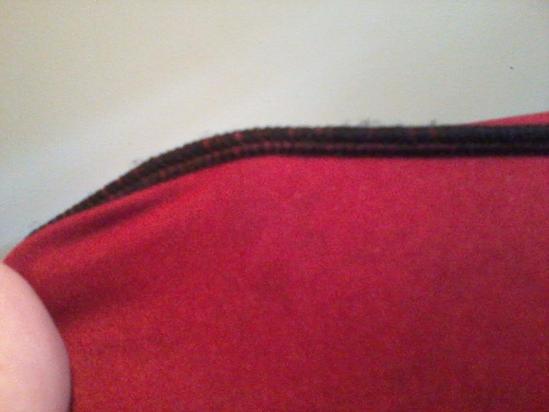 How the panels are stitched together.
It is my opinion, that if you are a fleshier person, the panties are sort of silly. For these to go properly on my hips, the front has to pull over the most abundant part of my tummy, which makes the panties rather pointless, if you ask me. They don't cover my crotch and the elastic is in my crotch instead. Oh well! I do like the back of the panties that have the double strap attached to the g-string. I think the design of that is sexy.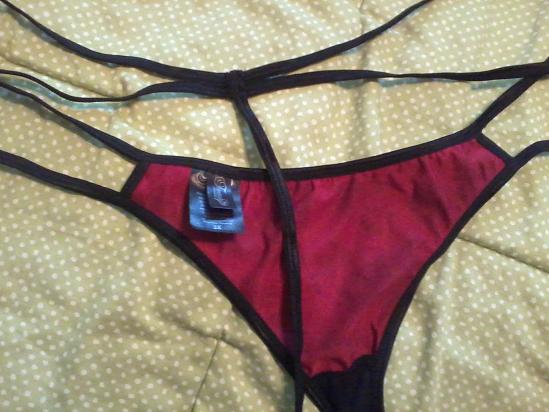 Panties from the back.
I got the 3X size of this. I do not have my measurements, but I wear a 2-3X top and this fits me appropriately; it doesn't pull at the closure, which is nice.
As for care, the instructions on the tag says:
Machine wash-
Warm, gentle wash. Darks separately.
Tumble Dry Low.
Remove Promptly, do not twist or wring.
This, to me, says, "If you have a newer, spiffy washer and dryer without an agitator, wash it on the gentle cycle with a low spin speed." Which in-turn means, "If you don't have a spiffy washer, hand wash this, because there's no way an agitator washer isn't going to twist this."
Experience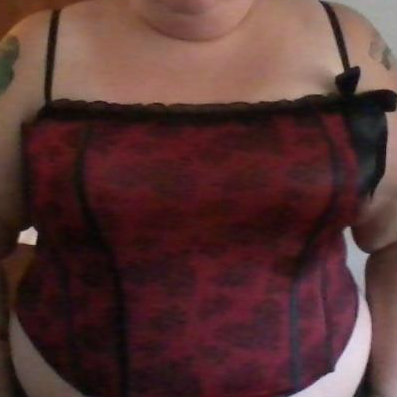 Lovely, right (despite the blurry)? That's with a bra.
Also, with the bra, it's much shorter on me, coming up about four inches above my belt: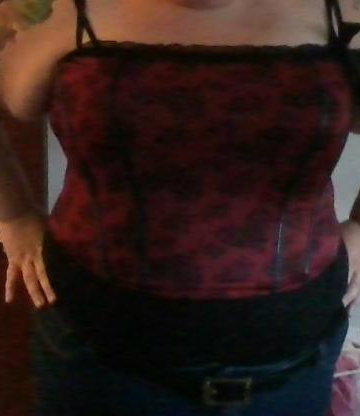 Needless to say, as a larger lady who's had some children, these boobies just aren't as perky as they used to be. Since this doesn't have any support whatsoever, if I want my boobies to look nice in it, I have to wear a strapless bra. (
SO
COMFY!) Otherwise, it kind of looks like this (again, SO SORRY THEY'RE BLURRY!):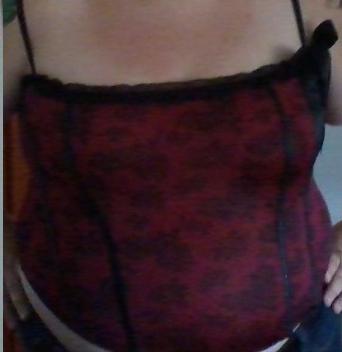 front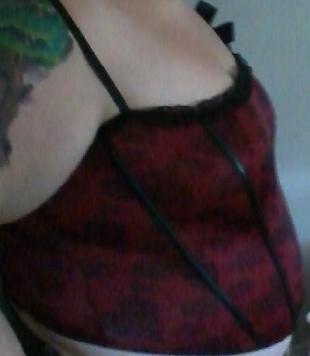 side
I've worn it a couple times in the bedroom, and have contemplated buying a black button-down to wear it over out of the house, where I think it would actually "shine" as an article of clothing. This is an especially-nice choice for wear because I can wear a more comfortable bra. Perhaps, if I can find a way to wear it, while covering my tummy, but without the straps of a tank top, I will debut it at an upcoming play party or some such type of setting.
Just have to add, we did find
one way
to keep my boobs up while not wearing a bra: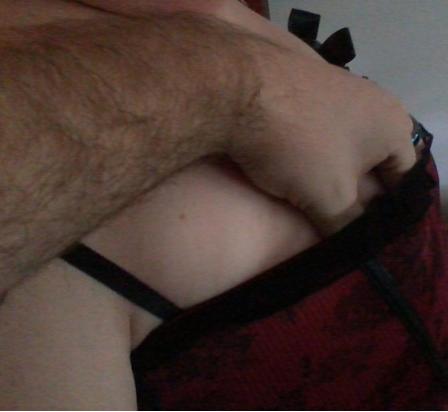 This product was provided free of charge to the reviewer. This review is in compliance with the FTC guidelines.

Thank you for viewing
Bedroom bordello corset and G-string
review page!