Bullet Proof Babydoll is Worth the Money
I'm a bigger woman, but this fit me perfectly. My husband loved it on me. The only real complaints I have is the fact that it was slightly difficult to get all the different pieces of fabric to go where they belong. I wasn't the biggest fan of the lack of breast support either, but because of the design of this garment and the lack of any sort of underwire, that was expected.
Published:
Pros:
Fits well
Doesn't get in the way during sex
Fabric is very soft
Flattering on most figures
Cons:
Straps slightly itchy
No breast support
Slightly difficult to get arranged properly
This is the first real piece of lingerie I've ever bought. I'll be honest, I picked this particular piece because it was on the less expensive side - not for any other real reason. I wasn't sure what exactly would look best on me, so price was the easiest factor to use. In the end, this was a great piece for my first time buying lingerie. However, I will say I'm not sure I would feel it was worth it had I paid full price. Knowing what I know now, I might buy it again on sale, but I doubt I would pay $32.99 for it (I will admit though, that's mostly because I can't imagine paying more than 30 dollars for a dress that I would wear out, let alone something that no one other than my husband will ever see).
The lingerie came in very simple, discreet packaging. The babydoll and thong were on a plastic hanger that was covered in plastic. There was one attached tag that was easily removed. The garment tags were in the back of the babydoll, and the other was in the crotch of the thong, which was odd, but I was able to cut them both out.
I ordered a 2X, which is a size up for me, and it was a smart choice (the garment comes in sizes S-3X, and I think it would flatter someone from every size). I might have fit in a 1X, but it wouldn't have been quite as comfortable. I think the garment was very true to size, I just prefer my outfits to not be as form-fitting which is why I ordered a size up. Both pieces fit extremely well. I typically wear a size 20-22 in pants and 1X-2X in shirts. My bra size is a 42D, the cups were a little small but not horribly so (I wasn't popping out of them, I was just a little less covered then I'm used to).
The top wasn't very supportive, but I wasn't really expecting it to be since rarely is elastic enough to support breasts my size. The elastic was just stretchy enough without being so stretchy that the garment was loose. The straps were a little hard to get adjusted properly, but ultimately, I'm just wearing it for my husband's pleasure and he doesn't care if the straps are loose. The straps stayed where I put them and didn't loosen like some straps do. Here are some pictures of the garment: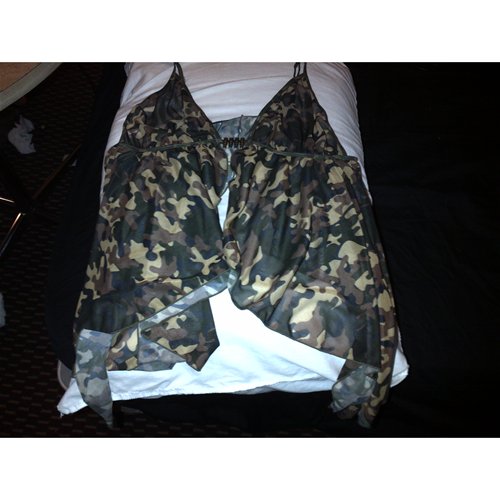 The straps are adjustable and range from 9 inches to 18 inches. The waistband ranges from 16 inches across unstretched to 24 inches when stretched completely. The babydoll pulls on and off as there is no closure; the piece in front that looks like four bullets side by side is purely decoration (which I didn't realize when I purchased it, I assumed that it unhooked in the front, but this turned out not to be an issue). I think the easiest way to get this on is to step into it. It was hard enough to get all the little wisps of fabric situated doing it that way, I think it would be even more difficult if you tried to pull it over your head. Getting out of it, I would recommend going to the same way, pull your arms out of the straps and push it down, rather than pulling it up.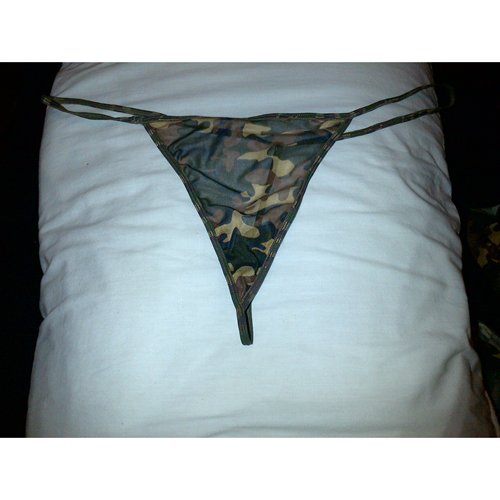 The bottoms are just a basic, non-adjustable thong. However, it stretches quite a bit and ranges from 18 inches across unstretched to 33 inches stretched out completely.
I really enjoyed the feel of the fabric. It was very soft and felt good against my skin. The straps were slightly itchy, but eventually I got used to them. The outfit was comfortable enough, and I didn't mind wearing it for the hour or so before my husband and I actually went to bed. I've never actually worn a thong before, but after I got over the "this is different" feeling, it was quite comfortable. I don't think I'd ever wear a thong out, but for sitting around this house, it is fine. The one complaint I have about the thong is it doesn't really cover the ladybits very well. It's a little loose which I think is why it doesn't cover very well. If it were a little tighter, I think it would pretty much cover everything.
Overall, I really liked this garment and will definitely wear it in the future. I'm giving it 4 stars only because Eden Fantasys doesn't allow half stars; I believe this garment really deserves 4 1/2 stars, but with the few tiny issues, I can't give it 5 stars.
Experience
My husband and I just tested this garment out tonight, and it definitely is great for sex. It stays in place even if you move around a lot and doesn't get in the way. It also is very comfortable, and the light fabric feels great against the skin. The straps are slightly itchy when I first put them on, but once I got distracted by other fun things, I didn't notice it anymore.

It was a little bit difficult to get the straps adjusted on my own (I wanted to be wearing it when my husband came home to surprise him) because I had to keep taking the babydoll off and putting it back on, so finally I just settled on the straps being a little loose. Next time I'll have my husband help me adjust them. Also when I stepped into it (seemed like the easiest way to get it on), when I pulled it up some of the different pieces of fabric, they twisted around the elastic band that goes under the breasts, and it was a little hard to get them where they belong, but once I did, they stayed there.

The thong is easily removable, but it could just as easily just be moved aside if you don't mind leaving it on. I wore the babydoll and thong for about 2 1/2 hours total, and for part of it, I was up moving around and cooking, and it never got in the way or anything. I was also pleasantly surprised that the thong was quite comfortable (I had never worn one before).

I think this babydoll is pretty sturdy and is going to last awhile. I accidentally cut a hole in the back of the babydoll when I cut out the tag, but even after wearing it for an entire evening, the hole was still the same size which speaks to the durability of the material.
Follow-up commentary
3 months after original review
I still really like the bullet proof babydoll. I've worn this babydoll multiple times and it's still holding up well. I've definitely gotten my money's worth out of it.
This content is the opinion of the submitting contributor and is not endorsed by EdenFantasys.com
Thank you for viewing
Bullet proof triangle cup babydoll
– babydoll and panty set review page!