C'mon Get HAPPY!
These are one silly pair of panties! They are great for a good laugh, a gag gift, a funny surprise. There is no way you cannot put a smile on your partners face with these - I mean they are hilarious! They are a nice change of pace to the "normal" panties. Inexpensive, different and easy to take care of - these are a fun option if you want to playful sexy time!
Published:
Pros:
Unique and funny
Inexpensive
Cons:
Cheesy for some
Okay, I know what you are thinking! Probably something like this:
1. What the hell?
2. Why would anyone buy these?
3. These are ridiculous!
4. I just peed a little laughing at these!
5. Um, NO!
Or maybe you really loved them like me...
Really loved them might be an exaggeration, fine. But I liked these enough to buy them! I mean they were only $9.99 and I am sure I got them on some great deal, so they were probably closer to $7 or $8. That and the silly dumbstruck look on my husband's face was so worth this bizarre purchase!
Packaging:
These ridiculous 80's style smilie undies came in a simple plastic bag. They had a sticker with a bar code on them. The basic information can be found on the sewn on inside tag. That is where you will find everything you need to know about care and materials. The undies are folded nicely inside and are presented well. The packaging is simple and light and can easily be put in a gift bag (gag gifts, hello!), stocking or wrapped up separately.
Assembled in Mexico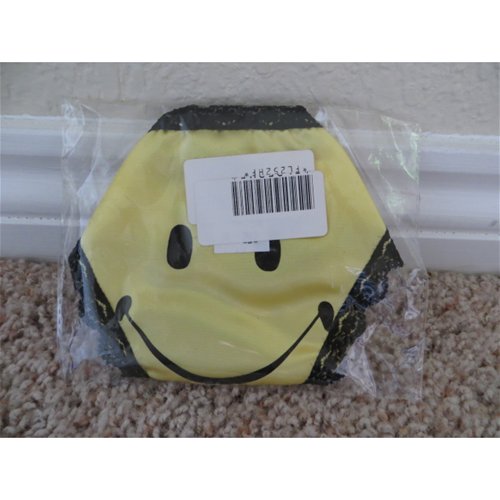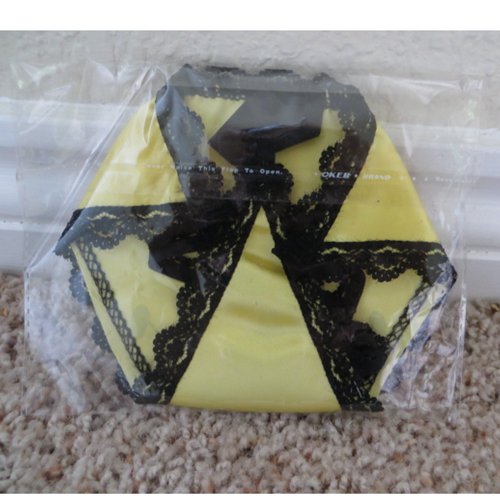 Care/ Maintenance:
These amusing panties are very easy to keep clean. The instructions on the tag state to machine wash warm, gentle wash darks separately, tumble dry low, remove prompt, do not twist and do not wring.
I realize these are ridiculous and they might be just once-a-year panties, so that is even better for the minimal care you'll have to make to take care of these! You can still have complete confidence in how easy it is to care for these. You can throw them in the wash with all of your delicate items like I do, and they will be just fine! I've washed them a couple times so far and they are still in great shape! I do not however dry them in the dryer or iron them. I line dry or lay flat to dry. They are very thin and dry quickly. The thing about the darks that is stated in the tag – I ignored. I didn't notice any bleeding or color changes!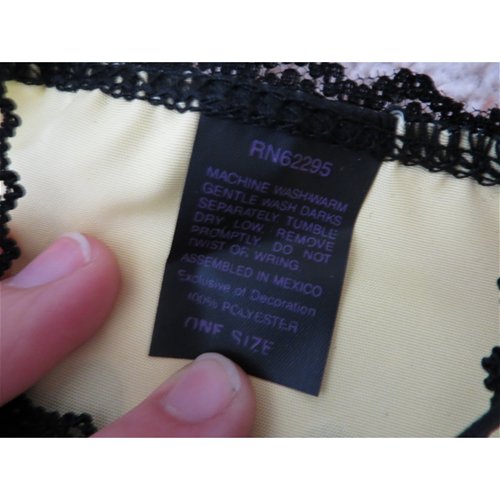 Size:
These amusing little panties come in one size and one size only.
These are recommended for size 4-14. I would say they fit better on 4-10. I think that they would be a little tight on anyone bigger than a size 10. You can decide for yourself though, I took the exact measurements:
Butt string – 8"-10"
Front panel length – 8"
Waist Band – 12"-14" (24"-34")
I am typically a size small-medium. I wear size 4-6 in dresses and jeans. The rest of my measurements can be found on my
profile page.
I usually fit right in the middle on one size items. I found these to fit a bit small. They fit me good, but not as loose as other one size items. They don't ride high like they do in the picture either!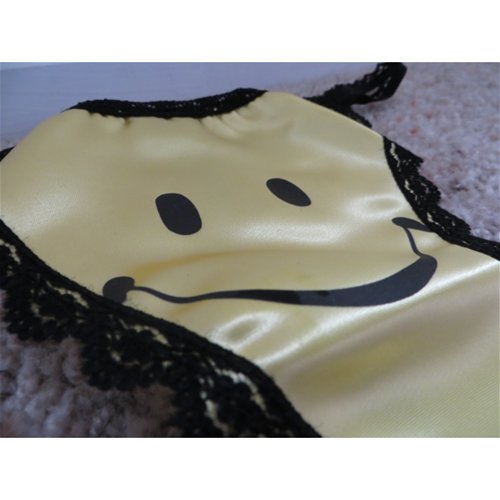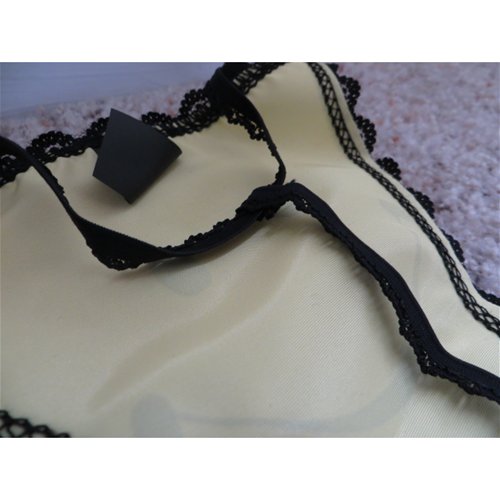 Material/Texture:
These undies are polyester. Now some might think that is uncomfortable, but it is only the front panel that is polyester, which I don't even notice when they are on. The rest of the underwear is just a string made out of cotton lace material. It is a little itchy and uncomfortable, but that is also how I feel about most of my g-string type thongs. The front panel is soft and smooth, kind of silky. The string portions are rough and very textured.
Design/Shape:
Obviously these undies look like they are straight out of the 80's, some people commented that they also look like the rollback smile guy at Wal-Mart or the Joe Boxer smilie face. Whichever you relate to, there is not much more to say about the design besides the fact they are BRIGHT yellow and have a large black smile face on the front.
Personal Experience :
When I slide off my jeans and revealed these for the first time I am pretty sure my husband didn't know what to do. I acted normal, and didn't give him any indication that my undies were 100% ridiculous. He didn't know whether to laugh or try to take them seriously. After the initial shock, he thought they were hilarious and a funny change of pace to the lace and luxury lingerie I typically wear. He sure had a smile on his face with the surprise of these! They worked like a charm, because isn't sex supposed to be fun and funny sometimes... we don't always have to take it so seriously! These undies are great for just that!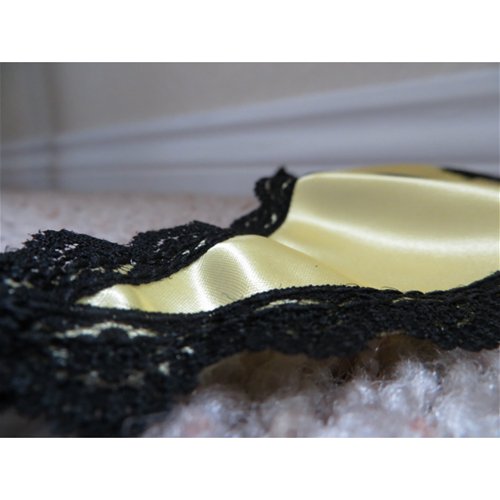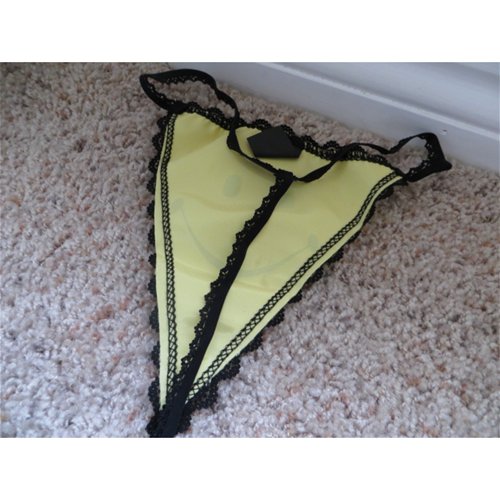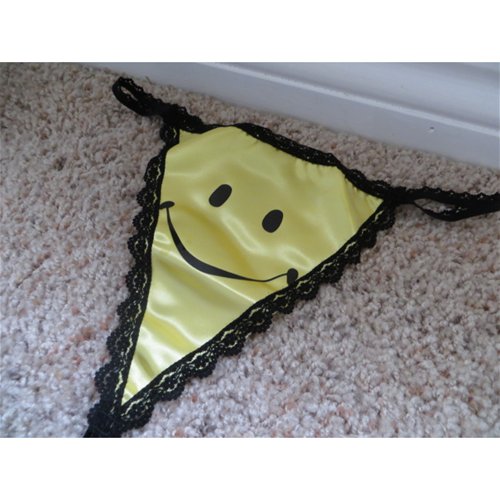 This content is the opinion of the submitting contributor and is not endorsed by EdenFantasys.com

Thank you for viewing
Happy face g-string
– sexy panty review page!