Caged heat cannot be separated from fire. (XL)
I'm thrilled with this set. I know the bust design isn't for everyone, but I love it (and so does he)...... I don't see the bra working for (real) large breasts, though. The garter belt is much more capable and easier to manage than it looks, and the thong actually fits...WELL.
Published:
Pros:
Comfortable, Easy to put on, Underwire, Suited to *my* body, Thong fits
Cons:
Bust fit won't suit everyone, Minor defect in garter (on mine), A few loose strings, Dry clean only
I was delighted when I first saw this set and discovered that it came in XL. I was overjoyed when I received this on free assignment.
I was nervous that it wouldn't fit me properly.
It's obvious that the bra in this set does not make for a traditional fit. The garter belt looks complicated. Panties in sets don't always like to cooperate, either. Every piece of this set had a risk factor to match, but the style captivated me, and I had to have it.
Everything came hanging on a hanger, wrapped in plastic.
The set includes: A bra, a garter belt, and a thong.
The tag (on the panties; the bra and garter belt have no tags) says 80% polyester 20% spandex, dry clean only.....uhhhh that's not happening. I personally plan to hand wash.
The bra laid flat. Note the very...open design. Even though this bra has underwire, the stretchy, strappy nature of the thing doesn't make for much support. Instead of shaping or lifting anything, this bra is going to show off whatever you have and in a provocative manner. The fabric is soft and stretchy and non-irritating. More on the fit of the cups later.
The garter belt laid flat...... here I must admit that my laziness overrides my desire to not be thought of as a moron. When I put this down to photograph, what should have been going through my head was, "Wait, this is sideways, and the loop placement and obvious asymmetry attest to my theory." HOWEVER, what was ACTUALLY going through my head was this: "It's weird that the hanging loops are in the front and back instead of on the sides. I wonder if there's any peanut butter left in the kitchen."
I didn't realize any of this until I was bundled up on the couch, editing pics for this review. It was also then that I realized that I had been wearing it sideways the entire time. All of the pics I had taken were of me wearing it sideways. WTF. I have a 4.0, but I can't outsmart a garter belt.
My point is: I was too lazy to redo the pictures, so just try and imagine that the sides of the garter belt are completely even, that the front is about an inch shorter, and the back comes down about an inch longer. Sorry for the lapse in mental competency. Moving on.
Here we have the thong laid flat. Strangely, this material looks exactly the same as that of the bra, but it feels cheaper and not as soft. The thong still has a great fit and the fabric is non-irritating. There is a (well-placed) 3.5" panty liner, as well.
The garter fasteners. They are smaller than most, but they are very easy to fasten (I fastened three of them using only one hand). The third one has a defect that renders it nonadjustable, but there really isn't much adjustability in the others anyway, and I prefer them on the longest setting.
On to fit and sizing, then.
Sizing Information
For some reason, Eden's Dream Girl size chart does not include XL. I checked Dream Girl's website and found the XL to be as follows:
Size 14-16
Cup D/E
Bust 38"-40"
Waist 31"-33"
Hips 40"-42"
Weight 160-180 lbs
Me:
Size 16
Cup C
Bust 42"
Waist 32"
Hips 42"
Weight 180 lbs
I mesh pretty well with the guidelines, save the bust. The straps around the bra are very stretchy, and easily accommodate my 37" underbust. Also, I'm certainly not a D or an E, but the cups don't seem to mind my having C's. I can imagine this fitting D's well, but I really can't imagine cramming a pair of E's in here.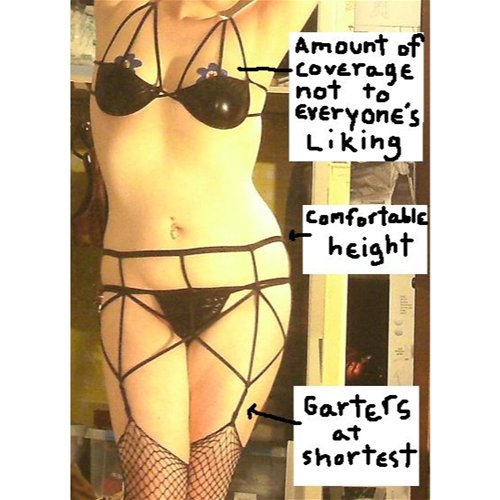 Though I'm not the most modest person, I did all you good people the service of putting on a (very patriotic) set of pasties, as this set does not cover my nips.
I started with the garter belt (it's stretchy. There's nothing to fasten; you just pull it up) around my waist and walked around for a good while, and this is where it settled. The straps don't cut into my skin at all. I don't think another inch of hips would change the fit much, either.
The thong is a good fit. It doesn't cut into my skin, either, and it has a good front-to-back length.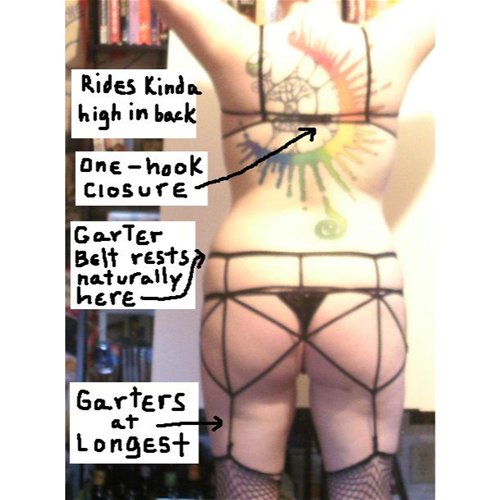 Back view. The straps in back run high on me. I tried to compensate by lengthening the shoulder straps, but that made the six straps that attach to the cups not lay against my skin. I'm sorry for using the word "strap" so much, but that's mostly what this bra is.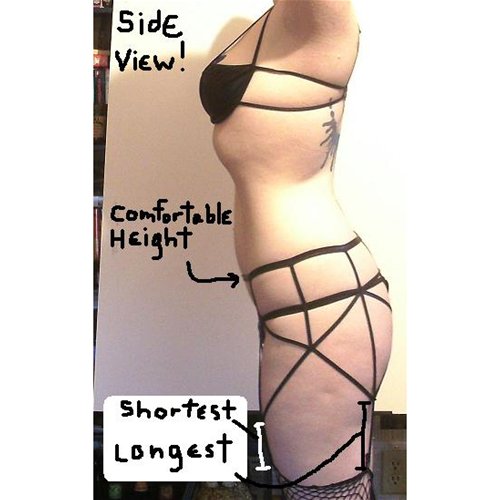 Side view. I haven't much to say.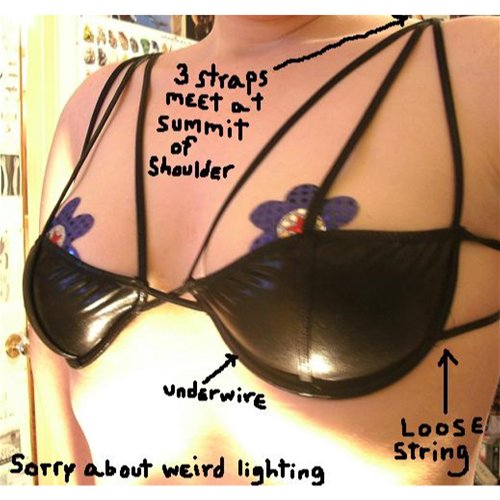 Experience
Fitting Information

I'm sure I'm not the only one who was concerned about how the bra would fit (where the cups would cut off).
I should note here that I've had a breast reduction, so my nips are positioned slightly higher than they would otherwise be.
For an XL, to find out where the cups would come up to, I would suggest this:

1)Put on a non-padded, underwire bra, preferably one with soft cups.
2)Acquire a tape measure.
3)Starting at the underwire at the bottom center of one of the cups, measure up towards the nipple (like the line going up the center of the cup in the above picture) 4.5". That should be were the cup cuts off.


Aside from my idiocy concerning the garter belt, My experience with this set has only been positive.

Feel free to ask any questions in the comments.
This product was provided free of charge to the reviewer. This review is in compliance with the FTC guidelines.

Thank you for viewing
Caged heat bra, garter and thong set
– bra and panty set review page!