Carnival workers never looked quite this good when I was a kid!
All in all, I'm quite glad I took a chance and ordered this costume, it's completely adorable.
I love the LED lights in the bust line, though the flashing could possibly trigger a seizure in someone sensitive to flashing lights.
I think my only major issue with it, is that I need to wear it over pants/leggings/skirt because it fits me more like a top. If this changes as I lose some weight, I'll put it in the follow up.
Published:
Pros:
Adorable, light-up boobs, spare batteries, good quality, won't leave a glittery trail everywhere.
Cons:
Flashing LED lights might annoy people or trigger seizures, short (on me at least), possibly racist?
Material & Cleaning Info & Detail Pics
The material is listed as polyester and spandex, and it's quite comfortable, but the sleeves can get a bit itchy after a while. The gold stars appear to be painted on somehow even though they look glittery. I haven't been able to rub any off through normal contact so you won't be leaving a shimmery gold trail everywhere. (I'll report back in the follow up if this changes.)
Women with large breasts should be warned that this is going to leave about half of your chest exposed and the cups are padded (and have under wire in them).
The bows on the sleeves, bust, and hip areas are wrinkled up out of the package but should eventually straighten out. The coins on the bottom of each tier in the skirt are thin, flexible, and seem resistant to breaking; but if you bend them too far they may stay bent. This costume unzips in the back to make it easier to put on and has a small hook-and-eye closure at the top of the zipper.
The front of the costume is trimmed in several places with shimmery gold accents such as ribbons, lacing, and decorative edging. The ribbon accents are a touch paler than the other gold accents, but it's absolutely gorgeous.
If this gets dirty, the tag advises that it should be wiped clean with a damp cloth, so if it really needs washing, it should be washed carefully by hand and hung up to air dry.
The scarf is made of the same purple color as the dress with gold stars all over it and can be tied in many different ways depending on the look you want.
The switch for the LED stars is located around the right armpit area, and has it's own sewn-on bag to stash it in that matches the purple on the dress itself. To change the batteries, you will need a little screwdriver about the size you would use on a pair of glasses to unscrew the two tiny screws that hold it shut.
The bow on top of the sleeve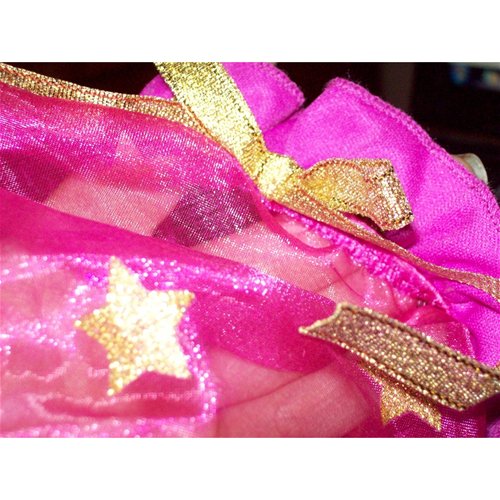 A bent coin and a stray thread, coin was bent out of package but still looks fine otherwise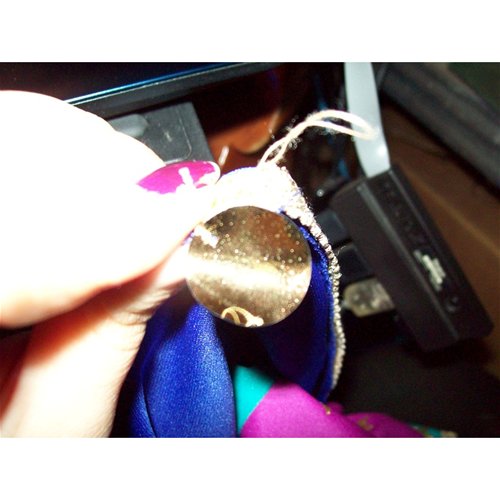 A close up on the glittery stars and gold trim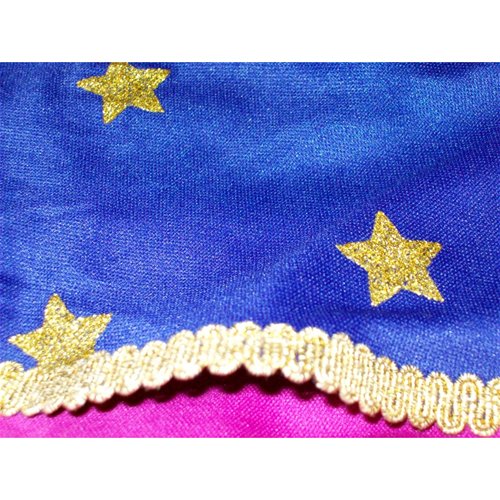 A close up on the lacing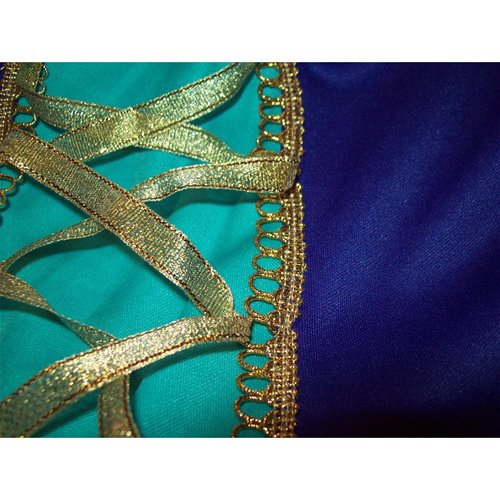 A close up on the stitching, good overall with a few stray thread ends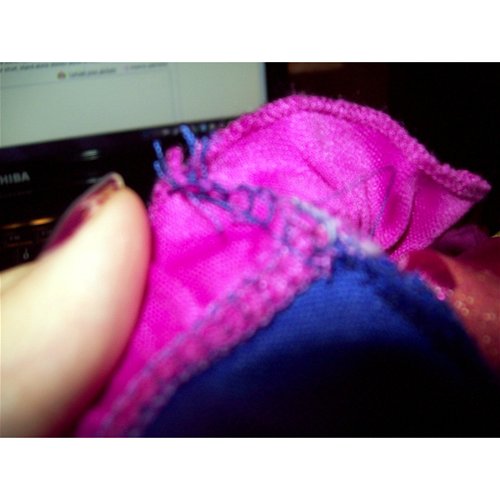 Packaging
The costume came in a thin plastic (might be vinyl or PVC) bag with a paperboard insert showing the costume on the model and a content list along with the name. It has two white snaps to hold it shut on the back and a little hanger attached to the top that I'd assume is meant for hanging it on a store display.
The name is actually "QUEEN OF THE GYPSIES" (yes, in all caps). I think Eden changed the name on the product page in hopes of quelling the "racist" comments a bit.
The replacement set of batteries are each in a little zipper bag and stapled together; they came in a thin plastic envelope along with the instructions.
The scarf was in a similar envelope. While I wouldn't call the packaging entirely discreet due to the model on the front, it's fairly modest considering she's fully covered.
Measurements & Modeling Pics
Scarf: Square, about 30" by 30"
Middle of the top of cups to top of skirt: about 17"
Entire Costume (front): about 28"
Entire Costume (back, from top of zipper to bottom of skirt): about 26"
Skirt (all tiers): about 11"
Width of bust (unstretched, lying flat): about 20"
Width of skirt (seam area, lying flat, unstretched): about 25"
Width of tummy area (unstretched, lying flat): about 21"
Width of each cup: about 9"
Size of light-up stars: about 1" from point to point
Below are two pictures of this item in use. For reference, I usually wear a size 24-26 or so in pants and a 2x in tops. I can safely say, being a good bit over the size chart myself and having had similar luck with another Dreamgirl costume this size(working on losing weight right now, but figured I ought to include pics), that this should fit you as long as you fit or are just over the size chart.
I don't think this would fit anyone much bigger than myself though, despite the fact that I find it reasonably comfortable.
Front of the costume: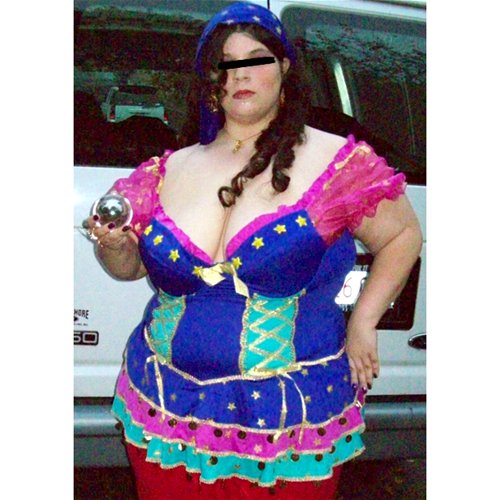 Back of the costume: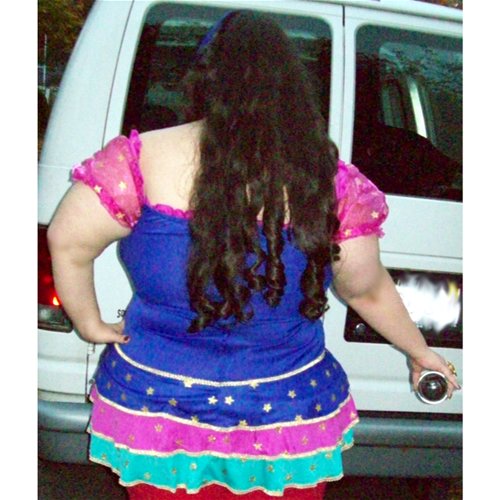 In conclusion, this is a magnificent costume. Please feel free to ask any questions you want if there's something I forgot to cover.
Experience
General Thoughts

I think my favorite feature about the costume is the adorable little flashing LED stars along the bust, but it's all so cute it's rather hard to pick.
The only thing to note is that you do not have to put the little batteries in the switch because there are already some in the costume straight out of the package. I was actually rather surprised to find out they were so nice as to toss in replacement batteries (3volt/CR2032); I wasn't expecting that.
One of the few things that actually bugged me about this costume is that I had very little jewelry to accessorize with that matched because I prefer silver jewelry, but it worked. Well that, and I didn't have shoes to match either. I decided to tie the scarf vaguely like a broad headband and like it this way better than what's shown on the product page myself.
This product was provided at a discounted price in exchange for an unbiased review. This review is in compliance with the FTC guidelines.

Thank you for viewing
Carnival queen
– costume review page!