Carried Away On Design--Not Quality....
Carried Away is what Dreamgirl did with the design--it is wonderful, pretty and a lot more flattering than it is on the model. With that said, they fell short on the material quality and I feel this is a corset that is not made to last as well as other Dreamgirl garments. This is an incredible feminine and beautiful corset-- more so than it looks on the model--and is public appropriate, making it versatile as well.
Published:
Pros:
Pretty & flattering.
Nice fit.
Wear in public or private.
Cons:
Short lacing!!
Lower quality material.
Dry clean only?(Not me!)
-----------------------------------------------------------
Manufacturer:
Dreamgirl
Size:
38
Set Includes:
--Corset
--G-string
--Stockings
--Removable Shoulder Straps & Garters
------------------------------------------------------------
Packaging:
The Carried Away Corset is a very pretty corset that arrives on black, plastic hanger. To keep it from getting dirty or snagged, it is inside a thin, clear, plastic garment bag. There is a thin, cardboard manufacturer's label attached to the corset with a small safety pin. It has a picture of the model wearing the corset and information for Dreamgirl. The shoulder and garter straps are already attached and the stockings are in a separate plastic bag, also attached to the corset.
Details:
There are 4 pieces of plastic boning on each side, but none on the lacing edge or hook and eye area. The boning is pretty light and very flexible, more so than usual. The corset is short in the back and might show your love handles if you have them. The front flatteringly swoops down over the lower belly, effectively covering any pooch you may have.
The 'V' shape of the lace brings the eye to your narrowed waist and flattens the belly area making this a desired and flattering design. I had to use the shoulder straps due to my bust size, but smaller breasted women could get away without wearing them.
This is a cheaper made corset than I am used to getting from Dreamgirl. The material is thin, the boning is not as complete or sturdy (even for plastic), as I am used to and the ribbon is seriously short. I do not feel the material and workmanship is equal to the detail of the design. There are no loose threads, but I know the boning is going to wear through the felt on the inside fairly rapidly. I have had this happen before on other garments with the same felt material.
Material:
100% Polyester is what the label reads. The exterior is a thin, white satin looking material and the inside is a gauzy, cotton like woven material, which reminds me of medical gauze pads. The black edging is satin and so are the attached bows. The boning is plastic and is wrapped in the white satiny material on the outside, but in a felt material on the inside. The black lace is patterned and shaped and the ribbon is 1/4", black satin ribbon.
Care & Storage:
The tag recommends that you 'Dry Clean Only'. I have used the kits from the supermarket for dry cleaning and these worked out great. However, I did have some stains from lube on the front and decided to chance hand washing. I washed the corset in cool water with the Dona Lingerie Wash, did NOT wring out the material, and rinsed it well. I placed the corset over a hanger with a bottom bar by draping it with the lacing over the bar and the panels on each side and let it air dry. I did have to go over it with a warm iron--I put a cloth in between the iron and the material--but it came out very nice and unharmed. I have hand washed it four times with no adverse results, but beware that I am not recommending this method.
Store this hanging in the closet. I use the same manner in which I hung it to air dry. This saves room in the closet and keeps the material from wrinkling. It also helps for quickly identifying the corset. You can hook the fasteners to make sure it does not snag other garments.
Fit:
The fit was surprisingly flattering and very sexy. I hesitated to purchase this corset because of the pattern from the lace--I thought it would accent a tummy pooch, but it worked very well for hiding it instead.
The bust area was comfortable and the hip area was nicely snug. The lacing in the back is very short and needs to be replaced immediately to allow for a good fit on those of us who are a bit over the recommended size on the bust and hips. I usually go with my waist size on laced corsets since it is smaller than proportional and my bust is larger than proportional. I then use the laces to adjust the fit and accent the curves.
Though thin, the white material was not see through and this is a beautiful corset to wear out or in the bedroom. I would suggest wearing a bolero or shrug if you wear it in public due to the open lacing and no privacy panel in the back.
Pictures: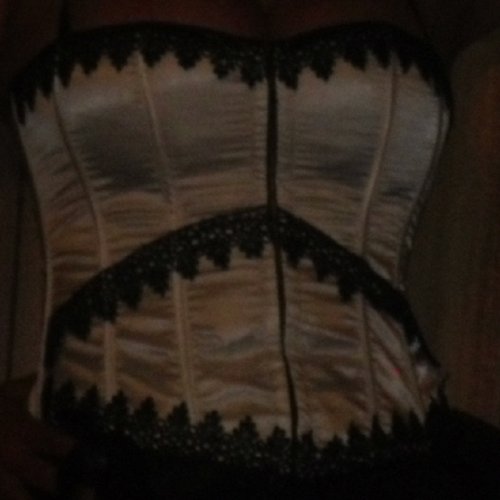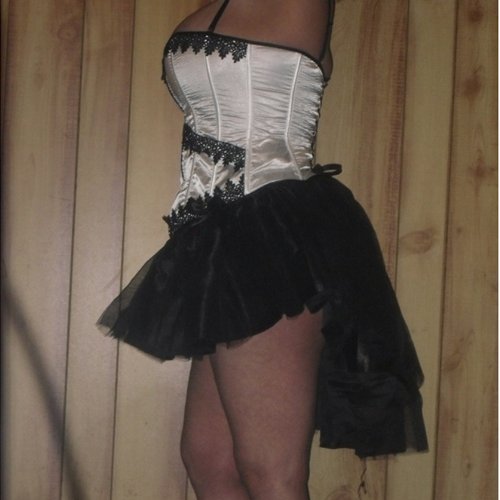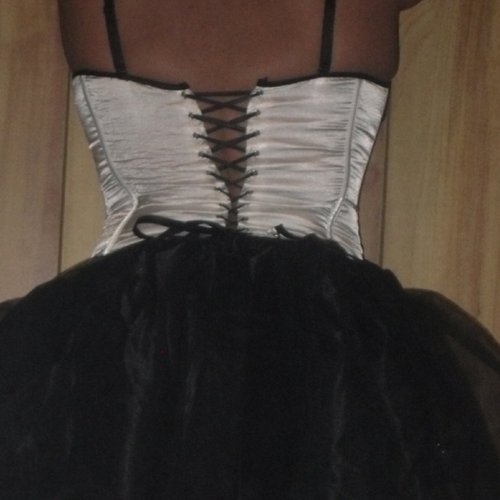 Experience
Size Chart:
My Measurements: 43D Breast - 30" Waist - 42" Hips - 28" Inseam - 22" Thighs - 5"2" Tall & 150 Lbs.

DreamGirl Sizing: (Copied and pasted from the sizing charts.)
Cup Bust Waist Hip Inseam Rise Weight
Small 2 - 6 A - B 32 - 34 24 - 26 34 - 36 34½ 7 - 7½ 90 - 120
Medium 6 - 10 B - C 34 - 36 26 - 28 36 - 38 35 7½ - 8 120 - 140
Large 10 - 14 C - D 36 - 38 28 - 32 38 - 40 35½ 8 - 8½ 140 - 150
Sm/Med 2 - 8 A - B 32 - 34 24 - 26 34 - 36 35 7½ - 8 90 - 130
Med/Lg 8 - 14 B - C 36 - 38 28 - 32 38 - 40 35½ 8 - 8½ 130 - 160
1X/2X 16 - 18 D - DD 40 - 48 36 - 40 42 - 48 36½ 9 - 9½ 165 - 225
3X/4X 18 - 20 DD 48 - 54 40 - 44 50 - 56 37 9½ - 10 225 - 275
One Size 2 - 14 B - C 32 - 38 24 - 32 34 - 40 35 7½ - 8 60 - 160
Queen/
One Size 16 - 20 D - DD 40 - 54 36 - 44 42 - 56 36½ 9 - 9½ 165 - 275
Follow-up commentary
2 months after original review
This corset is definitely underrated in the pictures! They do not do it any justice or make it appear as flattering as it is in person. A beautiful and stylish outfit that a lot of women would look good in, this corset is made for those of us with shorter torsos. Covering the lower stomach without poking down to areas you would rather not go--this is a perfect 'short woman's' outfit....
This content is the opinion of the submitting contributor and is not endorsed by EdenFantasys.com

Thank you for viewing
Carried away corset
review page!