Chains and Lace do you wanna play?
Are you are looking for something sexy that is still classy? This dress might work out great for you.It is a full body dress with enough covered to tease the imagination. It has some chains look good and can also add an extra bit of a tease when in use. This outfit is effortless to put on, it is very sexy, and overall it is unique. It works for you if you want a BDSM scene or just a night of spicing it up.
Published:
Pros:
sexy, BDSM themed, comfortable, no underwire
Cons:
none
Packaging:
This sexy chain dress arrives in a plain cardboard box with your name and address and WEB MERCHANT INC. with the company's address. Inside the box are two little air-pillow which prevent the product from shifting while in transit. The product itself is inside a clear plastic bag.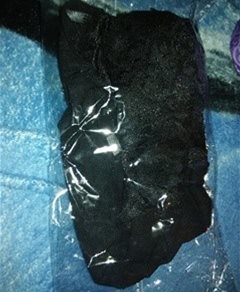 This is the bag that the product comes in
Out of the box impression:
When I pulled this product out of the box ironically, the first thing I felt was the slight cold touch of the G-string panties. Since the G-string was not pictured, I looked at the costume to ensure it was not the collar. Surely enough the G-string was very sexy with the chain that would go between the vaginal lips and up through the back. It was incredibly beautiful and made me want to try it on even more. I held up the dress and touched around it the breast piece was covered in super sexy lace while the bottom was a transparent polyester material. The top connected to the lace were metal chains attached to a lace collar with a velcro finish. My first thought was "Ohh this is going to be very sexy."
Trying it on:
It was super easy to put on this outfit. You pull it over your head like you would a nightgown. To put on the collar, you would undo the velcro fasteners and place around your neck then secure it back. It is very soft when you wear it is not itchy against the skin. The G-string panties just slide up like a regular thong. It stays on comfortably when in movement.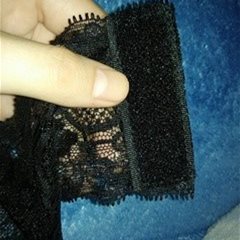 Velcro Fasten for the collar
Chain G-String
Chain Reaction Dress Pieces:
Dress: The dress is a lovely polyester material at the bottom with lace at the top. Attached to this dress are the three chains connected to the collar. With this dress, it is a very sexy BDSM themed and makes one's mind wander.
G-String: The G-String is made up of lacey material that both pieces are connected by a single chain. With the chain lacing up through delicate areas it could be used for teasing.
Care for this product: This product is made up of Polyester which means you need to wash it out by hand in either luke warm or cold water with a mild detergent.Make sure to clean the chains really well. After this product is clean, You can grab a hanger and hang it out to dry. Do not bleach, wash them in a washing machine or throw them in a dryer. These actions will damage your lingerie and may make you have to throw it in the trash.
Some ways to use this product:
Suprise your Significant other: Wear this when you are expecting your significant other. Leave notes either leading up to your dungeon or bedroom whichever you prefer. When they enter the room if you are submissive, you could be kneeling as they walk in with a paddle or flogger in front of you with the bondage gear laid out. If you are more of a mistress, you could have a paddle or flogger in hand when they come in with the area set up for fun.
BDSM Tease: When using this with a partner, you can have them tease you with the chains that lace up through the sensitive parts. Also gently pulling the collar's chains during sex for more profound sexual arousal. This action will create deeper intimacy and have a lot of fun with this sexy dress during sex or foreplay your choice.
This product was provided free of charge to the reviewer. This review is in compliance with the FTC guidelines.

Thank you for viewing
Chain reaction dress
– mini dress review page!