Cheap and Shiny Mega Fail
While this does look like a mini dress/halter top with potential from a distance on the product page, in person it is just cheap looking and kinda ugly. It also comes in package sealed with a warning label that states that components of this product contain known carcinogens and may cause birth defects and reproductive harm. Long story short I am seriously never wearing this since it is so unflattering anyway and do not recommend this to anyone. Ever.
Published:
Pros:
Soft Material
Cons:
Cheap looking
Not Well Made
Expensive
Crappy fabric
Might cause cancer
MATERIAL
The shimmer foil halter mini dress by Leg Avenue is made of a 94% Polyester, 6% Spandex blend. It feels soft on the skin and comfortable when worn. The outside of the dress feels soft and silky as well. That is about all of the positive I have to say about the material of this. On the product page this mini dress looks unique and slightly shimmery with a pleasant deep plum color. WRONG. In person, this is actually very cheap looking, shimmery in a childish way and is more of a fuschia color than plum.
The fabric is also ridiculously thin. So thin that it will not be flattering on your shape, can definitely not be worn without a strapless bra and it is doubtful that pasties would actually be able to be worn under this. The outline of the pasties would probably be able to be seen through this, despite the equally thin and short piece of fabric that is included on the inside of this across where your boobs go.
SHINY AND THIN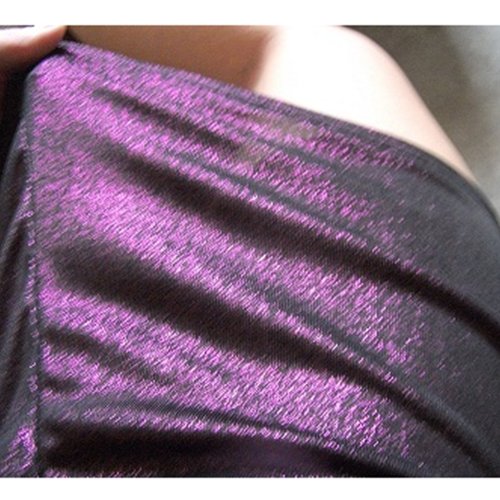 MAKE
This also seems very cheaply made. While the heavy metal "jewels" or costume jewelery on the front are pretty to look at. The stitching used to hold it on the top is done with a thicker thread, however; I doubt that this would hold up long term and am fairly certain that the jeweled band would begin to pull away from the top.
JEWELED ACCENT
STITCHING HOLDING ON JEWELED ACCENT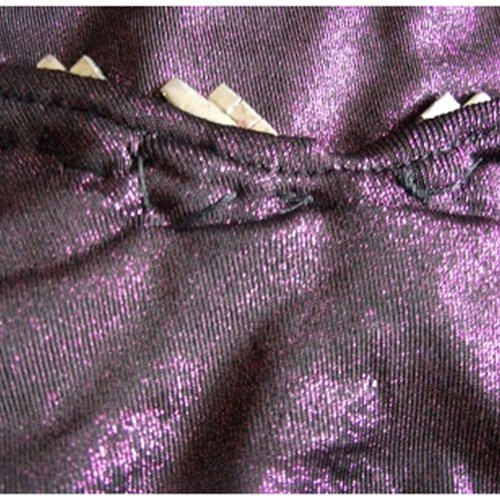 This dress in a size M does measure 30" from top to bottom hem, and it does fall as a dress on my 5'2" self, BUT it will definitely be more of a top on taller people. It may look alright paired with black leggings, though I personally hated the look on myself. I think I just flat out hate the way this looks in person and looks on me.
SIZING
The
Leg Avenue Size Chart
says that a size Medium will fit someone that is a size 8-11, a B-C cup, a 34-36 bust, a 25-27" waist and a 36-38" waist. I am a size 6-8, 34C, with a 28" waist and 38" hips. This fits me the way it should so at least this is true to size.
CARE
The tag says that this is to be hand washed and drip dried. I would definitely follow these instructions as I feel this would literally fall apart in a washing machine. This could be easily stored in a drawer as it has no hanger straps, and on the plus side it does fold up really small due to it's very thin fabric.
OVERALL
I do think this may look good on some people, I am just definitely not one of them. This looks too cheap in person for my tastes. It also is just unflattering. It swallows my shape, does nothing for my butt and the fabric bunches and pulls weird when I sit. It just flat out looks too unflattering for me to ever wear it out in public. For the forty dollars it is normally priced at, and even the thirty dollars that it is currently on sale for it is just not worth it.
HOW IT LOOKS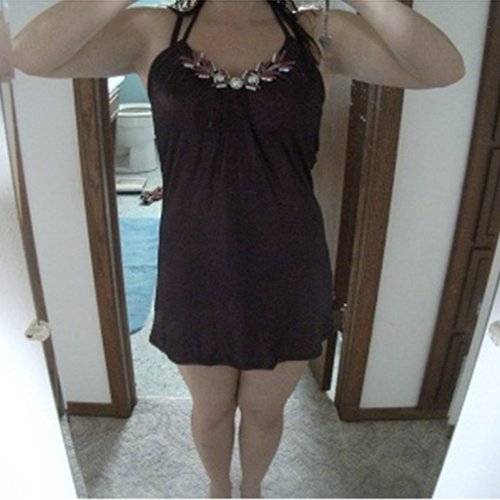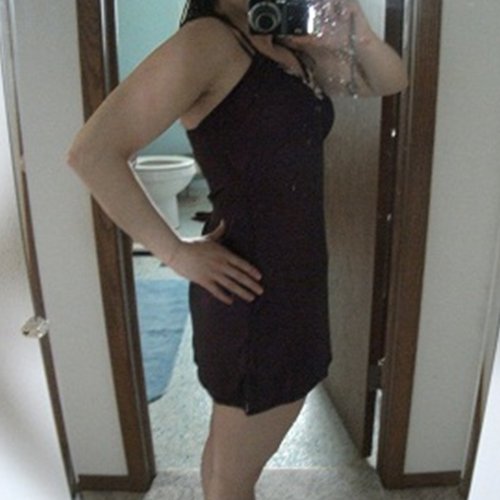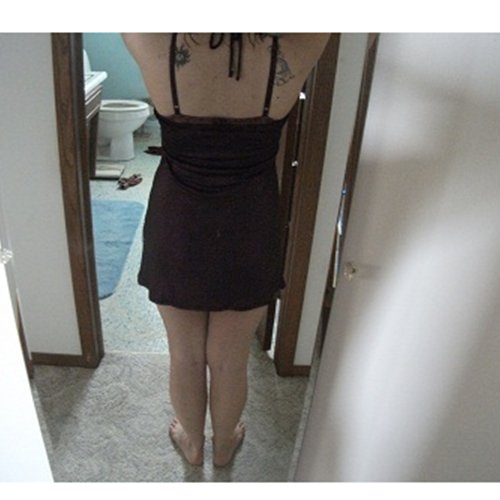 And drum roll please.... IT'S A CARCINOGEN? What? Well this came in a clear plastic bag that was sealed with a sticker that states,
"This product contains on or more chemicals known to the state of California to cause cancer and birth defects or other reproductive harm."
Say what?!?!? I'm serious folks I can not make this stuff up. I really don't want to wear it now. So my final verdict = MEGA FAIL
Follow-up commentary
2 months after original review
I LOATHE THIS! I hated how it looked on me. I hated the cut. I hated that it came with a warning label letting the wearer know that it was made with chemicals that could potentially cause cancer, birth defects or reproductive harm. I have a very tall, very thin friend that smokes about two packs of cigarettes a day and has little care whether or not something will cause any kind of health problem. She was warned but wanted this anyway. She likes it, she uses pasties when wearing and it fits her decent as a shirt with leggings. She is gorgeous but it looks just okay on her. In my opinion, something that looks just okay and might cause cancer ... is just NOT worth it. If it may cause potential harm then it better make the wearer look like they are ready for the red carpet, not just mediocre. Verdict is still a one star, and a one star since EF's scale does not go to no stars. What a waste of money this would be and I hope no one does buy this. I'm sorry L.A. but I flat out hate this piece of lingerie/dress you produced and I am hesitant to get any more of your products. Just the facts.
This product was provided free of charge to the reviewer. This review is in compliance with the FTC guidelines.

Thank you for viewing
Shimmer foil halter mini dress
review page!