Cheap versatile pretty and fun
The petticoat dress by Leg Avenue is a simple garment that you could dress up any number of ways for playtime with your kids, costume parties or role play in the bedroom. It comes in a red, black or white stretchy bodice with perfectly matching attached short crinoline skirt. It can be dressed up as a fearie, animal, school girl , angel or many others and is quite inexpensive and easy to care for.
Published:
Pros:
Versatile
Fits most
Pretty
Affordable
Versatile
Cons:
Fabric can snag easily
Almost anything worn underneath shows thru
Crinoline can be itchy
The Petticoat dress By leg Avenue is a fun little dress with a crinoline that you could use as a costume or for fun bedroom role-play. It's a base that you could dress up anyway with a number of accessories to achieve many different looks. I chose the red version and made it into a devil faerie costume but the package also shows it becoming a sexy school girl and I can see a pirate or little red riding hood too. The white version could be an angel and the black a raven or an animal.
It's a fairly simple one piece garment, a short dress of sorts with a layered crinoline skirt, tight stretchy bodice and spaghetti straps. It's made of 10% nylon and 90% polyester, the bodice smooth and shiny but it is the kind of material that can snag - like a bathing suit - remember how the bum would look if you sat on poolside cement too much? Like that-so take care. The red is fairly bright, not too pink, not too orange and the crinoline matches it in colour perfectly. The straps are not adjustable but super stretchy and the top of the bodice is trimmed with the same notion. The stretchy tight fabric will show any lines underneath it so if you are female either wear a seamless bra or try layering a tank top over a normal bra.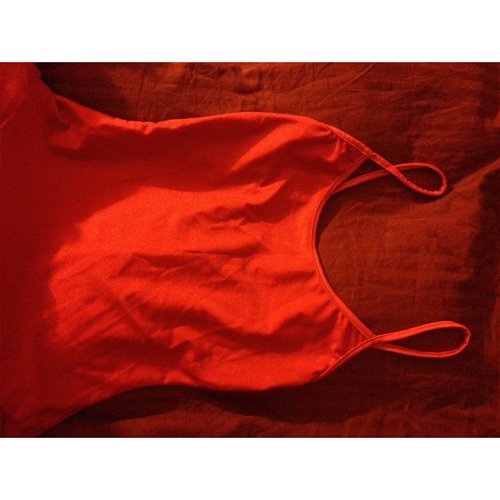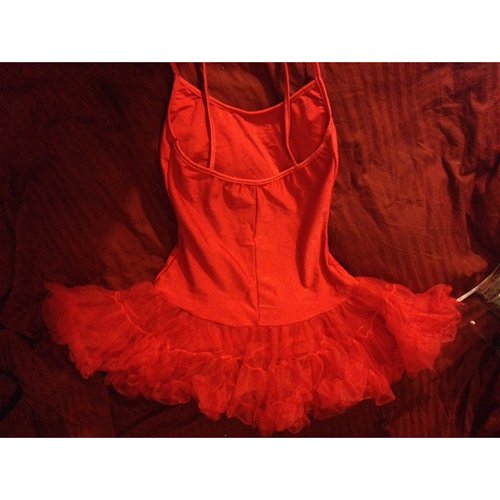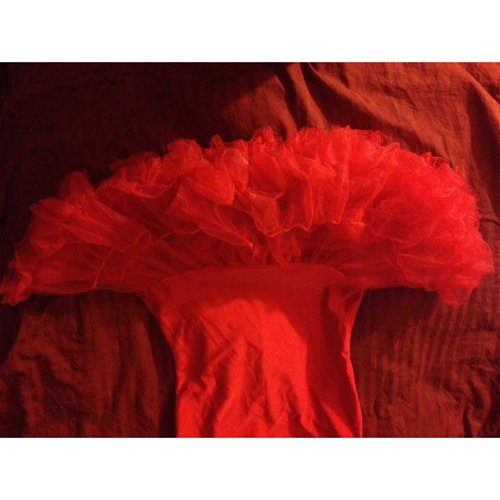 This is one size fits all meaning 90-160lbs. I'm not sure if Eden carries a plus size version. I am 5'6.5" 150lbs and it looks good and is comfortable. My body is quite long, in fact I usually choose empire waist dresses but this fit great. I think you could easily be another 10-15 lbs but it doesn't have any breast support so it all depends how you are built. I am a B36, so I wore a push up bra underneath and the low scoop cut of the chest showed off my décolletage quite nicely. The same curve is on the top of the back so wear a tank top or pin it to your bra if you don't want the bra strap showing across your back.
I usually prefer crinolines like tutus-perpendicular to the body, but a petticoat is the type that is often worn by square dancers to pouf up a skirt layered on top. You could definitely do that with this dress- put a skirt over top. In fact if you are an adventurous dresser it would make a cute outfit. As it is the crinoline is approx a 35-40 degree angle from the body. It does have one seam straight down the center of the back. The dimensions are as follows:
Length of entire garment steeps to skirt: 29"
Lengths of straps to bodice: front-4" back-10"
Length of bodice:center-14.5"
Length of skirt:8"
Width of chest:13"
Width of waist:15"
Width of bottom of skirt:approx 29"hard to measure
Weight:light lol
I think that this garment is well made, all of the seams are serged and well sewn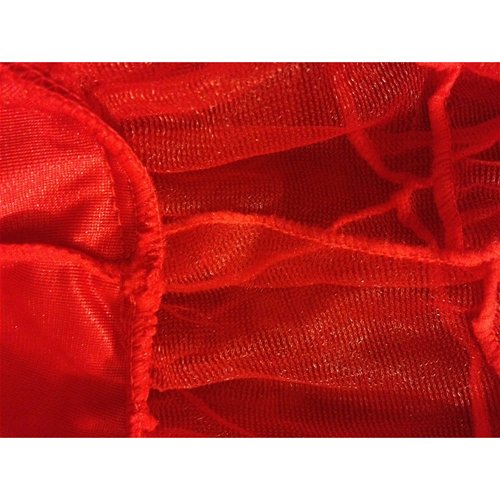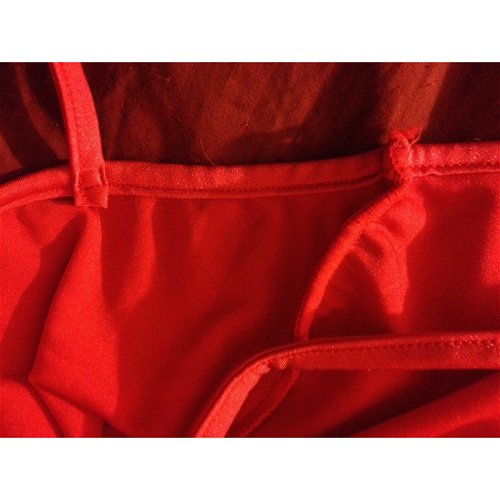 I would suggest either hand washing or slip inside a lingerie bag or pillow case and wash on the delicate cycle with a fabric made for delicates. Fortunately it doesn't wrinkle and will not get ruined by crumpling so you can either hang it up, to store it or simply roll it in a small ball and tuck into a drawer.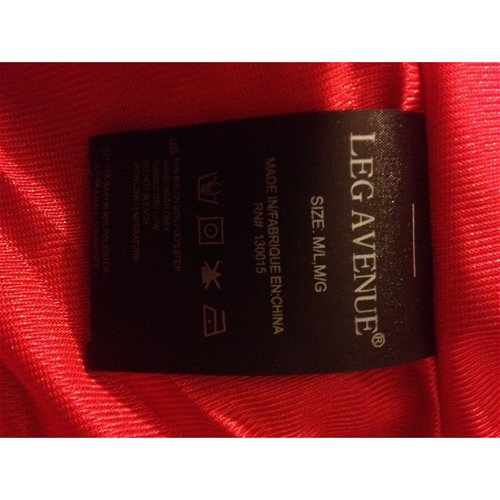 The petticoat dress comes in a simple, recyclable, clear, plastic garment bag that snaps shut. It's approx 15.5"x10.5" with an attached black plastic hanger that easily slips onto a dowel in your closet. I guess you could store other things in it, but it's not well made so I'm not sure how long it would last.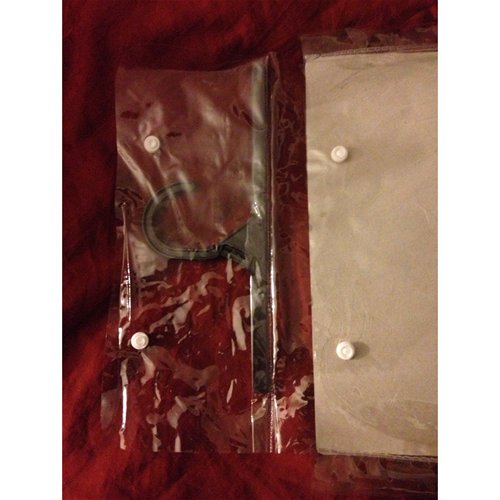 Experience
Well I dressed this one up, which was rather easy, with devil horns, a clip on devil tail and some awesome faerie wings for Halloween. It definitely looked great, although I could go without the ring around my belly button, but that's just my own personal weight issue. It was necessary to wear a smooth bra because though I don't mind having double straps I don't like what a textured bra does to my boobs in something this tight and thin.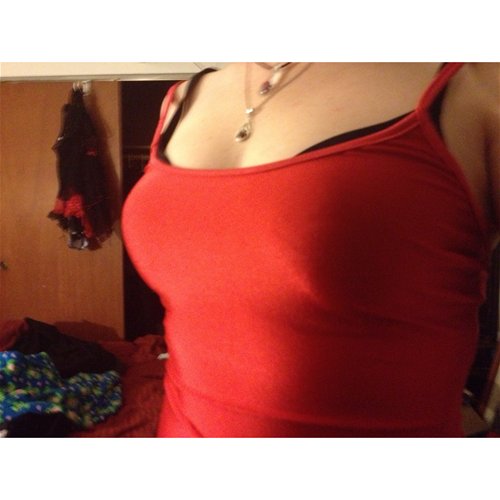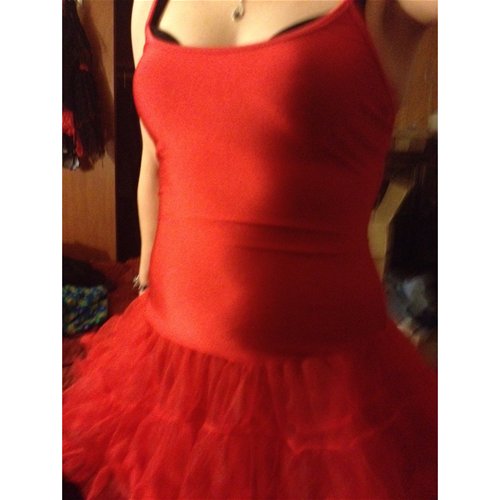 I didn't get a chance to wear it out long enough to find out how it holds up socializing; though I'm sure that it doesn't get too hot. The skirt is pretty short though, so a cuts pair of matching boy short style undies or other minimal style short is necessary. boots looked great although I had to use black because I don't have bright red ones! Personally for the faerie costume I wore low heeled suede elf type boots- more clunky than pretty, which I liked a lot more. The tail I clipped on would mark little pulls in the fabric if it had to be clipped and unclipped too much, so use caution when attaching things to it or try the trim or skirt if you can instead.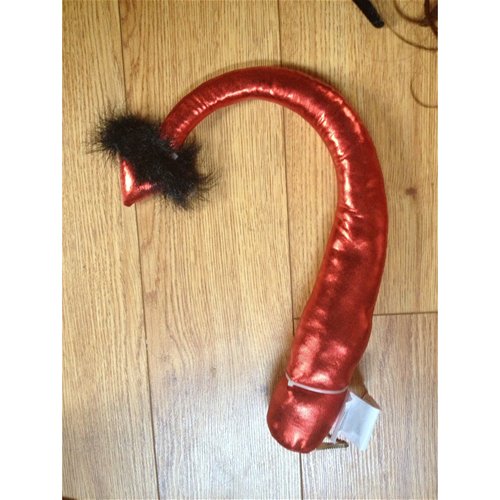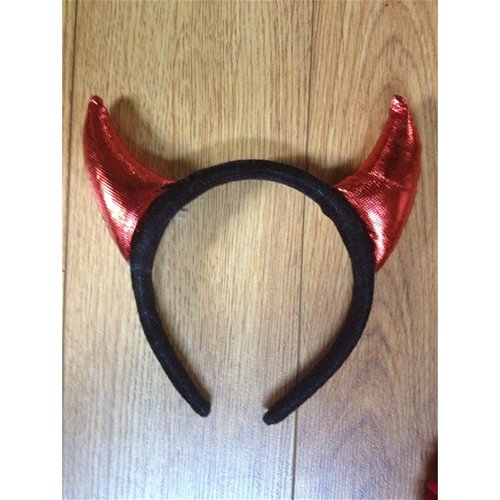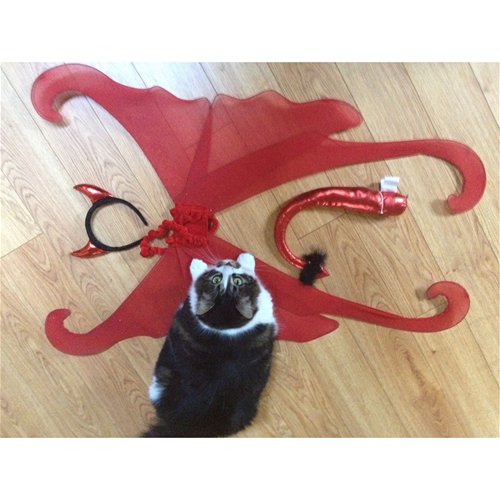 Follow-up commentary
3 months after original review
I haven't found many opportunities to wear the petticoat dress, BUT I still love it especially for the price and because it fits my hard to please long torso. I bought a little Red Riding Hood costume that Eden no longer carries I think called 'Racy Riding Hood' and it gives the skirt even more poof.
The black version would be even better because it would be even more versatile. If I was still a raver I would wear it with my white thigh high socks with rainbow stripes at the top and roller skates!!!
I think the best thing about it though is how many different body types it will fit.
This product was provided free of charge to the reviewer. This review is in compliance with the FTC guidelines.

Thank you for viewing
Petticoat dress
– mini dress review page!