Cinderella? No, Try Barbarella!
I LOVE Barbarella. It's easy to put on and take off, it's comfortable, and a great way to get into fetish gear. For some, it may look a bit intimidating, but, if you ask me, it's well worth it!
Published:
Pros:
Comfortable, Great for beginners to this type of lingerie
Cons:
Torso length?
I was so excited for Barbarella by Lust to get in the mail. Let me start by saying that I've never owned any lingerie like this before, so this was a BIG step for me, and let me tell you what, I'm so pleased I got it! While I waited for it to get here, I kept thinking about any negatives that it might have, but, thankfully, it didn't live up to any of them. More of that later.
Barbarella came packaged in a simple box, probably not best for storage. Clearly, it's not discreet at all.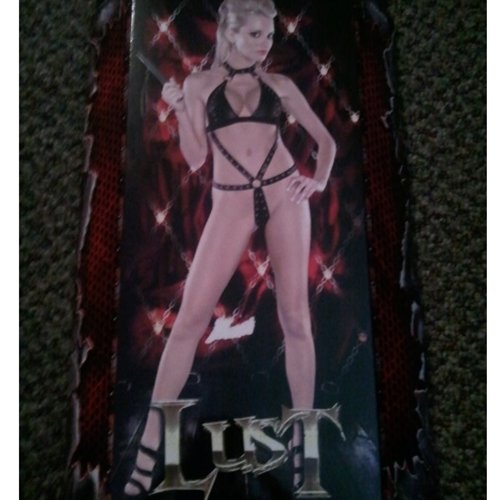 It comes in a few sizes. Usually, whenever I get something like this, I always stress that it will be too big on my breasts or not wide enough around my hips, but that's not really a concern here, seeing as it's a thong. I ended up getting a small.
As for the actual material, it only looks like leather—there's no way it is. Actually, it's more like something that you'd expect to swim in—it makes me think of a bathing suit, but, please don't wear it to the beach. Bedroom only!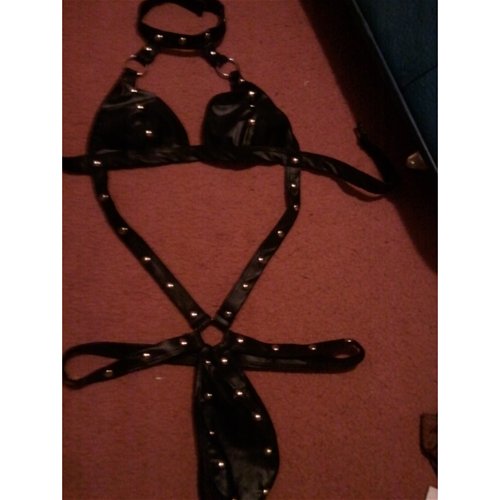 It's easy enough to put on, being a simple fasten on the back and a Velcro collar. I was quite nervous about the collar, but it works out fine. When I pulled it out of the box, I also worried about the silver grommets, but that concern passed; they don't dig into the skin at all.
When I first saw Barbarella, I thought, 'omg, the crotch looks so uncomfortable!' I noticed a lot of the comments about the product voiced a similar concern. I'm here to tell you that it only looks small! Granted, if you don't like showing any pubic hair you might want to get a Brazilian or skip this outfit. Other than that, it's fine with the area between the legs. As you can see from the image below, it's quite wider than the image with the model lets on.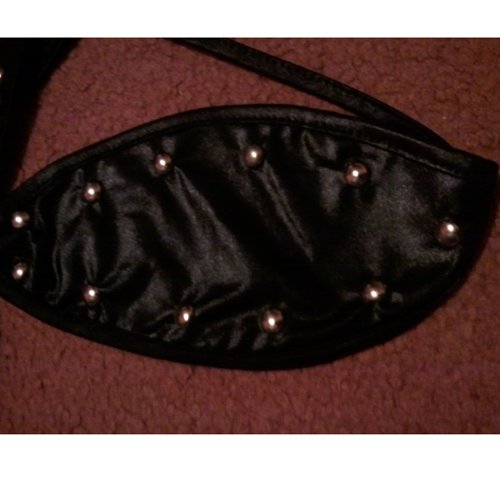 The only thing I can say negatively about Barbarella is the torso length. I'm 5'5" so I don't consider myself short, but the straps that go across the stomach area where a bit loose on me, as if they are too long. Still, it's not something major—it still looks fine and I hope that doesn't deter you from considering purchasing this.
Overall, Barbarella is a solid five out of five stars!
Experience
Eden has this listed as Fetish lingerie. I've never owned any before! I could get used to lingerie like this; I'm so glad this was my first piece. I'll probably end up pairing it with black heels.
This product was provided free of charge to the reviewer. This review is in compliance with the FTC guidelines.

Thank you for viewing
Barbarella
– teddy review page!