Clubbing dress or Halloween costume? I really don't know.
This item was truly disappointing. While I never liked the puffed sleeve, I thought the quality and fit of the dress looked good enough that it would be worth modifying to wear as a sleeveless one-shoulder dress. The quality and craftsmanship is just too poor to really consider doing anything with it or wearing it outside. I would recommend you pass on this piece of clothing and spend your money elsewhere.
Published:
Pros:
Good length, good fit, does not slide up or down
Cons:
Poor quality material, poor craftsmanship, bizarre design
Product Information
Size
: Small
Material
: 95% polyester, 5% spandex
Care Instructions
: Dry clean or hand wash cold
Measurements
: Bust: 12.5"; Length (top of shoulder to bottom hem): 33"; Waist: 11.5"; Hips: 15"
Description
: A metallic gold and black one-shouldered leopard print mini-dress. The 3/4 sleeve features a poof at the shoulder. It is a pull-over dress that is slightly stretchy to conform to your body shape.
Packaging
: Plastic hanger and plastic clothing bag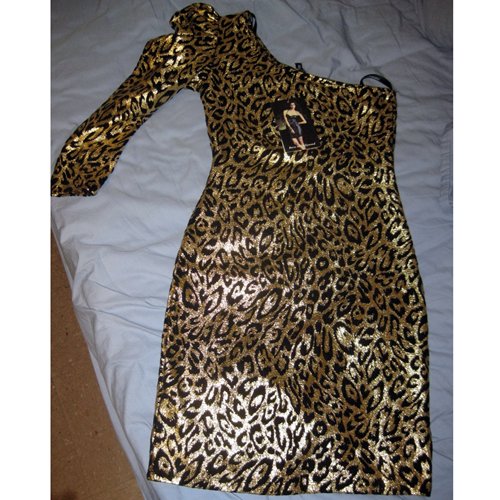 Initial Impressions
When I lifted the dress out of the box, I only thought,
you've got to be kidding me
. It was $52 (thank goodness I got this item for review; otherwise, I would have been sorely disappointed) of Halloween-costume quality cloth, a poof that seemed reminiscent of the '80s, and black-threaded sewing that was all over the place. This, I knew, was just going to be for review. I would not be caught anywhere wearing this, for fear that my fashion sense would be degraded in a heartbeat.
Pros
1.
Good length.
I'm 5'3" and this dress falls about three inches lower than my butt. It's pretty tight fitting and snug, so I'm not worried that it will ride up at all. If I stretch it flat without any wrinkles, then the dress should be perhaps 3/4 down my thigh. So, while this dress will work perfectly for someone shorter, I don't think it will be long enough for those who are taller.
2.
Sleeveless side is tight enough that it won't slide down.
Contrary to other one-shouldered dresses that I have, such as
Dreamgirl's Reversible Dress
, the sleeveless portion is stable and does not move anywhere when you move. It does not have elasticity, so it doesn't squeeze your fat to the forefront either. This part, at the very least, was made well.
3.
Fits the body well.
It hugged all my curves and made my butt look good. However, this is dependent on the body; I know my stomach protrudes a bit as well, and it is also quite visible underneath the dress. Thus, love handles and other pockets of fat are guaranteed to be apparent when wearing this dress. Underwear lines are also clearly visible, so make sure to wear lace panties or thongs.
Cons
1.
Poor quality material.
In order to have the gold color, the dress seems to be covered with some sort of metallic iron-on vinyl (i.e. the stuff that you use to put logos onto t-shirts). However, in this case, the vinyl is really poor quality and it starts to crack whenever there is stretching (see below picture). This material really reminds me of something from a bad Halloween costume -- something that a kid would wear. It makes the dress look extremely cheap. Furthermore, the actual black fabric that gives the animal print pattern on the dress also seems to be really cheap; it's not the soft and smooth jersey blend characteristic in leggings or other dresses. It's rough, a little thicker, but still thin enough that it can be see-through. It's even a little itchy. I know that if I wear this outside, people will just look at me and wonder if I picked this up from the streets.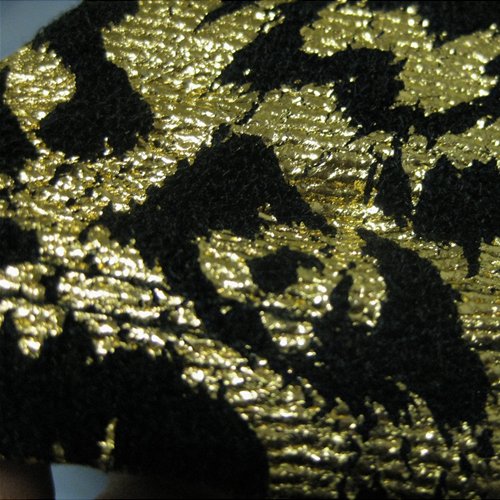 2.
Poor craftsmanship.
The stitching is not straight and certain seams are coming out. I'm frankly appalled that this is actually being sold.
3.
Unique or weird design?
The eighties poof is seriously just not working for me. It really looks like a giant shoulder-pad, which I don't think is coming back into fashion (at least, not currently). I didn't like it on the model, and I had ordered this thinking that I would take off the sleeve and have this as a simple sleeveless one-shoulder. I'm not even going to attempt that now considering how poorly the entire dress was made.
Conclusion
This might just work as a Halloween costume, maybe as a modern version of Wilma Flintstone. But seriously, in all honesty, it just won't work outside. It screams costume and cheapness. My advice: stay far away and spend your money on something better.
Experience
My sizes
Dress size: XS/0/2 (for mainstream brands)
Height: 5'3"
Weight: 117lb - 120lb
Bust size: 32C
I won't be wearing this outside, but here are a few pictures to get an idea of how it fits.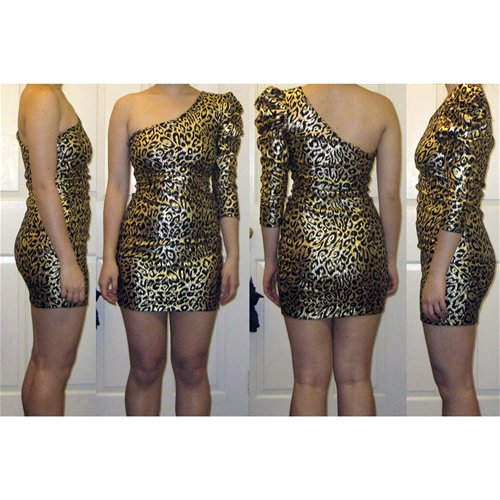 Follow-up commentary
26 days after original review
It just doesn't work for me. I have no place to wear this. I don't feel sexy enough in this to wear it outside to a club. I also don't want to keep this in my closet long enough for Halloween, so I'll be looking to give this to someone else or donate it.
This product was provided free of charge to the reviewer. This review is in compliance with the FTC guidelines.

Thank you for viewing
Gold puff sleeve dress
review page!