Comfortable Sexiness
The Glamour Goddess panty by Dreamgirl is a super sexy and comfortable option for those ladies who like to wear fancy knickers under their clothes more often than not. They're stretchy, sized properly and available in a number of sizes so many ladies will be able to rock these and feel that much more attractive.
Published:
Pros:
True to size, Comfortable for prolonged wear, Sexy, Stretchy, Panty liner.
Cons:
Small panty liner, Hand wash.
What is it?:
The Glamour goddess by Dreamgirl is a sexy panty that can be worn underneath clothing or for those special sexy times for your partner or just for yourself. This panty is only available in the black/black and gold lace color combination but it does come in various sizes: Small, Medium, Large and Extra Large.
This panty feels great under jeans, skirts or shorts and you can wear them anywhere you would wear other panties. It may not be the ideal panty for very hot and/or humid weather because the only cotton portion is the small panty liner. Also, the lace could just become irritating to the skin if it gets sweaty and rubs around.
Material:
Microfiber is 90% Polyester, 10% Spandex; Lace is 90% Polyester, 10% Nylon
Polyester is a material with low absorbency and it is combustible but due to its thermoplastic nature, it tends to shrink away from the flame source and often self-extinguishes. Basically keep this panty away from fire and things should be okay.
Spandex is very strong and durable material, able to be stretched repetitively and still recover its original length. It's also resistant to body oils, perspiration, lotions and detergents with no static or pilling problems.
Nylon is a strong, tough and resilient fabric which offers good barrier and high fatigue properties. It is hypo-allergenic and offers good resistance to oils, greases and solvents. Nylon has good resistance to a wide range of chemicals and a high abrasion and weathering resistance.
The front of the panty feels smooth and somewhat silky to the touch but doesn't smell like anything other than new clothing. The back of the panty is rougher feeling, as is usual with lacy fabric. This also doesn't smell like anything other than new clothing but it dissipates more and more each time you wash it.
Design:
Quality construction

The front of the panty is a single panel of material that has a silvery white bow sewn onto it. The back of the panty is made up of two panels of black and gold lace that has scalloped edging and is sewn together down the middle of the back and then meets the front panel near the crotch area. Inside the back there are three tags sewn into the top seam of the lace and the panty liner is sewn right onto where the lace material meets the front panel of material. There are no loose threads anywhere and all the seams are sewn and serged evenly and straight.
The waistband measures about 11 1/2" across and will easily stretch up to 16". Measuring down the middle of the front panel it is about 7 1/2" long to the crotch and the crotch section is about 2 1/2" wide. Down the middle of the back measures 7" long and across it measures about 3". The panty liner measures about 3" wide and 3" long so it's not very big.

Sizing:
True to size
Dreamgirl Size Chart for Small:
Size ~ 2 - 6
Waist ~ 24" - 26"
Hip ~ 34" - 36"
Rise ~ 7" - 7 1/2"
Weight ~ 90 lb. - 120 lb.
My measurements:
Size ~ Between 2-4
Waist ~ 26"
Hip ~ 33"
Rise ~ 7"
Weight ~ 120 lb.
The Glamour Goddess panty fits me perfectly and gives me a sexy cheeky look. I like how these are bikini styled on the front and it covers all of the genital region but the back is still very enticing looking. The lace is very comfortable for long periods of wearing and it is slightly stretchy which makes it more comfortable than regular lace. Here is a shot of the front so you get an idea of what it looks like on. Sorry, no back shot this time.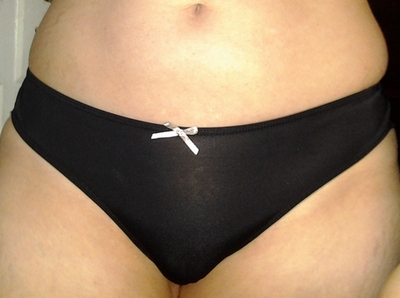 Experience
Pairing Suggestions: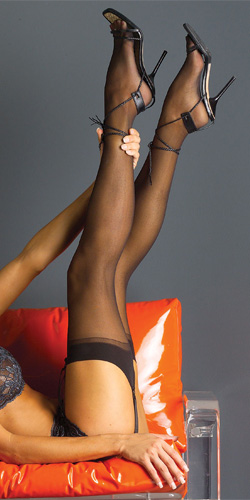 Sheer black stockings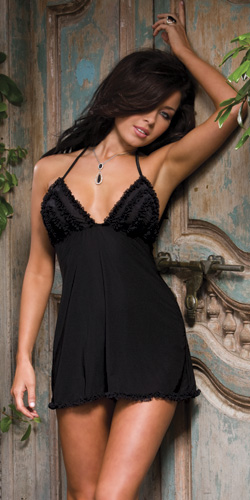 Knit Babydoll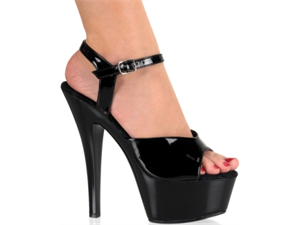 Black Sexy Heels
Storing, Care and Packaging:
Hand wash the Glamour goddess panty in cold water and line dry. Do NOT bleach or soak in hot water, it could ruin the material. To store the panty you can toss it in with your other lingerie or panties or tuck it into a lingerie envelope first to help it last longer.
The packaging for the Glamour goddess was just a folded over piece of cardboard that had a plastic bag attached inside it that contained the panty. The front of the packaging shows a back view of a model wearing the panty and has the color, size and Dreamgirl logo listed on it. The back of the packaging has a front view of the model wearing the panty and lists out some more information about the panty including materials and the Dreamgirl website. It's very minimal and should be recycled once it's opened.
This content is the opinion of the submitting contributor and is not endorsed by EdenFantasys.com

Thank you for viewing
Glamour goddess
– sexy panties review page!